Ground breaks as work begins on Valley Build-to-Rent development
Published Monday, 28 March, 2022 at 11:19 AM
JOINT STATEMENT
Treasurer and Minister for Trade and Investment
The Honourable Cameron Dick
Minister for Communities and Housing, Minister for Digital Economy and Minister for the Arts
The Honourable Leeanne Enoch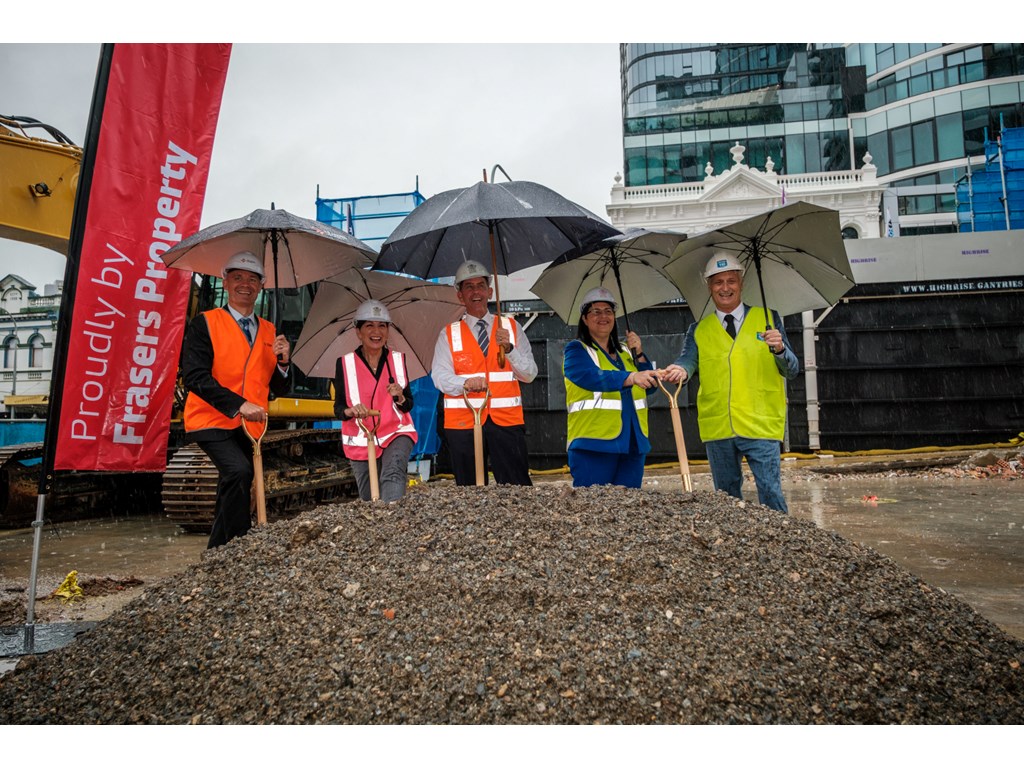 Work is underway on the second project to provide more inner-city affordable housing through the Palaszczuk Government's signature Build-to-Rent program.
Treasurer and Minister for Trade and Investment Cameron Dick today turned the sod on Frasers Property's Brunswick & Co. Build-to-Rent development at 210 Brunswick Street, Fortitude Valley.
"This event is a win for the construction industry, delivering another 290 jobs on site here," the Treasurer said.
"But more importantly, it's a win for housing affordability in Queensland.
"All 366 apartments in this complex will be available to renters only, not property speculators.
"Additionally, the rent on about 145 of the apartments will be discounted, thanks to a subsidy from our government.
"That means more opportunities for workers like nurses and hospitality staff to live closer to their jobs, which means less time and money spent on commuting."
The first residents are expected to be moving into Brunswick & Co. in 2024, with the development to offer easy access to public transport, co-working offices, shared dining areas and a fitness centre.
Frasers Property Australia Executive General Manager Development Cameron Leggatt said the company is excited to move into the construction phase of its first Build-to-Rent project nationally.
"Frasers Property is committed to redefining renting at Brunswick & Co., delivered in one of Brisbane's most emerging and vibrant precincts," Mr Leggatt said.
"This is a major milestone for the local community and we're proud to collaborate with the Queensland Government and Hutchinson Builders on this landmark project, to help Brisbane meet growing demand in the lead up to the 2032 Olympic Games."
Minister for Housing Leeanne Enoch said Brunswick & Co. was the second Build-to-Rent project under construction, following Mirvac's LIV Anura development in Newstead, which commenced in August 2021.
"In total, the two Build-to-Rent developments in the Valley and Newstead will create more than 500 jobs during construction, with the long-term management of the buildings to support further employment opportunities," Ms Enoch said.
"The Palaszczuk Government's Build-to-Rent program is an important part of our commitment to delivering more affordable housing options under the Queensland Housing Strategy Action Plan 2021-2025.
"Two additional Build-to-Rent projects are progressing through the pipeline, with Queensland Treasury currently evaluating detailed proposals.
"These are proposed to be located at the state-owned site of the former Children's Court at 50 Quay St, Brisbane, and on a privately-owned site that would be identified by the successful proponent.
"Queensland is leading the nation in jobs growth and by supporting the expansion of the Build-to-Rent sector we're unlocking further job-creating investment in Queensland."
ENDS
Media contact: Geoff Breusch 0417 272 875