Growth grant helps Mackay panel beater smash goals
Published Wednesday, 16 February, 2022 at 04:26 PM
Minister for Employment and Small Business and Minister for Training and Skills Development
The Honourable Di Farmer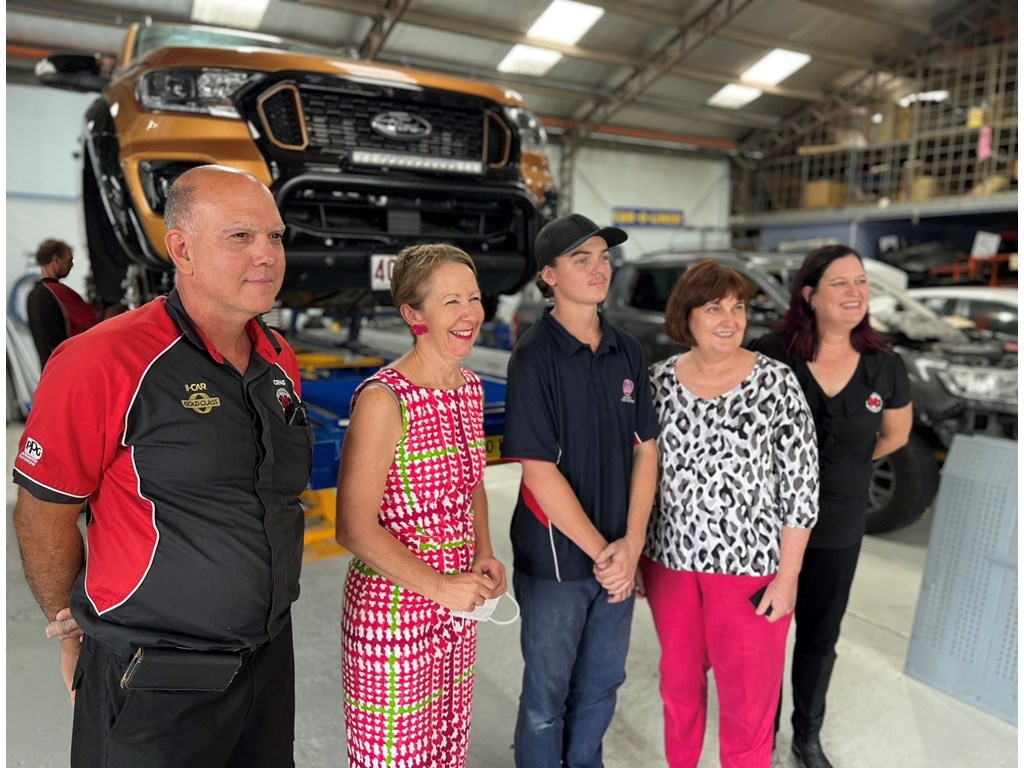 McCarthy Panel Works' Craig McCarthy, Small Business Minister Di Farmer, apprentice Liam Watt, Mackay MP Julieanne Gilbert and Andrea McCarthy in North Mackay today.
A Mackay panel beater will expand its facilities to include a space dedicated to electric and hybrid car repairs thanks to a Palaszczuk Government Business Growth Fund grant.
Member for Mackay Julieanne Gilbert said the $50,000 grant will allow family-owned McCarthy Panel Works to install specialised equipment at their O'Loughlin Street site.
"McCarthy Panel Works has been getting locals back on the road since 1971, and now, they're looking to the future," Ms Gilbert said.
"While their workshops back then might have been full of Falcons, Chargers and Kingswoods, we know in today's world, electric and hybrid cars are on the rise.
"This Business Growth Fund grant will help McCarthy's stay on the front foot of smash repairs so they can help anyone and everyone when accidents happen.
"A new chassis aligner, aluminium welders and riveting guns will accelerate growth opportunities and help them reach that next level.
"I'm excited to see what McCarthy's achieve in the next 12 months, although my Nissan hopes my next visit is strictly professional."
Owners and directors of the 51-year-old family business Andrea and Craig McCarthy said they are pushing closer to their goal of developing the next evolution in vehicle repair.
"The grant process made available to us really helped us to identify and focus in on the direction we wanted to go," Ms McCarthy said.
"It is really encouraging for us to know that others can see how passionate we are about what we do and the need to do it right.
"The Business Growth Fund grant project, which will see a dedicated-area for the repair of electric and hybrid vehicles, is expected to require more staff once it is up and running."
Minister for Employment and Small Business Di Farmer said the Palaszczuk Government continues to deliver on its Big Plans for Small Business Strategy.
"While our strong health response to COVID-19 has kept most businesses open and trading, the wave of Omicron since Christmas has been challenging," the Minister said.
"As we continue to work with industry to support small business at this particular time, it has never been more important to continue rolling out the significant support package that is part of our Big Plans for Small Business Strategy.
"That includes the Business Growth Fund, with grants of up to $50,000 for highly specialised equipment that will help businesses boost their productivity, giving them the confidence to scale-up and grow their workforce for the future.
"Across Queensland, the Fund will support 40 small businesses to accelerate growth opportunities with investments in everything from flight simulator equipment to irrigation systems."
Applicants have demonstrated a 20 percent increase in productivity, turnover, profit or employment in the past 12 months and have clearly defined business plans in place.
Minister Farmer said the Palaszczuk Government has committed more than $2.5 billion in business support since March 2020.
"Small businesses are the backbone of our local communities, and we want to support them, their families and their customers," the Minister said.
"The Business Growth Fund is about helping each one of them reach that next phase of their journey, to take the ball and absolutely run with it and thrive."
To learn more about the grants and how to apply visit the Business Queensland website - www.business.qld.gov.au or call 1300 654 687.
ENDS
Media contact: Ben Brew 0468 839 551