Explorers to have a dig at finding new economy mineral bounty
Published Wednesday, 16 February, 2022 at 10:30 AM
Minister for Resources
The Honourable Scott Stewart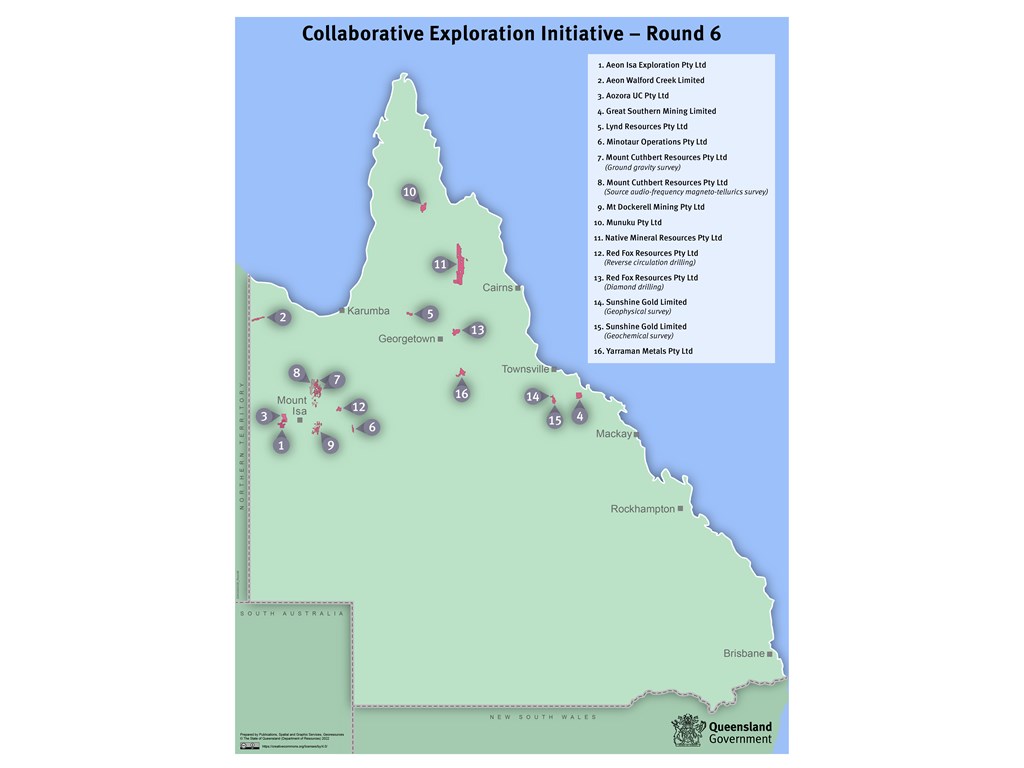 A Townsville company is among 13 explorers who will be digging, sampling, drilling, and surveying across Queensland in a bid to uncover the in-demand new economy minerals used in the global energy transition.
Speaking in Townsville today with Sunshine Gold managing director Damien Keys, Resources Minister Scott Stewart said the company received part of the $2.5 million Collaborative Exploration Initiative funding to search for rare earth minerals and gold near the historic mining town of Ravenswood.
"The resources sector is central to Queensland's economy and will continue to be the backbone of Queensland's economic recovery as we emerge from the Omicron wave," Mr Stewart said.
"The Palaszczuk Government is committed to investing in the growing new economy minerals sector, which is powering the global energy transition and creating the next wave of resources jobs for Queenslanders.
"These grants of $2.5 million provide the financial safety net for junior explorers like Sunshine Gold to be innovative and uncover more deposits, which will lead to more projects and more jobs.
"We want Queensland to mine, process, and manufacture those new economy minerals to create jobs and produce royalties that will fund Queensland schools, hospitals and roads."
The Collaborative Exploration Initiative grants are part of the Palaszczuk Government's $23 million New Economy Minerals Initiative, which aims to support a sustainable pipeline of new economy minerals projects into the future.
The latest round of grants will support projects across rural and regional Queensland including projects near Chillagoe, Georgetown, Mount Isa, Townsville, and Proserpine.
Mr Keys said the grants would allow his company to accelerate their projects, one of which involves geophysical exploration, field mapping and geochemical soil sampling near Ravenswood, 130km south west of Townsville.
"It allows us to fast-track exploration that would have taken us longer," he said.
"We will be able to refine drill locations and it progresses us to the next stage of drilling.
"The grants validate our work to date and our science, and it takes off the funding pressure that junior explorers always contend with."
Member for Mundingburra Les Walker said these grants were important in creating more jobs in the growing new economy minerals sector.
"It's the Palaszczuk Government who is backing the resources industry through grants like this, as well as our plan to build a common-use vanadium processing plant in Townsville," he said.
Member for Thuringowa Aaron Harper said the resources industry was important for Townsville.
"The resources sector employs thousands of people directly and indirectly in the city so these exploration grants are important to continue to grow the industry as the demand for new economy minerals increases," Mr Harper said.
Mr Stewart said jobs in minerals and exploration sectors continue to boom on the back of increased investment in the sector.
"The resources industry directly supports about 80,000 jobs across the state, particularly in the regions, which account for about two-thirds of all mining jobs," he said.
"Jobs in minerals mining and quarrying have almost drawn level with jobs in coal mining, which shows the potential minerals have for creating jobs and economic benefits for our state."
Data collected from the projects will be available via the Queensland Government's geological Open Data Portal, to encourage further exploration and mining investment in Queensland.
As well as Sunshine Gold, other companies and their projects are:
Aeon Isa Exploration Pty Ltd is conducting a gravity survey to better delineate possible base metal targets, 60km west of Mount Isa
Aeon Walford Creek Ltd is conducting an electromagnetic survey to better understand structures at depth that could be important mineralisation conduits, 340km north northwest of Mount Isa
Aozora UC Pty Ltd will be conducting drill testing of two exploration targets to learn more about the geology, structures and deposit type at Templeton East, 50km west of Mount Isa
Great Southern Mining Ltd are performing an X-ray analysis of surface and drill core samples to better understand alteration and fluid pathways from multiple sites 115km southeast of Townsville
Lynd Resources Pty Ltd are drilling a 500m hole in a concealed, electromagnetic anomaly to test for the presence vein hosted mineralisation, 75km east northeast of Croydon
Minotaur Operations Pty Ltd will be drill testing a potential zoned mineral system, which may be undetectable using conventional geophysical techniques, 65km southeast of Cloncurry
Mount Cuthbert Resources Pty Ltd will be trialling a non-conventional survey configuration to determine if mineralised bodies have previously been undetected with conventional geophysics, 100km northeast of Mount Isa
Mt Dockerell Mining Pty Ltd will be drilling a 500m deep hole under the Mount Philip Haematite deposit to test a known magnetic anomaly, 55km southeast of Mount Isa
Munuku Pty Ltd are flying an airborne geophysical survey targeting identified anomolies related to the George fault, 70km west southwest of Coen in the Cape York Peninsula
Native Mineral Resources Pty Ltd are flying a high-resolution airborne geophysical survey to better understand the structural geometry of copper, gold porphyries in the Northern Chillagoe Formation, located 200km west-northwest of Cairns
Red Fox Resources Pty Ltd will be undertaking reverse circulation drilling to understand mineralisation and structural controls at the Ernest Henry West Copper Project, 150km north east of Mount Isa
Red Fox will also be diamond drilling to determine the mineralisation style to guide future exploration,45km east of Georgetown
Yarraman Metals Pty Ltd will undertake a soil geochemical survey to evaluate the performance of field-based x-ray analysis compared to laboratory analysis near Georgetown, 450km south west of Cairns
[ENDS]
B-roll here
Media contact: Chris Lees 0434 859 940