Queenslanders reflect on the past to mark 14th Anniversary of the National Apology
Published Sunday, 13 February, 2022 at 09:29 AM
Minister for Seniors and Disability Services and Minister for Aboriginal and Torres Strait Islander Partnerships
The Honourable Craig Crawford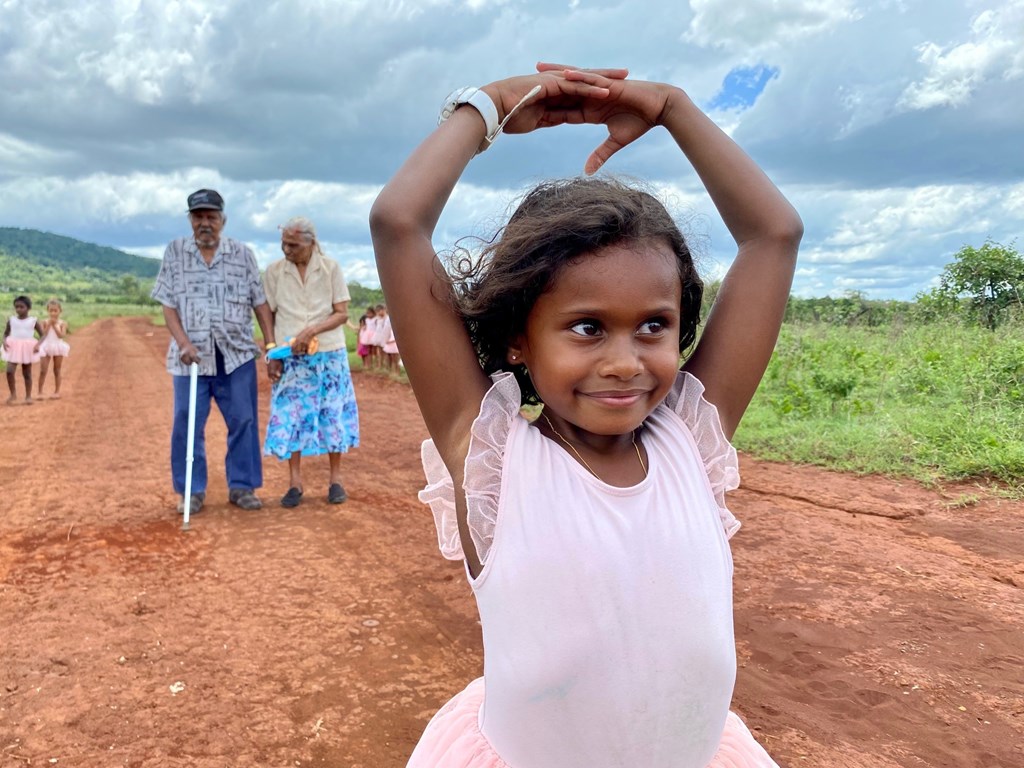 Hazel Port, 6, and the barefoot ballerinas with stolen generation survivors Ella Woibo, 88 and Frank Woibo, 93, at the former Aboriginal mission of Hope Vale.
Queenslanders will today (13 February) join together to mark the 14th Anniversary of the National Apology to the Stolen Generations.
Minister for Aboriginal and Torres Strait Islander Partnerships Craig Crawford said the day paid respects to First Nations people who were forcibly removed as children from their family, culture, language, and community.
"The National Apology to the Stolen Generations in 2008 was a turning point in Australia's post-colonial history," Mr Crawford said.
"It acknowledged some ugly truths, but gives a chance to right the wrongs, heal the past, and build hope for the future.
"It created an opportunity that allows all Queenslanders, Indigenous and non-Indigenous, to move forward together as we take significant steps this year on our Path to Treaty, truth-telling and reconciliation.
"We have to recognise the traumatic impacts of forced separation of Aboriginal children and Torres Strait Islander children from their families and culture to embrace a more just future for all Queenslanders."
At the heart of the treaty-making process in Queensland, there exists a strong desire for truth-telling and honesty about our shared history, Mr Crawford said.
"That's why we are listening to calls from generations of Aboriginal people and Torres Strait Islander people to progress a Path to Treaty because we know that the greatest outcomes are achieved by working together," he said.
"By working in partnership, we can ensure all First Nations children, families and communities can thrive – with opportunities to connect with family, language, country, and culture.
"It's about creating a more inclusive state going forward, with opportunities for everyone."
Guugu Yimithirr elder Ella Woibo was aged just six when she became part of the stolen generation.
"It was a sad time, I cried my heart out," the 88-year-old, of the former Aboriginal mission of Hope Vale, north of Cooktown, said.
She was placed in a girls dormitory, and shipped south during World War II to be used as slave labour at Woorabinda for seven years. She was 17 before she returned home.
Today, surrounded by some of her 94 great grandchildren, including two who are part of Hope Vale's famous barefoot ballerinas, she sees a "much brighter future".
Mrs Woibo with husband Frank, 93, said she welcomed the 2008 national apology.
"We accept it and we all must get on with our lives,'' she said.
To learn more about Queensland's Path to Treaty visit www.qld.gov.au/treaty.

[ENDS]
Media contact: Peter Michael 0477 948 091