M1 interchange upgrade at Ormeau kicks off
Published Tuesday, 25 January, 2022 at 11:00 AM
Minister for Transport and Main Roads
The Honourable Mark Bailey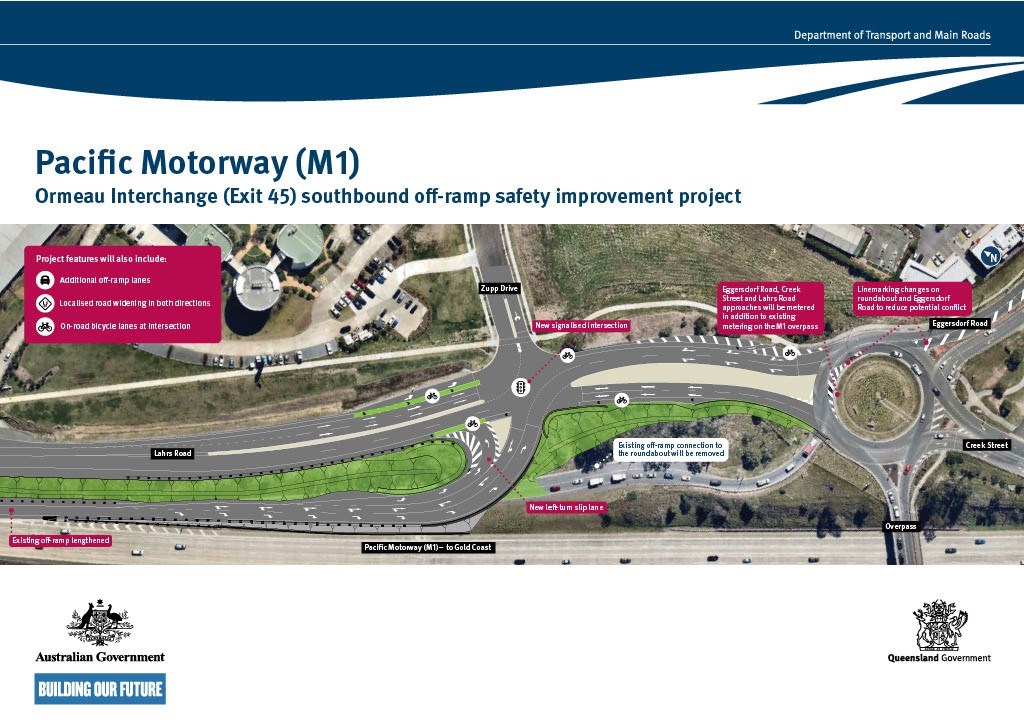 Work to make the M1 interchange at Ormeau (Exit 45) safer and more efficient is about to get underway.
The $20 million project, which is jointly funded by the Australian and Queensland governments on a 50:50 basis, will improve traffic flow for drivers on the M1 and local roads, while also reducing queuing on the M1.
Federal Minister for Communications, Urban Infrastructure, Cities and the Arts, the Hon Paul Fletcher MP, said the upgrade would help ease congestion in this fast growing region.
"By alleviating congestion along critical sections of roads like this one, we're helping people to get home to their families sooner and safer, we're helping freight move more quickly between our cities, and we're generating jobs – with 30 jobs being supported through the life of this project," Minister Fletcher said.
"This is one of many critical infrastructure projects to receive funding from the Morrison Government as part of its record $110 billion, 10-year infrastructure investment pipeline, which is helping to drive Australia's economic recovery."
Queensland Transport and Main Roads Minister Mark Bailey said the project would accommodate future upgrades and include improvements for bike riders.
"Proving better active transport connections plays a really important part in major upgrades like this," Mr Bailey said.
"That's why we'll be building on-road bike lanes at the interchange to improve the safety of bike riders in the area.
"We are also laying the groundwork for future upgrades at this location, which will be considered as traffic volumes and conditions warrant.
"This is just one of the many interchanges upgrades we are delivering on the M1, many of which will benefit the growing northern Gold Coast suburbs.
"Right now, we are making great progress on the Exit 41 upgrade at Yatala South, and plans for the short and long-term upgrades of Exit 49 at Pimpama and Exit 38 at Yatala North.
"This is on top of the $1 billion upgrade of the M1 on the southern Gold Coast between Varsity Lakes and Tugun, and $750 million upgrade to the north between Eight Mile Plains and Daisy Hill – both currently well into construction.
"We want Gold Coasters to get home sooner and safer, which is why we are committed to building a better M1."
Federal Member for Forde, Bert van Manen MP, said construction was expected to take about six months, weather permitting.
"The upgrade will include realigning the off-ramp to a new, signalised intersection on Lahrs Road, with additional lanes and a left-slip lane heading north on Lahrs Road, as well as localised road widening," Mr van Manen said.
For motorist and worker safety, the speed limit will be reduced to 80 km/h on the southbound lanes of the M1 during construction.
For more information on the Exit 45 upgrade, go to www.tmr.qld.gov.au/exit45.
For up-to-date traffic and road condition information, call 13 19 40, visit www.qldtraffic.gov.au or download the QldTraffic app.
Media contact: Joe Ogilvie - 0423 184 412