Budget Update shows Qld economy leading the nation
Published Thursday, 16 December, 2021 at 03:41 PM
Treasurer and Minister for Trade and Investment
The Honourable Cameron Dick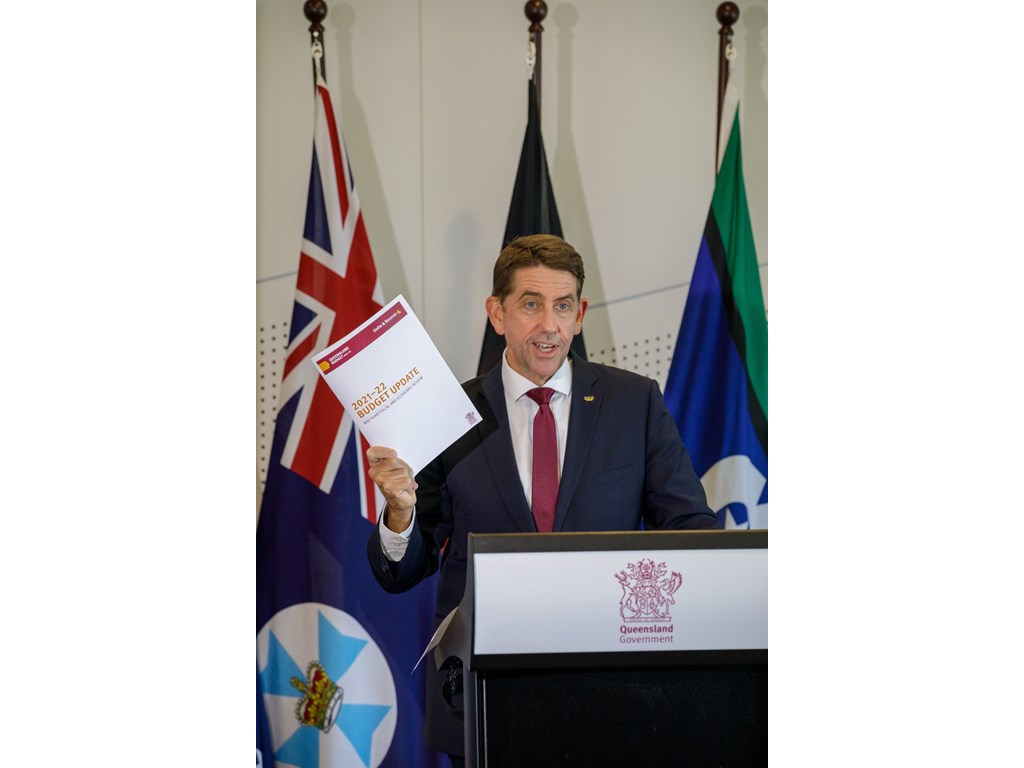 Budget Update shows Qld economy leading the nation
Queensland's economic recovery continues to lead the nation out of the pandemic, according to the State Government's Budget Update released today.
Treasurer and Minister for Trade and Investment Cameron Dick said the Budget Update reinforced the economic benefit and jobs growth that came from Queensland's strong health response.
"As our borders reopen, providing another boost for our tourism and hospitality industries and reuniting families for Christmas, we know Queensland is in a strong position because of our strong health response," the Treasurer said.
"Queensland has avoided the long lockdowns that have occurred in other states, and this Budget Update demonstrates the marked improvement in our economic performance since the Budget in June.
"As a state, we are in the best position we can be for the challenges and opportunities ahead.
"On almost every metric, Queensland is either outperforming the national average or we are the best state in our own right.
"Revenues are higher for this year and our deficit and debt are lower than had been forecast in June.
Budget Update highlights include:
Queensland's economic growth is expected to strengthen further to 3¼ per cent in 2021–22, stronger than the 2¾ per cent growth forecast at Budget.
Year-average employment growth is forecast to strengthen to 4½ per cent in 2021–22, well above the 3 per cent forecast at Budget, to be the strongest employment growth in 15 years.
The deficit for 2021–22 is expected to be $1.492 billion, less than half the $3.485 billion forecast at Budget.
The budget position is stronger in each subsequent year of the forward estimates is slightly stronger compared to the 2021–22 Budget, with a return to surplus still forecast in in 2024–25.

Net debt

is expected to be $7.2 billion lower than was forecast at the 2021–22 Budget.

Revenue

has been revised upwards across from 2022–23 to 2024–25 compared to the 2021–22 Budget, reflecting a stronger outlook for the housing and labour markets.
The Treasurer said the $8 billion increase in revenues was driven in part by a one-off surge in the value of Queensland's coal exports.
"While this price surge is significant, Queensland Treasury advises it will be temporary," the Treasurer said.
"We also expect the Commonwealth Grants Commission to penalise Queensland for these increased royalties in future years by reducing our share of GST revenue.
"So we are taking a fiscally responsible approach to this increase revenue by setting aside $2.5 billion as a buffer against adverse GST changes.
"This will be invested as a Long Term Asset managed by the Queensland Investment Corporation.
"That means the funds and their returns will be available when we need them to support future government initiatives, particularly infrastructure investment.
In a new measure to help tackle housing affordability, the Treasurer also announced measures to close a land tax loophole.
"At the moment, interstate property speculators can claim the tax-free threshold and take advantage of lower land tax rates in multiple states.
That means these investors can amass multi-state portfolios that fall below the land tax threshold in any single state.
Queenslanders with their entire landholding in this state end up can end up paying more tax than these interstate investors.
So young families in places like Logan and Ipswich face unfair competition from Sydney-based speculators who are flipping properties around the country at a furious rate.
We'll close that loophole while ensuring there are no land tax changes for Queenslanders who own land wholly within our state."
The 2021-22 Budget Update is available on the Queensland Treasury website.
ENDS
Media contact: Geoff Breusch 0417 272 875