$63.5M WHITSUNDAYS SHUTE MARINE TERMINAL RE-OPENS
Published Thursday, 16 December, 2021 at 08:16 AM
Deputy Premier, Minister for State Development, Infrastructure, Local Government and Planning and Minister Assisting the Premier on Olympics Infrastructure
The Honourable Dr Steven Miles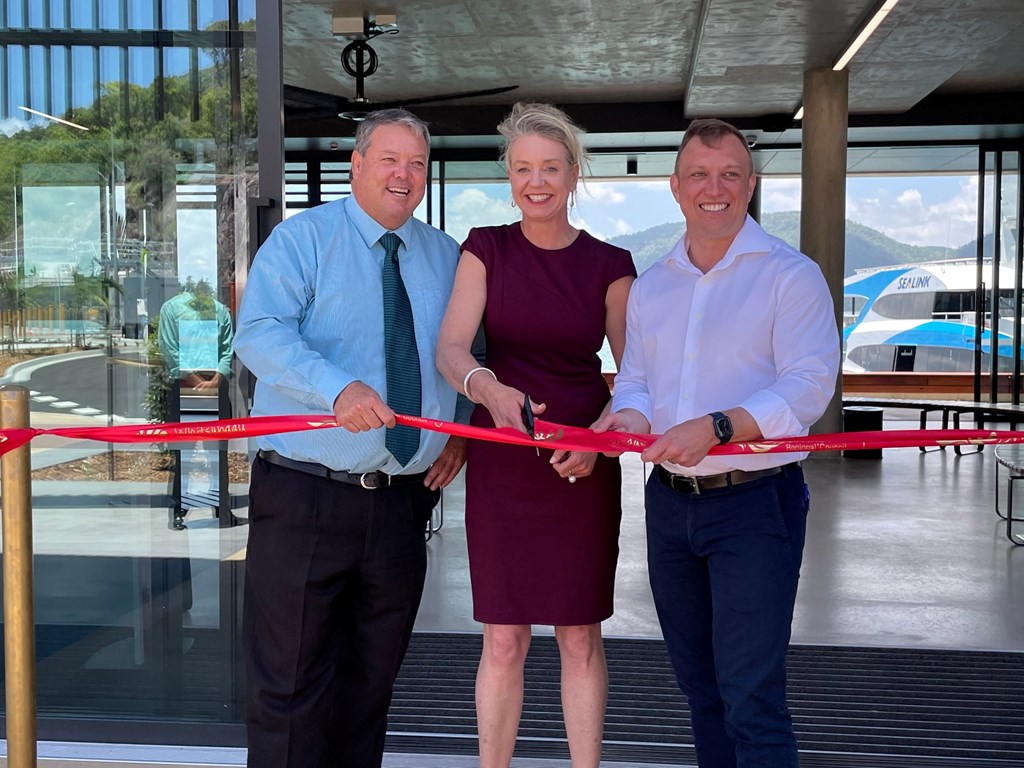 JOINT MEDIA RELEASE
Queensland's tourism industry received a major boost today with the official opening of Whitsunday Regional Council's rebuilt Shute Harbour Marine Terminal, which is now a world-class facility.
Federal Minister for Emergency Management and National Recovery and Resilience, Senator the Hon Bridget McKenzie said the rebuild of Shute Harbour Marine Terminal is a significant investment in the region by local, state and federal governments.
"The $63.5 million project has seen a complete rebuild of the marine facility after it was extensively damaged during Severe Tropical Cyclone Debbie in March 2017," Minister McKenzie said.
"Shute Harbour is the gateway to the internationally renowned Whitsunday Islands, which is why all three levels of government have worked closely together on this flagship recovery project.
"Supporting the tourism industry and associated small businesses is a vital component of ensuring economic success in our regions which in turn creates jobs and builds futures.
"The Australian and Queensland Governments are pleased to be able to support Whitsunday Regional Council through the jointly funded Natural Disaster Relief and Recovery Arrangements (NDRRA) to deliver this important project.
"The new seawall has raised the level of the entire site by up to an extra metre to be more resilient against storm surges in the future. We continue to stand shoulder to shoulder with these communities to assist in repairing the damage caused by these events."
Deputy Premier and Minister for State Development, Infrastructure, Local Government and Planning Steven Miles said the Shute Harbour restoration was the key project in Whitsunday Regional Council's recovery from Severe Tropical Cyclone Debbie.
"This has been a vital and complex project that has also driven employment and economic recovery in the Whitsunday region, which has dealt with the dual impacts of the cyclone in 2017 and the current COVID-19 global pandemic," Mr Miles said.
"With the completion of the Shute Harbour Marine Terminal and the opening of the borders following the COVID restrictions, Whitsunday Regional Council is ready and equipped to embark on an exciting new future.
"Shute Harbour will be a key transport and tourism facility for tens of thousands of visitors to the region and we're pleased the Whitsundays is ready to show the world what Queensland has to offer," Mr Miles said.
Whitsunday Regional Council Mayor Andrew Wilcox said with established marine tourism businesses already operating from the terminal and pontoons since 1 December, the new Shute Harbour Marine Terminal would reinvigorate the Whitsundays as a destination.
"The Shute Harbour Marine Terminal offers new resilient infrastructure, stunning sea views and state-of-the-art commercial facilities for our marine tourism industry," Cr Wilcox said.
"With a rebuilt seawall, terminal, carpark and pontoons, Shute Harbour Marine Terminal is now a world-class commercial facility and it's fantastic to see it open and ready for business.
"This has been quite the journey and I would like to thank the Whitsunday community for their patience as this project has unfolded over the past four years and I would also like to thank the Australian and Queensland Governments for their continued support."
The Shute Harbour Marine Terminal boasts three finger pontoons and a range of berthing options, terminal ticketing and baggage claim area, fuel facility, restaurant, retail space, carpark and recreational fishing jetty.
Eligible works received joint funding from the Australian and Queensland Governments under the NDRRA, while Whitsunday Regional Council provided and sourced additional funding.
Further information about the project can be found on the Whitsunday Regional Council's website at https://yoursay.whitsundayrc.qld.gov.au/shute-harbour.
ENDS
Media contacts:
Minister McKenzie's Office: Cath Heidrich 0428 051 736
Deputy Premier Miles' Office: Amy Hunter 0423 651 484
Whitsunday Regional Council: Joanne Vlismas 0428 954 467