Boeing's best and brightest based in Queensland
Published Tuesday, 14 December, 2021 at 11:59 AM
Treasurer and Minister for Trade and Investment
The Honourable Cameron Dick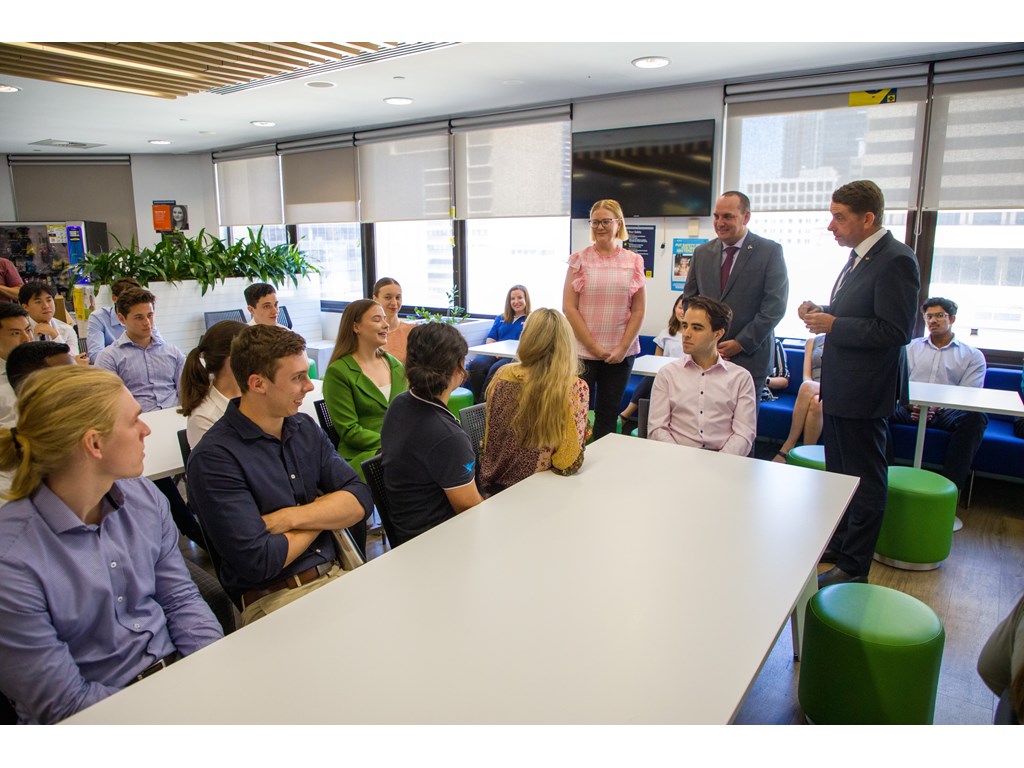 Queensland has scooped the pool in attracting over 100 of Australia's best and brightest future aerospace and defence specialists.
Treasurer and Minister for Trade and Investment Cameron Dick officially welcomed a crop of new Boeing Australia student recruits in Brisbane today.
"Queensland's relationship with Boeing goes back nearly a quarter of a century," the Treasurer said.
"The reason we are always looking to attract and retain companies like Boeing is precisely because of the highly-skilled, rewarding jobs that flow from an employer of this calibre.
"An internship program like this is the perfect stepping-stone towards those kinds of opportunities.
"Over 100 of Boeing Australia's 128 student recruits nation-wide will be working across Boeing Australia's Queensland operations over summer, including six interns from the CareerTrackers program which provides opportunities for Indigenous students.
"Recruits will be employed across a range of fields from sustainability through to engineering and finance, picking up invaluable on-the-job training that will put them ahead of the game once they finish studies.
"Some will also work directly on development of the Boeing Airpower Teaming System, also known as the Loyal Wingman."
"With Boeing recently choosing Wellcamp as the preferred site for an uncrewed-aircraft production facility, the first ever outside of North America, now's the perfect time to join the team, to help move this ground-breaking project forward.
"Loyal Wingman could generate up to $1 billion dollars for Queensland's economy over 10 years, with more than just defence industries to benefit."
Queensland is home to over 2500 Boeing employees who deliver projects from sophisticated simulation and modelling capabilities to next-generation communications systems and high-tech training technologies.
"We're delivering on the Palaszczuk Government's Queensland Defence Industries 10-year Roadmap and Action Plan," the Treasurer said.
"Our vision to significantly increase defence revenue for our state and generate 3500 new full-time jobs locally by 2028.
"It also builds on momentum generated by recent decisions to base large-scale and technologically advanced projects and the Defence Cooperative Research Centre for Trusted Autonomous Systems, here in our state."
ENDS
Media contact: Geoff Breusch 0417 272 875