Signature APT10 invites audiences to explore the cultures of our region
Published Friday, 03 December, 2021 at 03:59 PM
JOINT STATEMENT
Premier and Minister for the Olympics
The Honourable Annastacia Palaszczuk
Minister for Communities and Housing, Minister for Digital Economy and Minister for the Arts
The Honourable Leeanne Enoch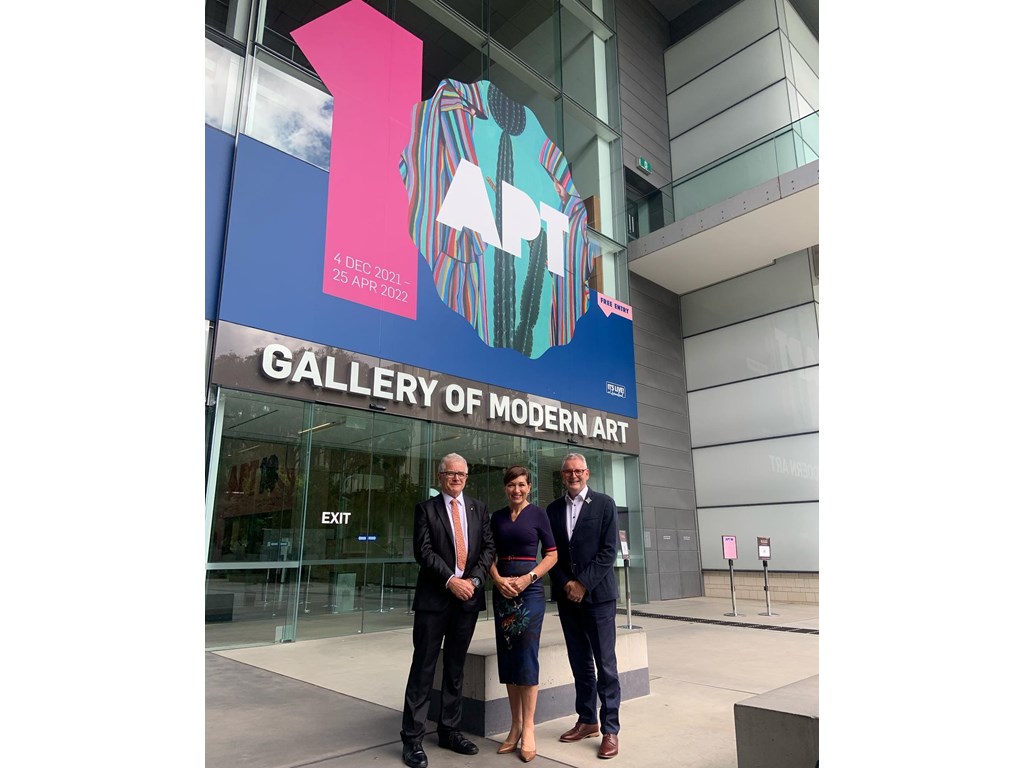 Minister Leeanne Enoch with QAGOMA Chair Ian O'Connor and QAGOMA Director Chris Saines
The internationally acclaimed Asia Pacific Triennial of Contemporary Art will celebrate its landmark tenth edition (APT10) when it opens to the public tomorrow at the Queensland Art Gallery | Gallery of Modern Art (QAGOMA).
Premier Annastacia Palaszczuk said the APT series had been a signature event for Queensland's art scene since its introduction in 1993 which has attracted 3.7 million visitors.
"APT10 is one of the world's most significant and inspiring collections of contemporary Asian and Pacific art which explores the diverse stories and cultures of our region," the Premier said.
"ATP10 brings together artists and collectives from more than 30 countries from across wide and diverse geographies.
"My government is proud to continue to support QAGOMA and blockbuster exhibits like the APT exhibition series because the arts sector and the local jobs it supports are a critical part of our economic recovery plan."
The Premier said her government has invested more than $20 million since 2016 to help secure exclusive exhibitions like the APT series and recent blockbuster, European Masterpieces from the Met, New York.
"Blockbuster funded exhibitions advance cultural tourism, boost the economy, and extend Queensland's profile as a global cultural hub ahead of the Brisbane 2032 Olympics and Paralympics when our arts experiences will be showcased on the world stage," the Premier said.
"I encourage everyone to go along and see this free exhibition showcasing these incredible works."
Minister for the Arts Leeanne Enoch said the last APT series in 2018 was a great success.
"APT9 attracted 718,000 visits, contributing almost $35 million to Queensland's economy and generating more than 288,000 visitor nights," Minister Enoch said.
"This is a significant injection into our local economy and supporting events like this is critical to our economic recovery.
"We have so far provided $42.5 million worth of initiatives for the Arts and Cultural sector in our COVID response which includes $22.5 million Arts and Cultural Recovery Package designed to help stabilise local arts companies, reactivate venues, secure jobs and enable COVID-safe arts experiences across Queensland.
"The 2021–22 Budget continues this support with more than $90 million invested in the Arts sector including a further $6 million over three years from 2022-23 for blockbuster funding to enable QAGOMA to attract more of these incredible exclusive exhibitions to Queensland.
"The arts contribute $8.5 billion each year to the state's economy and support more than 92,000 jobs for Queenslanders and we'll continue to do everything we can to support it through these challenging times."
Tourism Minister Stirling Hinchliffe said the APT was featured on the Tourism and Events Queensland It's Live! in Queensland events calendar.
"Art events like this bring many new visitors to our city which benefits accommodation and transport providers, restaurants and local tourism operators," Mr Hinchliffe said.
"We're encouraging visitors to enjoy Brisbane's great art institutions and local culture, as well as the city's many tourism experiences."
APT10 features 69 artworks by emerging and established artists and collectives, comprising more than 150 individuals including Cairns-based Torres Strait Islander artist Grace Lilian Lee, who created a three-and-a-half-metre kinetic dhari (headdress) sculpture infused with references to her Mer Island culture and environment.
Ms Grace Lillian Lee said she collaborated with her mentor, the renowned Torres Strait Island artist Ken Thaiday Snr, to expand her practice in weaving and body sculpture, and to create her piece entitled Suggoo Pennise 2021.
"This is really exciting and special for both of us. To be able to learn from Uncle Ken and have our work stand together is going to be really powerful – something I'll never forget."
The 10th Asia Pacific Triennial of Contemporary Art (APT10) runs from 4 December 2021 until 25 April 2022. For more information: https://www.qagoma.qld.gov.au/whats-on/exhibitions/apt10
ENDS
MEDIA CONTACT:
Minister Enoch's office - 0437 859 987