$100,000 donation launches The Smith Family Christmas Appeal
Published Thursday, 02 December, 2021 at 04:01 PM
Premier and Minister for the Olympics
The Honourable Annastacia Palaszczuk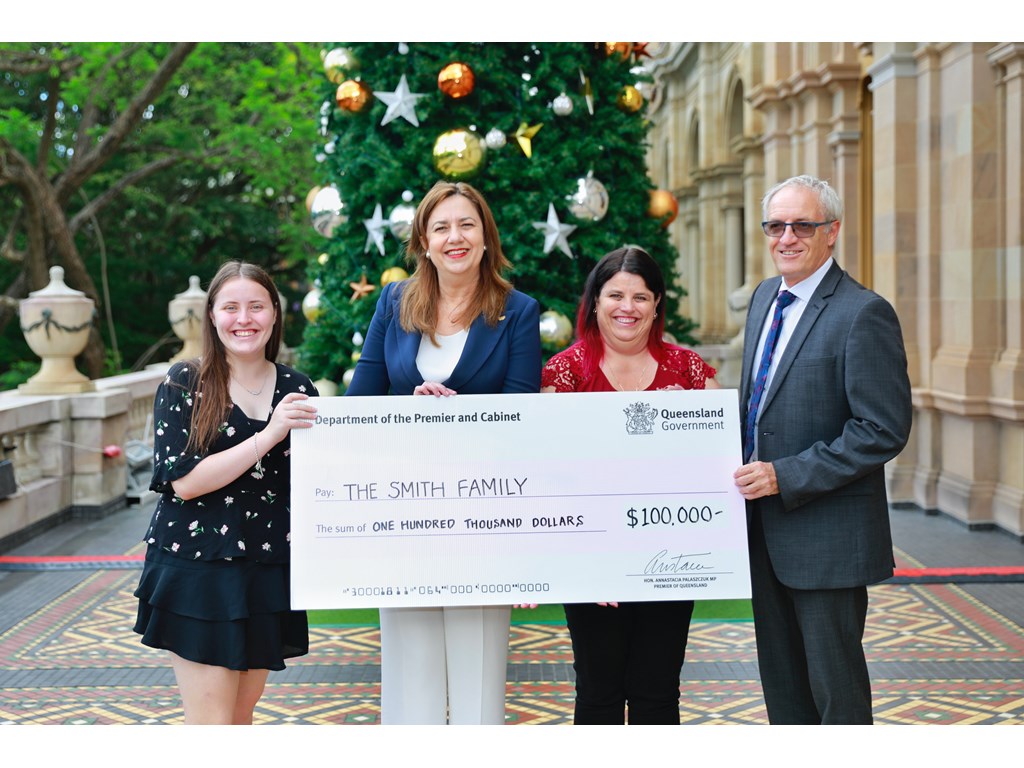 The Premier has called on Queenslanders to embrace the spirit of giving by making a donation to a charity this Christmas and helping those less fortunate.
Launching The Smith Family's Christmas Appeal at Queensland Parliament, Premier Annastacia Palaszczuk announced a $100,000 donation from the Queensland Government to kick-start the appeal and encourage further donations from individuals, families and business.
"Christmas is just around the corner, and while many of us look forward to the festive season with our families and friends, it can also be a tough and isolating season for those less fortunate," the Premier said.
"It's a busy time of year for our wonderful charities like The Smith Family who support children and young people experiencing poverty and disadvantage in Australia.
"A donation to charity makes the perfect Christmas gift, because it's the gift that gives back."
The Premier said sadly, one in six Australian children and young people are living in poverty, and the festive season – marked by celebrations, high-spending and abundance – can be especially difficult for those already experiencing financial hardship.
"While there is no shortage of incredible charities serving our community, The Smith Family has been donating toys and books, and improving the lives of children in Australia for almost a century,' the Premier said.
"They continue to work to break the cycle of disadvantage for young people and to empower them through education.
"When you donate to The Smith Family this Christmas, you can be assured that you are not only spreading joy to those in-need, but you're investing in a brighter future for a generation of Australians."
Alan Le May General Manager for The Smith Family is urging Queenslanders to give generously this Christmas to help thousands of students struggling after another disruptive year of learning due to COVID-19.
"This Christmas appeal coincides with the launch of The Smith Family's Centenary celebrations and it's incredible to look back over 100 years of The Smith Family's work helping to improve the lives of young Australians in need," he said.
"This year, that work is more important than ever, as we need to make sure students experiencing disadvantage can return to school next year, with the support and resources they need to manage the ongoing impact of COVID on their education.
"As well as donating to our Christmas appeal, people can also get involved in our annual Toy and Book appeal, which looks a little different this year. Due to the uncertainty of COVID-19 we have decided to arrange a digital gift voucher for every child who would ordinarily have received a gift pack.
"On behalf of everyone at The Smith Family and all the families we support across Queensland, I would like to say a big thank you to everyone for your continued support."
The Premier also told Parliament that she would present three other charities - The Salvation Army, UnitingCare Community, St Vincent de Paul Society - with $100,000 donations each next week at the annual Cabinet Christmas Reception.
"I want to encourage Queenslanders to consider the gift of giving a donation this Christmas, no matter how large or small," the Premier said.
"Your donation could help find a Queensland family a home and not just for the holidays.
"It could provide a hot meal or a helping hand for someone in-need or it could put a gift under the tree for a Queensland child.
"So please dig deep and donate today."
To donate to The Smith Family Christmas Appeal https://www.thesmithfamily.com.au/christmas-charity
To get involved in The Smith Family's Toy and Book Appeal
https://charity-gifts.thesmithfamily.com.au/christmas-toys-and-books
ENDS
Media contact:
Zoe Russell – 0439 982 347