Queensland Government and CoMSEQ working together to fight the war on waste
Published Friday, 12 November, 2021 at 03:35 PM
Minister for the Environment and the Great Barrier Reef and Minister for Science and Youth Affairs
The Honourable Meaghan Scanlon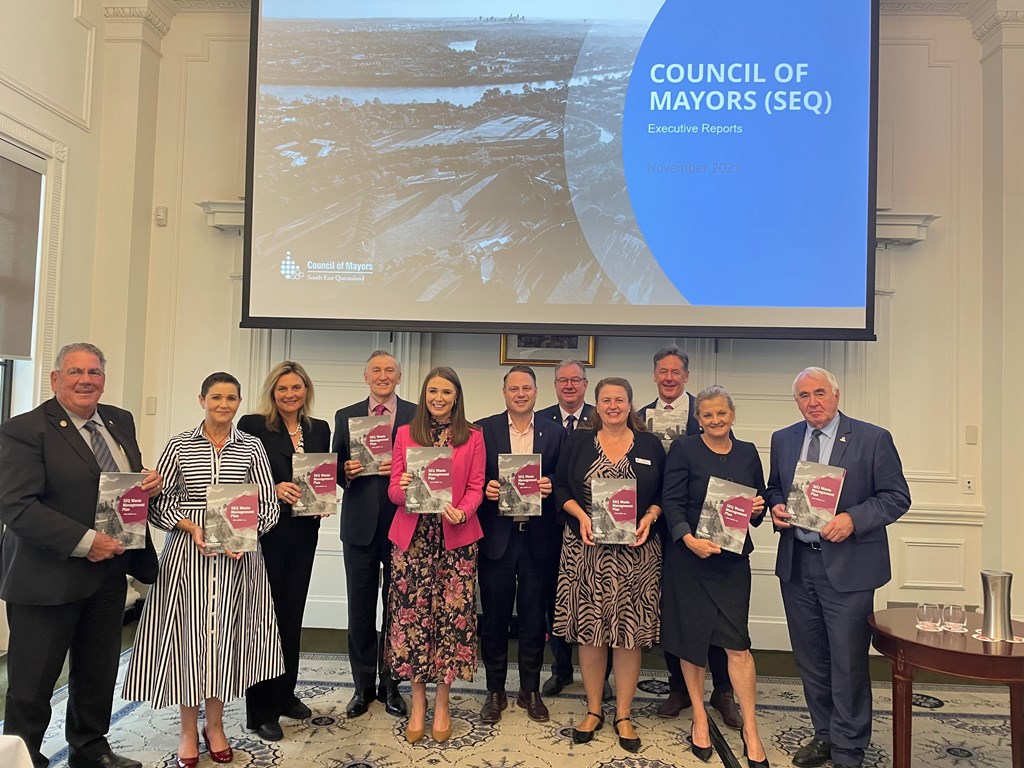 Mayors of South East Queensland and Environment Minister Meaghan Scanlon launch the SEQ Waste Management Plan
The Queensland Government and the Council of Mayors South East Queensland (CoMSEQ) are marking National Recycling Week with the launch of the SEQ Waste Management Plan, a collaboration to fight the war on waste.
Environment Minister Meaghan Scanlon said the Palaszczuk Government would provide $500,000 to establish a joint Project Management Office with CoMSEQ to drive delivery of the plan.
"We have a shared ambition to reach effective, emission-reducing recycling and resource recovery targets," Minister Scanlon said.
"The SEQ Waste Management Plan charts the trajectory for resource recovery over the next decade and outlines an evidence-based approach for strategic, regional investment," Minister Scanlon said.
"This regional approach is vital as around 70% of Queensland's waste is processed through southeast Queensland.
"The Plan will drive supply chains and market dynamics to ensure a thriving SEQ resource recovery industry creates jobs and maximises environmental, social and economic benefits.
"This Project Management Office will guide planning and investment over the coming years, with a particular focus on the infrastructure and behavioural change needed to divert waste from landfill and deliver jobs across the supply chain.
"I'm looking forward to working together with CoMSEQ to empower more effective recycling that will benefit our environment for future generations."
CoMSEQ Chair and Brisbane Lord Mayor Adrian Schrinner said the plan aimed to divert more than 1 million tonnes of waste from landfill each year by 2030, boosting environment outcomes and creating thousands of local jobs.
"South East Queensland is the most liveable region in Australia, if not the world, and our waste management plan is all about ensuring it stays that way by doing all we can to reduce our impact on future generations," Lord Mayor Schrinner said.
"This plan identifies a number of options to reduce our regional waste impacts and create more than 310 permanent jobs and up to 3,800 construction jobs in the process.
"In recent years, the face of waste management has changed and this report lays out a plan to respond to those changes and deliver benefits to our residents and our communities.
"With significant population growth and the Brisbane 2032 Olympic and Paralympic Games around the corner, our plan will help to ensure we showcase our region as a clean and sustainable global destination and we need the support of the State and Federal governments to help us get moving and implement the plan."
Cr Schrinner said while local Councils collected the majority of waste, a regional solution needed support from other levels of government and the industry.
"This plan is the perfect example of what can be achieved through collaboration," Lord Mayor Schrinner said.
"It brings together Councils across the region and with funding support from the State Government, delivers a long-term solution to our region's waste management.
"I'd like to acknowledge the leadership and collaboration of the Mayors, and the ongoing support of the Queensland Government and Minister for the Environment Meaghan Scanlon MP to help us get moving on this important issue."
CoMSEQ Waste Working Group Chair and Scenic Rim Regional Council Mayor Cr Greg Christensen said the plan laid out a series of opportunities for SEQ Councils to work together to reduce waste going to landfill.
"We know one of our greatest strengths is the determination of our residents and this plan recommends a regional behaviour change campaign be adopted, harnessing the power of our community's desire to make a difference," Cr Christensen said.
"It also recommends Councils join forces to investigate alternative composting options and better ways to support recycling efforts, including the potential for several regional recycling facilities."
Cr Christensen said the plan provided a regional solution to waste, while considering the unique circumstances of individual Councils.
"At the end of the day each Council must respond to the needs for their residents and this plan allows them to implement what works for them, and maximising the benefits of a coordinated approach across a large number of local government areas."
Council of Mayors (SEQ) includes Brisbane City Council, Redlands City Council, Moreton Bay Regional Council, Sunshine Coast Council, Noosa Council, Ipswich City Council, Logan City Council, Scenic Rim Regional Council, Lockyer Valley Regional Council, Toowoomba Regional Council and Somerset Regional Council.
The plan was funded by the Queensland Government and jointly prepared with CoMSEQ. The plan considers the South East Queensland Region with analysis done by McKinsey & Co.
For more information visit www.seqmayors.qld.gov.au
ENDS
Media Contact:
State Government: Sue Lappeman, sue.lappeman@ministerial.qld.gov.au or 0418 792 406.
Council of Mayors (SEQ): 0417 603 634