Queensland Government honours companies for supporting Queenslanders
Published Thursday, 11 November, 2021 at 03:42 PM
Minister for Energy, Renewables and Hydrogen and Minister for Public Works and Procurement
The Honourable Mick de Brenni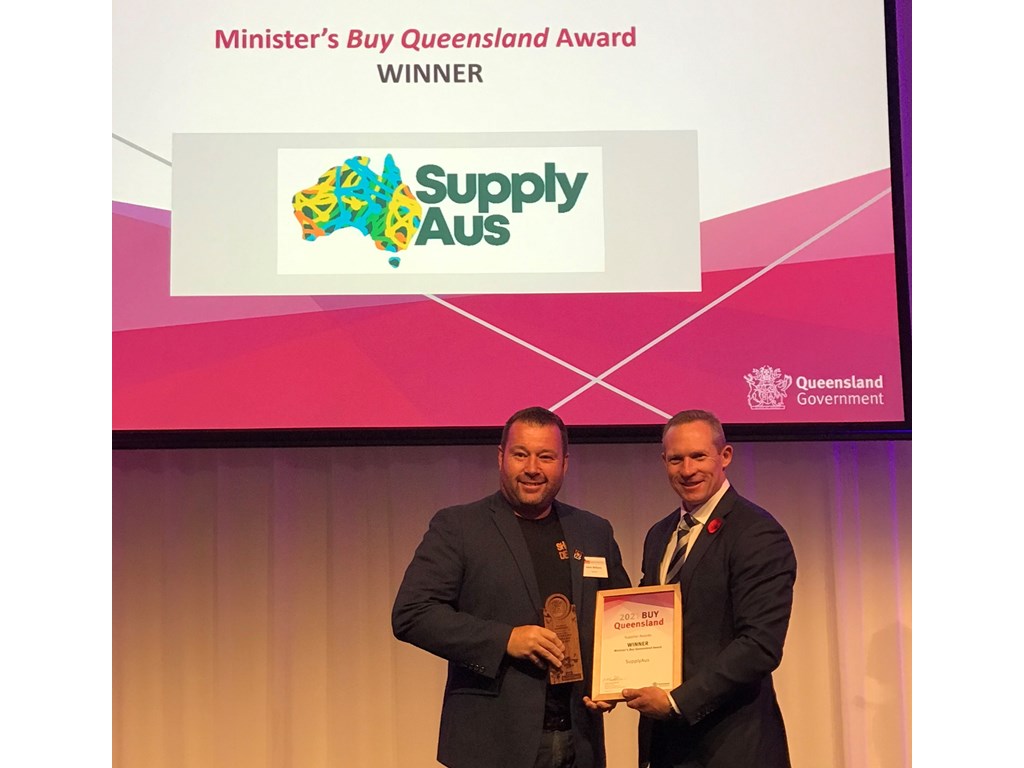 An indigenous Queensland company that supplies personal protective equipment has been honoured by the Queensland Government at the Buy Queensland Awards.
The annual awards recognise Queensland companies that create jobs for locals, use local materials and contribute to better social outcomes for disadvantaged Queenslanders.
Procurement Minister Mick de Brenni announced SupplyAus Pty Ltd as the winner of the major Buy Queensland award at Wednesday's ceremony in Brisbane.
Ormiston-based SupplyAus supplies PPE and office supplies and also has a strong social commitment, working to assist the Indigenous community.
"SupplyAus is an outstanding example of a local company providing jobs for locals while at the same time having a firm focus on achieving tremendous social outcomes," Mr de Brenni said.
"This small company is doing big things and being able to hand them the major award of the day, The Minister's Buy Queensland Award, is an honour," he said.
"While SupplyAus provides PPE, workwear, uniforms and office equipment to both government and private industry, it's the behind-the-scenes work in Indigenous communities that really sets them apart.
"Not only are they creating jobs for Indigenous workers but they're actively working in the Indigenous community to improve lives."
SupplyAus CEO Adam Williams said winning the award was inspirational for the company and its workers.
"Winning recognises the efforts we have put in and inspires our employees and the extended communities they support."
"We are incredibly proud to support the social outcomes for indigenous communities, especially the children and the youth."
During the pandemic, SupplyAus has provided masks, hand sanitiser and PPE to Aboriginal medical centres from Yarrabah to Woolloongabba.
When food supplies became short on Palm Island Stradbroke Island during the worst of the pandemic, they provided care packs of fresh fruit and protein to Indigenous communities there.
Mr de Brenni said SupplyAus also sponsors basketball at Redlands, allowing children whose parents can't afford uniforms or registration, to sign up.
Mr de Brenni said SupplyAus partnered with the Gold Coast Suns, visiting remote communities in the Northern Territory, providing children with books and colouring-in pencils.
"And when a Yarrabah community member asked for help with the unplayable Yarrabah Aussie Rules field, SupplyAus resurfaced it and now maintain it, allowing the local kids to have the chance to play in the Cairns AFL competition."
Highly Commended
Mr de Brenni said two other Queensland companies had been highly commended in the same award.
They were MCP Health and Snap Fresh Pty Ltd.
MCP Health supplied around 20 million face masks to Queensland Health during the pandemic, stepping up their production to meet the unprecedented demand.
Mr de Brenni said it was fantastic to know there were companies like MCP Health in Queensland that were able to step up when needed and manufacture goods for Queenslanders.
Snap Fresh supplies ready-to-eat meals to the aviation business so when the pandemic hit, was forced to find new markets as airlines stopped flying.
They now supply patient meals to Queensland Health and are implementing strategies such as waters tanks, recycling and solar power to cut costs and waste.
The company supported Queenslanders by donating more than 550,000 excess food items or distribution to disadvantaged Queenslanders.
It's also vowed to keep the fridge at the St John's Crisis Centre in Surfers Paradise filled with ready-made meals.
Mr de Brenni said all companies nominated for the awards had invested in the state and supported Queenslanders, while the winners had gone "above and beyond" in their dedication to Queensland.
"This is all about recognising and supporting businesses that support Queensland," he said.
"It's about creating sustainable jobs.
"Government expenditure is big business for suppliers - large and small."
Each year the Queensland Government invests more than $14 billion in goods and services and a further $5 billion to build and maintain infrastructure.
Queensland has around 438,000 small businesses and there are more than 36,000 business that supply goods and services to the Queensland Government each year.
"I am proud to say that between September 2017 and April this year, 90 per cent of all Queensland Government tenders were awarded to Queensland businesses."
The full list of awards is:
PUTTING QUEENSLANDERS FIRST:
Winner: Munster Services Group
Highly Commended: Aussie Active Desks
DIVERSITY THROUGH SUPPLY CHAINS
Winner: Ochre Sun
Highly Commended: Ability Enterprises
DELIVERING FOR QUEENSLAND
Winner: MCP Health
Highly Commended: Aginic
THE MINISTER'S BUY QUEENSLAND AWARD:
Winner: SupplyAus
Highly Commended: Snap Fresh and MCP Health
ENDS
Media contact: Dan Knowles: 0432 681 664