New country getaway for Scenic Rim
Published Friday, 05 November, 2021 at 02:46 PM
Minister for Tourism, Innovation and Sport and Minister Assisting the Premier on Olympics and Paralympics Sport and Engagement
The Honourable Stirling Hinchliffe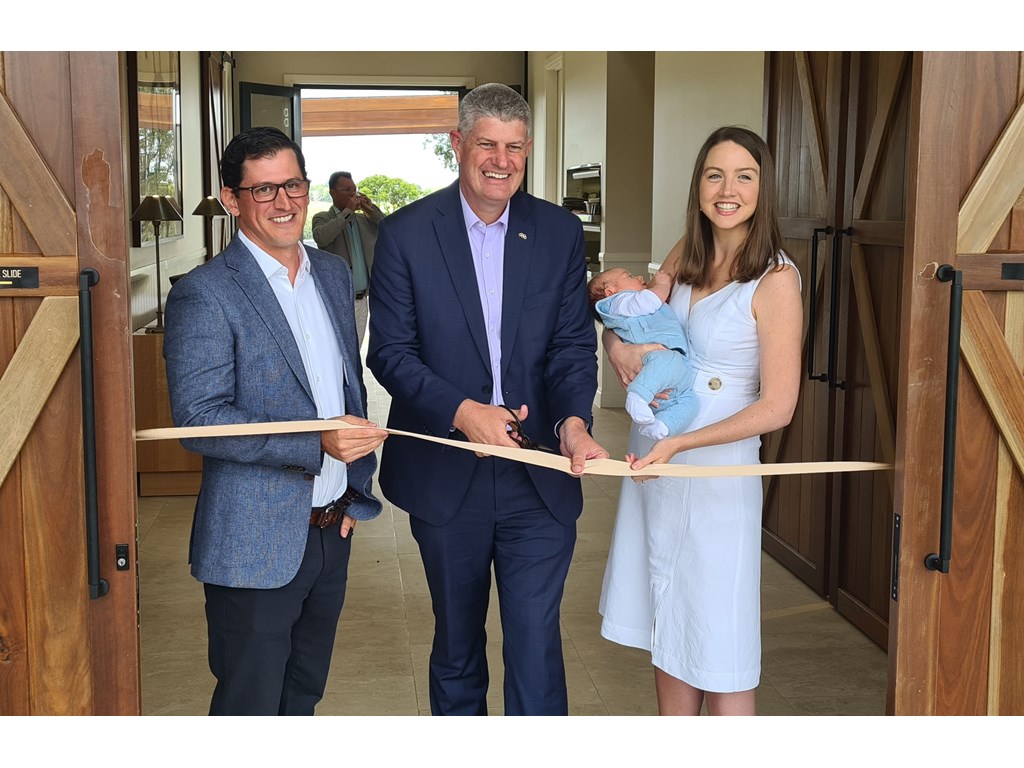 Minister Hinchliffe cuts the opening ribbon with Hazelwood Estate Owners Andrew and Claire Northcott
A former dairy farm in Southeast Queensland's award-winning Scenic Rim has been transformed into a luxury country getaway in a boost for the Palaszczuk Government's Covid-19 Economic Recovery Plan.
Hazelwood Estate on the Beechmont Plateau, neighbouring the world-heritage listed Lamington National Park, was formally opened today by Tourism Minister Stirling Hinchliffe.
"The Palaszczuk Government has invested $1.84 million through our Attracting Tourism Fund to help make Hazelwood Estate's luxury makeover and visitor experience a reality," Mr Hinchliffe said.
"Hazelwood Estate offers choice for visitors seeking an opulent getaway to the increasingly popular Scenic Rim, named by Lonely Planet as one of the top ten hottest destinations for 2022.
"Our investment in Hazelwood Estate has supported 48 construction and operational jobs to help the Scenic Rim through the pandemic and continue building a reputation as a premier destination.
"The Attracting Tourism Fund predated the global pandemic and was initially intended to build the infrastructure the Scenic Rim needed to attract international visitors looking for luxury experiences.
"We think domestic visitors will also see the value in Hazelwood Estate.
"It's predicted to help bring up to 18,000 extra visitors to the Scenic Rim with potential to contribute almost $4.5 million to the local visitor economy."
Mr Hinchliffe said Andrew and Claire Northcott bought the dairy in 2014, turning it into a 30 hectare working Wagyu cattle and polo farm, along with a Homestead and Guest House.
"The couple set out with overseas visitors in mind by creating three luxury pavilions and 16 eco-friendly farm cottages for up to 40 guests," Mr Hinchliffe said.
"It also includes a day spa, a restaurant and club house, a Wagyu Cellar Door, a tack room where visitors can gear up to explore on horseback or learn about beekeeping, permaculture and cooking in the workshop.
"The Estate opens as the region continues its recovery from the bushfires of 2019 and the global pandemic.
"Hazelwood Estate is a good example of tourism rebuilding better for when we're able to welcome back overseas tourists and also offers a world-class getaway experience for Australians."
Hazelwood Estate General Manager Tom Simpson said the Estate was targeting corporate, health and art retreats, project launches, and high-end events.
"Visitors can enjoy bushwalking in Lamington National Park, our day spa, polo, gourmet picnics as well as beekeeping tours and of course the Wagyu Cellar Door, both of which are available in early 2022," Mr Simpson said.
"Hazelwood's experiential offerings have been designed to provide a true escape from modern city life, offering visitors genuine rural experiences, through a curated calendar of events, activities and workshops.
"We hope the opening of Hazelwood Estate will provide another reason for Australians to travel to and within Queensland following COVID-19 and discover the world class tourism offerings we have right here in Queensland, while contributing to the recovery of Gold Coast Hinterland tourism following the 2019 bushfires."
Media: 0427 475 089
Pics available here: https://www.dropbox.com/sh/8xjfwgz46ntx2cm/AADAev-3Xzt7ucV6yQ0jBsAPa?dl=0