Trash to treasure: copper mine waste could hold key to renewable revolution
Published Tuesday, 26 October, 2021 at 11:58 AM
Minister for Resources
The Honourable Scott Stewart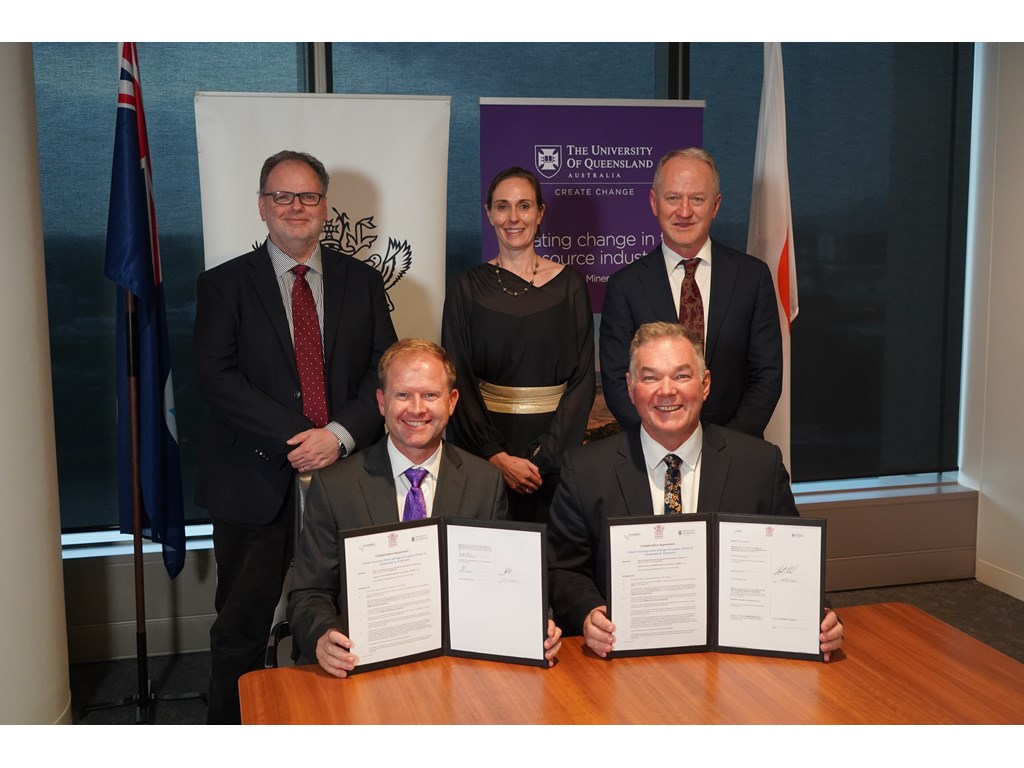 Director of the University of Queensland's Sustainable Minerals Institute Professor Neville Plint and Minister for Resources Scott Stewart just after signing the agreement. Joined by (L-R) the University of Queensland's Professor Rick Valenta, and the Department of Resources' Dr Helen Degeling and Tony Knight. JOGMEC delegates who joined via video conference not pictured.
Queensland copper mine waste could deliver a key ingredient for the renewable energy revolution thanks to a three-year international study.
Resources Minister Scott Stewart announced a three-way agreement between the Palaszczuk Government, Japan Oil, Gas and Metals National Corporation (JOGMEC) and the University of Queensland which will examine whether cobalt – a globally-sought-after critical mineral and a key battery ingredient – can be retrieved economically from old copper mine tailings.
"This research could help unlock the state's potential as a major global supplier of ethically sourced cobalt and battery manufacturing right here in Queensland," Mr Stewart said.
"The Palaszczuk Government is focussed on creating more jobs for Queenslanders as part of our COVID-19 Economic Recovery Plan, and this research in the new-economy minerals space is a key part of that.
"Australia and Japan have a strong trade partnership and the Palaszczuk Government is proud to be working with JOGMEC and the University of Queensland.
"Cobalt is a highly sought-after new economy mineral that is a key component in lithium-ion batteries used in electric vehicles and battery storage systems.
"Queensland is renowned for having a large endowment of cobalt, however extracting and processing this mineral is often difficult due to costs and resources.
"It could also revolutionise how Queensland copper mines operate by turning their waste into a revenue stream."
The collaborative study will involve researchers' samples from the tailings of Copper Resources Australia's Rocklands copper mine near Cloncurry in north west Queensland.
Samples will be studied at the University of Queensland's Sustainable Minerals Institute and at JOGMEC's laboratories in Japan with results shared between all three parties.
The project is the first joint venture between the Palaszczuk Government and JOGMEC.
In 2019 Premier Annastacia Palaszczuk re-signed a Memorandum of Understanding with JOGMEC whilst on a trade mission in Tokyo which included continued co-operation in the fields of coal, minerals and hydrogen.
JOGMEC Chairman & CEO Tetsuhiro Hosono said the latest joint research project formed part of JOGMEC's Carbon Neutral Initiative.
"It is a great honour to be collaborating with the Queensland Government and University of Queensland on this exciting project," he said.
"Through this joint research, we aim to promote the effective use of unrecovered cobalt resources in Queensland and other parts of the world.
"This could contribute to the stable supply of minerals that are needed for a carbon-neutral society.
"Should this project yield notable results, there is potential for the technology to be shared and used in other countries and regions."
Director of the University of Queensland's Sustainable Minerals Institute Professor Neville Plint said reducing mine waste was a key challenge for the mining industry.
"As the industry seeks to reduce its environmental footprint there is growing interest in reusing mine waste as a secondary resource" Professor Plint said.
"Through this research agreement, we have the opportunity to explore the potential to extract important critical metals from mine waste."
"We are proud to be working with the Geological Survey of Queensland and an internationally-respected group like JOGMEC to take this opportunity forward."
The study is expected to be completed by 2024 with a public report and data set.
The project is part of the Government's five-year $23 million New Economy Minerals Initiative that aims to develop, promote and understand the state's new economy mineral wealth and potential through a broad corridor from Mt Isa to Townsville.
The initiative encourages new exploration, re-investigation of old mines and probing the geological information government holds already to foster new discoveries, projects and jobs.
[ENDS]
Media contact: Bryce Heaton 0434 575 237