Bundy business cracks into agri-tourism
Published Tuesday, 19 October, 2021 at 02:38 PM
JOINT STATEMENT
Minister for Tourism, Innovation and Sport and Minister Assisting the Premier on Olympics and Paralympics Sport and Engagement
The Honourable Stirling Hinchliffe
Assistant Minister for Tourism Industry Development
Mr Michael Healy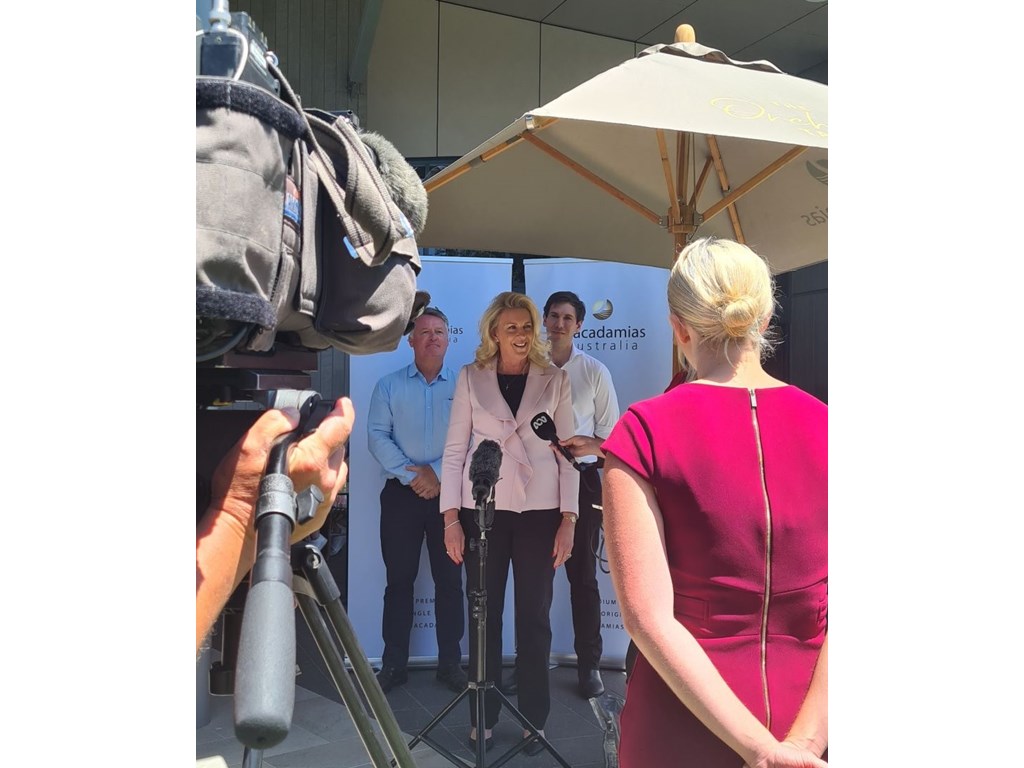 Member for Bundaberg Tom Smith, Assistant Tourism Minister Michael Healy and Janelle Gerry open the Macadamia Australia Tourism Experience
Bundaberg has claimed a $1.87 million Australian-first as part of the Palaszczuk Government's Covid-19 Economic Recovery Plan for the region.
Macadamia Australia's farm-to-fork tourism experience was officially opened today by Member for Bundaberg Tom Smith and Assistant Tourism Minister Michael Healy.
Mr Smith said the Palaszczuk Government's Growing Tourism Infrastructure Fund had invested $936,450 in Bundaberg's Macadamia Australia Tourism Experience.
"This is a new visitor attraction for Bundaberg and the Southern Great Barrier Reef for those with an appreciation for fresh food that you won't find anywhere else in Australia," Mr Smith said.
"It's an Australian-first for macadamias.
"Macadamia Australia's world-class centre is next to a working macadamia farm and gives visitors the opportunity to pick their own, be intrigued by the export processing plant and enjoy macadamia creations and gourmet local produce in the café or event space.
"Not everybody realises macadamia nuts are native to the Bundaberg region and were an important good source for First Nations Australians.
"We're famous for rum, sugar and small crop production but it's macadamias we think will take Bundaberg's tourism limelight.
"Bundaberg is also one of Australia's biggest exporters of macadamias to the world, particularly Asia, and is capable of producing 20,000 tonnes of nuts.
"The Macadamia Australia experience is predicted to grow to a $38 million a year enterprise for the recovery of Bundaberg's visitor economy."
Mr Healy said construction of the new 680m2 complex had supported local tradies.
"Creating this unique macadamia experience visitor centre created work for 37 tradies when they needed it most and has potential to support 20 operational jobs for the tourism industry," Mr Healy said.
"This is tourism infrastructure that will deliver a fresh experience for Queensland and interstate visitors.
"We think it will also be a favourite with overseas tour groups once it's safe to reopen Australia's international border.
"Before Covid-19, almost 2.5 million tourists visited Bundaberg and the Southern Great Barrier Reef.
"With new attractions like the Macadamia Australia Experience coming online, we're confident of building up to an extra 72,000 visitors for the Bundaberg region.
"This is a terrific farm-to-fork attraction that's worthy of visitor bucket lists."
Macadamia Australia's Director, Janelle Gerry said the family business established in 1958 was proud to contribute to the Bundaberg region.
"Our family is looking forward to adding this new seven day a week visitor experience and cafe to the region's growing tourism offering," Ms Gerry said.
"To work alongside the iconic brands of Bundaberg to showcase what's grown, made and produced right here in our backyard is something that we're really proud of as a second-generation farming family."
Tourism Minister Stirling Hinchliffe said Macadamia Australia was one of several operations supported by the Palaszczuk Government's Growing Tourism Infrastructure Fund.
"The pandemic has been a difficult time for tourism operators which is why we've committed more than $1 billion in direct support for the industry," Mr Hinchliffe said.
"Our Growing Tourism Infrastructure Fund has helped businesses like Macadamia Australia to rebuild better for the future, beyond the pandemic.
"Congratulations to the Steinhardt family on an exciting new venture for Bundaberg tourism."
Media: 0427 475 089