Townsville officially becomes a Small Business Friendly Council
Published Thursday, 07 October, 2021 at 02:14 PM
Minister for Employment and Small Business and Minister for Training and Skills Development
The Honourable Di Farmer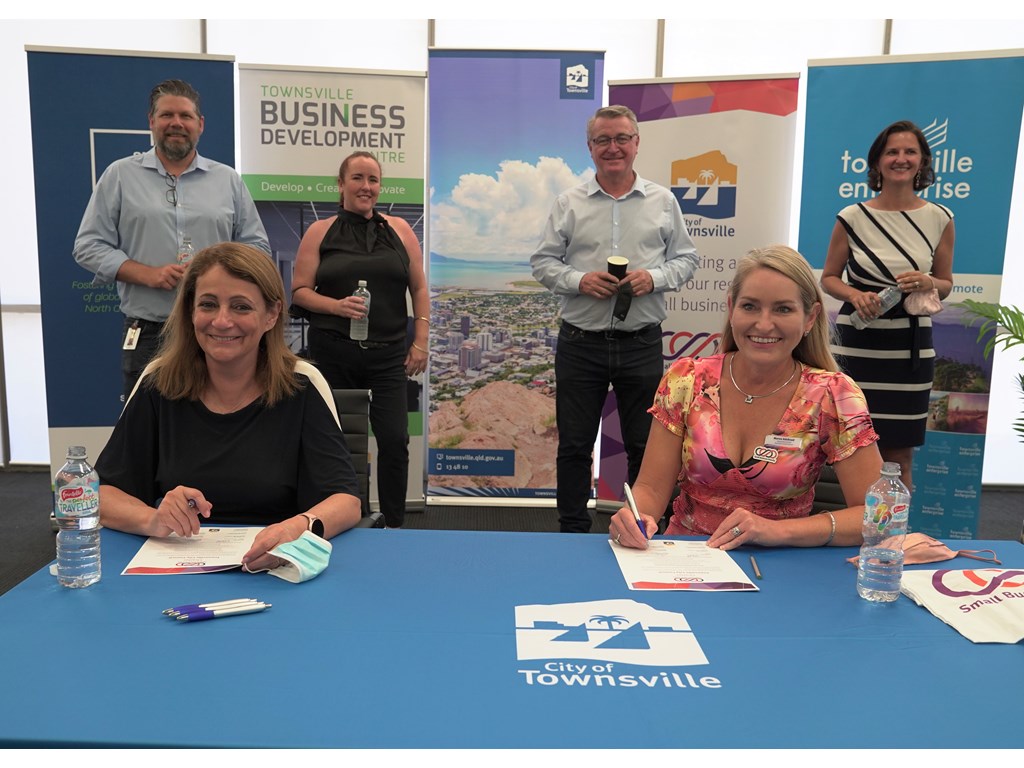 The SBFC signing in Townsville
Small businesses in Townsville are set to benefit from a new Small Business Friendly Council (SBFC) commitment made by Townsville City Council today.
Minister for Employment and Small Business Di Farmer welcomed Townsville to the growing list of councils that have signed up to the charter.
"Small businesses are the heart and hubs of our local communities and are crucial to our $14.5 billion COVID-19 Economic Recovery Plan," Minister Farmer said.
"They are our families, our friends, our neighbours and they keep our communities strong.
"It's fantastic that so many councils have committed to the small business friendly charter, with many others lining up to join them.
"By signing the Small Business Friendly Council charter, councils commit to support small businesses in their communities and help to reduce red tape."
Member for Mundingburra Les Walker said he welcomed the commitment from Townsville City Council.
"I would like to thank Townsville City Council for showing their commitment to be mindful of small businesses and their issues.
"The signing of this charter marks an ongoing commitment to the small business community when making decisions in Townsville's community."
Townsville City Council Mayor Jenny Hill said Townsville is excited to demonstrate its commitment to local small businesses by officially becoming a Small Business Friendly Council.
"Small businesses are at the heart of the Townsville economy," Mayor Hill said.
"They create local jobs, help grow the local economy and provide essential goods and services.
"Council's signing of the Charter as a Small Business Friendly Council is part of our commitment to local small business.
"Last financial year, Council's total expenditure through procurement reached almost $270 million, and around 85 per cent of that was with local businesses.
"Our goal for the next five years is to reach 90 per cent of our procurement spend with local businesses and 65 per cent with small to medium size businesses.
Queensland Small Business Commissioner Maree Adshead, who today co-signed the SBFC Charter with Mayor Jenny Hill, said Townsville is renowned for being innovative and already has a range of initiatives in place to support local small business.
"We've already witnessed the great work Townsville City Council and local business member organisations did to help and support small businesses during the 2019 floods," Ms Adshead said.
"I myself am particularly proud to be involved in the Disaster Recovery Hub App which has been developed in response to the 2019 flood to help build small business resilience.
"The signing of this charter marks a commitment to continue the collaborative journey between council and the Townsville small business community.
"I look forward to continuing to work with all concerned to bring real benefits to the local small business community in Townsville."
The Commissioner said Councils who join the Small Business Friendly family join a community of like-minded people who want to ensure their small business community is flourishing.
"A key feature of the SBFC initiative is being able to learn what other councils are doing to serve their small business community.
"We've recently set-up our communities of practice which will fortify knowledge sharing and connectiveness between councils."
The SBFC charter has been developed by the Palaszczuk Government in conjunction with councils and aims to recognise and encourage the support of local councils to actively support small businesses to recover and build resilience following disaster and economic challenges.
There are currently 18 SBFCs across Queensland. When a council signs the SBFC charter they are pledging a commitment to:
communicate and engage
raise small businesses profile and capability
support resilience and recovery
simplify administration and regulation (red tape reduction)
ensure fair procurement and prompt payment terms
promote place-based activities.
Find out more about the Small Business Friendly Councils (SBFC) initiative at www.business.qld.gov.au/qsbc or by phoning 1300 312 344.
Images from today's signing available here
Media contact: Kate Talbot, 0439 803 211
All other enquiries: 1300 312 344