Native title ruling strengthens Koa people's identity
Published Thursday, 07 October, 2021 at 10:03 AM
Minister for Resources
The Honourable Scott Stewart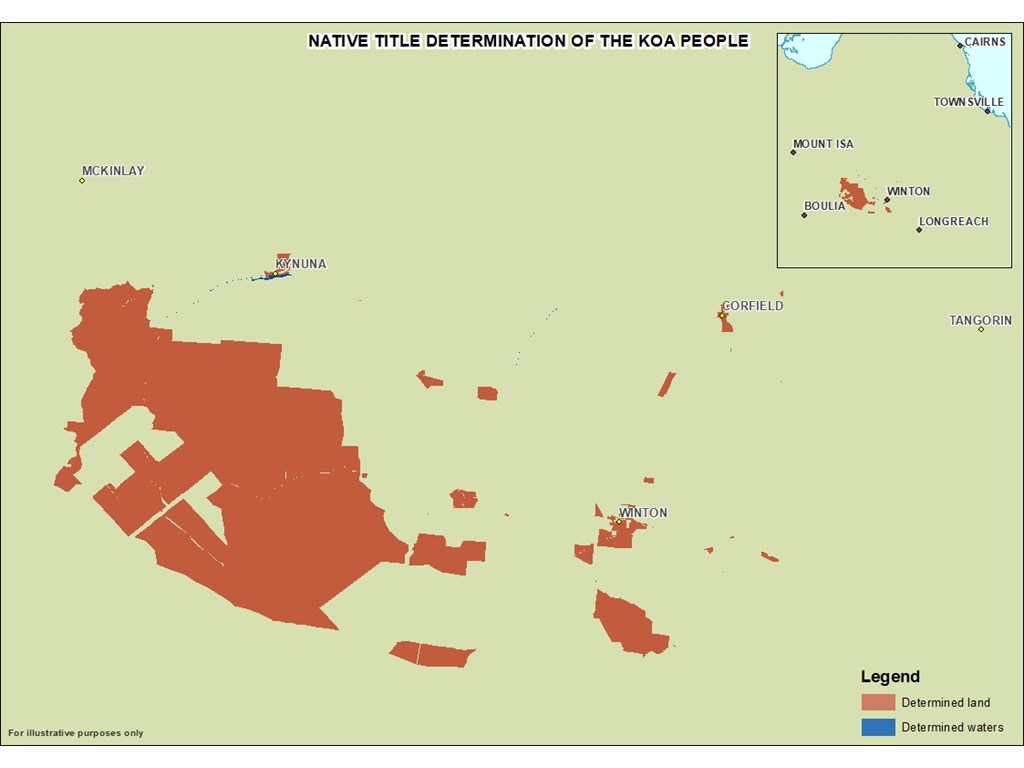 Western Queensland's Koa people have had their identity strengthened following a Federal Court decision in Winton.
Koa traditional owner Pamela Hegarty said the native title determination of nearly 865,000 hectares of land and waters near Winton would help provide justice for her ancestors.
"Holistically, this will strengthen Koa people to move forward not only on country but for the very essence of their Koa identity," Ms Hegarty said.
"It will diminish myths about Koa people and rectify misconstrued thoughts and opinions once and for all about Koa traditional land ownership of country in its entirety."
Resources Minister Scott Stewart congratulated the Koa people on their historic determination.
"Today's is a momentous day for the Koa people as the Federal Court recognises what they have always known about their connection to their land," Mr Stewart said.
"From today onwards the Federal Court formally recognises the Koa people's ancient rights on country including hunting, fishing, gathering and conducting ceremonies.
"This native title determination will ensure the traditions and values of the Koa people are respected and preserved for future generations."
Aboriginal and Torres Strait Islander Partnerships Minister Craig Crawford said the determination recognises the rights and interests over 864,988 hectares of land and water between Corfield, Winton and Kynuna.
"In Queensland, we are committed to acknowledging Indigenous Australians as the traditional owners of this land and righting the wrongs of our past,'' Mr Crawford said.
"This landmark decision is the latest step on our Path to Treaty, truth-telling and reconciliation in this state."
Koa traditional owner Robert Duncan Sr. said the determination was a significant step forward for the Koa people.
"This is one step towards reclaiming Koa country again," Mr Duncan said.
"It will let our families know where our elders and ancestors come from.
"I am very happy now, but in the beginning it was a struggle."
Native title is recognised over about 491,850 square kilometres of land in Queensland, with claims to another 428,150 square kilometres currently subject to native title claims.
Mr Stewart said native title helps preserve Indigenous culture, values and traditions and is a key step towards achieving more independence for traditional owners on their land.
"The Palaszczuk Government continues to work with Indigenous Queenslanders to recognise their rights as native title holders, with native title now recognised in nearly 30 per cent of our state," he said.
[ENDS]
Media contact: Bryce Heaton 0434 575 237