STEM building steaming ahead at Mabel Park State High
Published Thursday, 30 September, 2021 at 11:30 AM
Minister for Education, Minister for Industrial Relations and Minister for Racing
The Honourable Grace Grace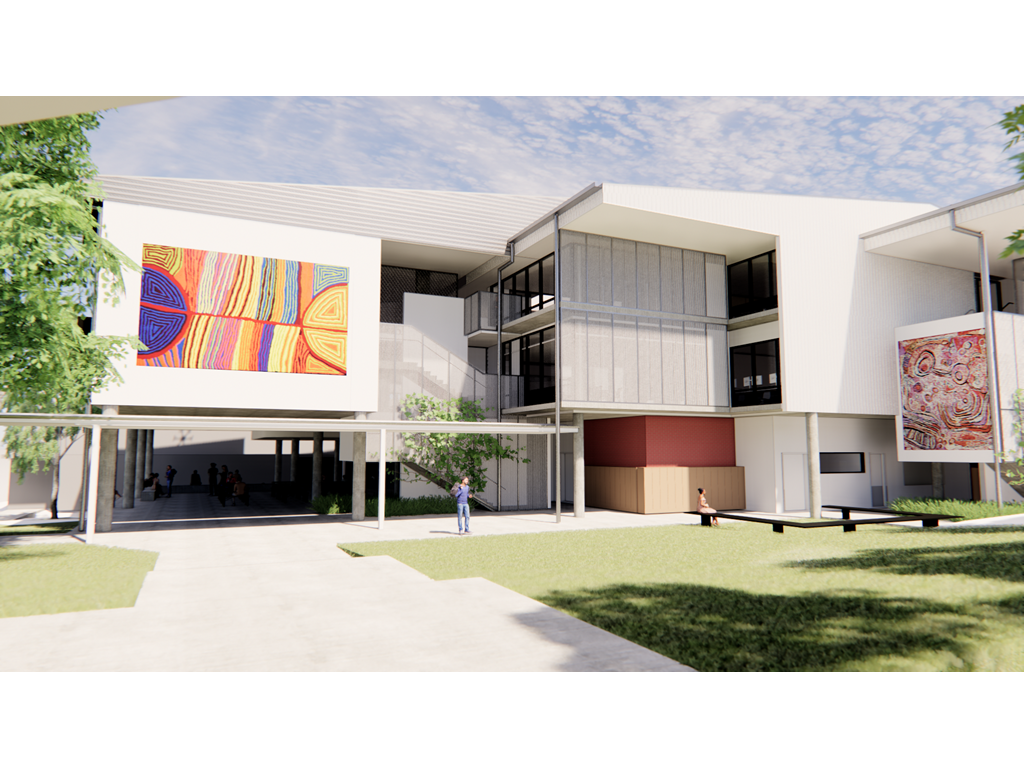 Concept design of the new STEM classroom block and automotive training facility at Mabel Park State High
Construction is powering ahead on a $24.8 million cutting-edge STEM precinct and automotive training facility at Mabel Park State High School.
Education Minister Grace Grace and Waterford MP Shannon Fentiman today inspected progress and met with tradies working on the project.
Ms Grace said the new building was supporting a total of 66 local jobs, contributing to Queensland's Economic Recovery Plan.
"This significant project at Mabel Park State High will feature a STEM classroom block and an automotive training facility as part of the one building," she said.
"The $3.96 million automotive facility will allow students to explore the latest automotive technologies such as electronic scooters and solar powered vehicles.
"The $20.8 million learning centre will include classrooms and labs to strengthen the school's STEM curriculum.
"Our Government is focused on preparing students for the jobs of the future which is exactly what this new project will deliver."
Ms Grace said automotive training component of the project would be a game changer for students interested in a career in STEM.
"Every young person deserves a world class education and the chance to reach their full potential," she said.
"That's why we committed $45 million to our Local Schools, Local Jobs program at the last election.
"The program is all about building and upgrading training facilities in schools across the state to prepare students with the skills to secure well-paid, secure jobs in their region, setting them up for the future."
Ms Fentiman said the STEM building would also provide more skills for more jobs.
"This project is a much-needed boost for Mabel Park which has seen student numbers almost triple since 2016," she said.
"Mabel Park has already been recognised for its achievements in training with its nationally recognised health hub.
"And it's fantastic to see these state-of-the-art facilities will continue to provide valuable hands on, industry relevant skills and training for Mabel Park's students to get a job and have a successful career."
Ms Grace said the building was expected to be fully finished in March 2022.
"The STEM building will feature dance studios, science labs, robotics labs, graphics studios, a staff hub and seven classrooms," she said.
"It will also include a United Cultural Centre with purpose-built prayer and wash facilities for the school's Muslim student population, as well as an all-faith prayer room."
Mabel Park SHS Principal Michael Hornby said the school was over the moon with the new project.
"This new building is magnificent, and it will give our school community some truly advanced facilities for teaching science, technology and robotics," Mr Hornby said.
"The automotive workshop will be run with green energy and batteries and we'll have the latest in robotic technology and 3D printing facilities.
"We currently have eight female students being mentored in Engineering at QUT, and this is about to expand to 40 students, so this workshop will be a huge asset to our STEM and automotive technology curriculum.
"We are developing a partnership with QUT Engineering so we can continue to collaborate with the experts in this field locally, nationally and internationally, to take our students on the right path for future study and employment."
ENDS
Media contact: Laura McKee 0451 997 920