Premier's 2021 State of the State address
Published Wednesday, 29 September, 2021 at 02:00 PM
Premier and Minister for Trade
The Honourable Annastacia Palaszczuk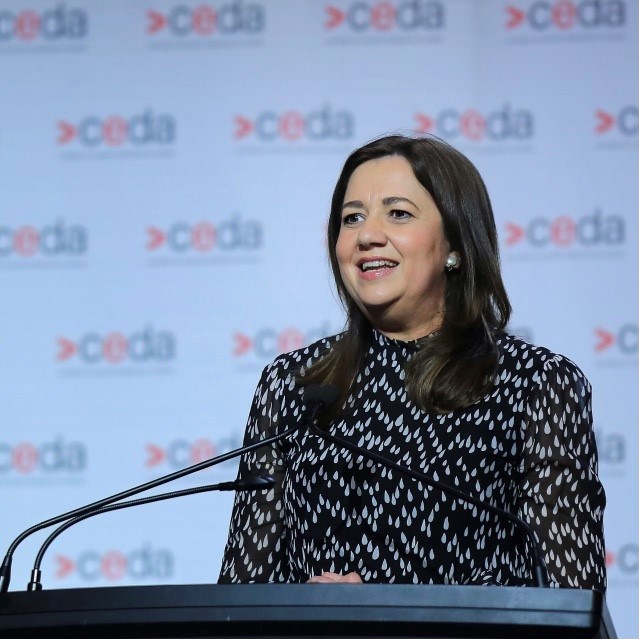 There is nowhere in the world I would rather be than in Queensland where we have shown that the stronger the health response, the stronger our economy.
Once again we find ourselves battling an outbreak of COVID 19.
It's never easy.
We take nothing for granted.
But I can tell you this…
There is nowhere in the world I would rather be during this pandemic than in Queensland.
In this room right now we have 700 people.
Last weekend thousands of families enjoyed Riverfire.
Our restaurants, pubs, clubs and cafes are operating.
Just like normal.
Families are enjoying school holidays.
Our children are about to return to school, their parents are at work.
We know all of this can change at any time.
CREDIT TO QUEENSLANDERS
The credit for Queensland's success so far belongs to the five million people of this state who continue to stand together to fight this pandemic.
Like the mother who got her 13 year old daughter tested because she had a headache.
That woman saved us from a lockdown.
Or how about the thousands of families who went into home quarantine during the Indooroopilly outbreak?
That is the kind of sacrifice and sense of community that has made all the difference.
STOPPING DELTA
Since June, Queensland has fought back more than 20 separate outbreaks including the Delta strain.
Our last lockdown lasted eight days.
Eight days after the start of its current outbreak, New South Wales was yet to enter lockdown.
It's been in one now for three months at a cost to business of $100 million a day.
Its first case in June has spread to 68,837 cases in Victoria, the ACT and New Zealand and tragically over 300 people have lost their lives.
I say this only to point out the enormous risk of just one case.
Our neighbours fight to regain their freedoms.
We fight to retain ours.
The best way to do that is by getting vaccinated.
As of this morning, 64.58% of eligible Queenslanders had received at least one dose. 45.6% are double-dosed.
WALK-INS
Queensland has more than 80 vaccination hubs.
The hubs are in addition to GPs and pharmacies with more opening all the time.
The more people vaccinated, the safer we will be.
That's why today I am pleased to announce that, walk-ins will be accepted at all our vaccination centres across Queensland.
Opening hours will be extended into the evening to cater for tradies and people who want to come in with their families.
From now on, every weekend is a Super Pfizer weekend.
While we have won many battles, vaccination is the only way we win the war.
THE ECONOMY
In Queensland, we have shown that the stronger the health response, the stronger our economy.
Compared to prior to the pandemic:
- Queensland leads Australia on job creation with 67,000 more jobs
- Queensland's domestic economy grew by 4.6% to June, outpacing the nation
- Household spending: Up 14.9 per cent
- New house approvals: up 41 per cent
- Business investment: up 4.2%
Queensland is the place to be and the rest of Australia is voting with their feet.
Last year – in the midst of the pandemic - Queensland had the biggest net gain in people moving from interstate in 20 years.
Our economy has grown to $363 billion and key pillars like construction, mining and agriculture have never stopped.
By keeping COVID under control we have kept Queensland's economy going.
GOVERNMENT INITIATIVES
No-one pretends that COVID has not had devastating impacts, especially on some businesses.
We are backing Small Business - with another $600 million joint package with the Federal Government including targeted support for tourism operators.
This builds on $2.3 billion in tax relief, grants and electricity rebates previously provided under our COVID Economic Recovery Plan.
PLAN FOR THE FUTURE
But we do not rest on our laurels.
We plan for the future.
Our $3.34 billion Queensland Jobs Fund is helping us manufacture more in Queensland.
Only last week I was in Toowoomba where, in partnership with Boeing, Queenslanders will build the first combat aircraft designed, developed and manufactured in Australia in more than 50 years.
This is a massive vote of confidence in Queensland by Boeing.
These are high tech, advanced manufacturing jobs that will generate a billion dollars for our economy over the next 10 years.
We will link with schools, TAFE and universities for the opportunities this project offers.
It will be at the Wellcamp airport where the Wagner family is building our 1000 bed regional quarantine facility.
This will protect our economic recovery by providing additional safe quarantine for especially international arrivals including international students and desperately needed farm workers.
We are investing more in medical manufacturing including making vaccines locally.
My government invested in local manufacturers Ellume who export their rapid home COVID tests to the United States.
Their Brisbane factory supports 300 jobs.
I welcome ATAGI's decision that will allow this technology to be used now in Australia.
And Ellume is not alone.
A Logan factory that used to make mouthguards for footy players now makes surgical masks.
And in Bowen, Marto's Mangoes is using artificial intelligence technology to scan the fruit for internal defects.
How 'Queensland' is that?
VANADIUM
Queensland is a state that has always been eager for the future.
Last year at CEDA I talked about a little-known mineral called vanadium.
It's used in batteries and can be recharged thousands of times.
It is also used as a key ingredient in steel including for military aircraft and aircraft carriers.
Earlier this month my government announced the approval of mining leases for Queensland's first vanadium mine near Julia Creek.
Saint Elmo will support 250 construction jobs and another 150 ongoing jobs - initially mining 5,000 tonnes of vanadium a year.
The International Energy Agency expects global demand for vanadium to rise to between 139,000 and 219,000 tonnes by 2040.
Overall mineral demand for battery storage is expected to rise ninefold over the next two decades.
If global emissions targets shift to net zero, that demand jumps by a factor of 40.
And where is Queensland in this race to the future?
Of course, we are at the front.
HYDROGEN
Friends, everyone knows my enthusiasm for hydrogen, an industry I believe will rival LNG.
As part of the Queensland Jobs Fund, we are now committing $2 billion targeted at growing renewable energy and hydrogen jobs.
Supported by a world first Minister for Hydrogen, we are also seeing strong interest in exporting Queensland's sunshine as stored renewable hydrogen to the world.
Japan's largest domestic hydrogen supplier Iwatani Corporation are undertaking feasibility on a project to export $4.2 billion in renewable hydrogen from Gladstone which could support 5,000 jobs.
In Townsville we are working with Sun Metals as they move to operate their refinery on 100% renewable energy by 2040 and use hydrogen trucking fleets.
By investing in renewable generation Queensland can deliver some of the most competitive energy prices in the world.
Ten years ago there were no large scale wind and solar farms in Queensland. Today there are more than 40.
The cost of transporting renewable energy compared with coal and gas will provide Queensland manufacturing with a strong competitive advantage for attracting investment in green manufacturing.
OLYMPICS
That is just a small snapshot of the continuing strength and diversity of the Queensland economy.
But Queensland's greatest single economic opportunity comes from hosting the 2032 Olympic and Paralympic Games.
I doubt I have ever been more proud than the moment that decision was announced.
It was the culmination of years of hard work.
I am thankful for the strong support from the Lord Mayor, the people in this room, the business community and people around the state.
Hosting the 2032 Olympic and Paralympic Games has never been about a few weeks of competition.
It is about the next 10 years of investment and development in preparation for the Games and 10 years of celebration afterwards.
The questions for us are: what sort of Queensland do we want the world to see?
And what do we do now to achieve it?
CLEAN ENERGY SUPERPOWER
We know our state is already blessed with some of the most stunning natural beauty in the world.
But Queensland is more than just a pretty face.
This is what attracted the attention of the International Olympic Committee and what we must show the world.
We have the opportunity to showcase Queensland as a trusted and reliable trading partner with
- The renewables above the ground and critical minerals below the ground to be a clean energy superpower
- A pristine environment with the Great Barrier Reef as the centrepiece
- A destination for leading research, international education and professional services;
- Affordable energy and lower taxes; and
- The freshest, cleanest and greenest agricultural industry in the world, plus
- A stunning and diverse tourism destination including our First Nations heritage
- And the opportunity to support our regions with procurement and participation in supply chains.
Everyone has fond memories of the 2000 Sydney Games.
Wait till the world finds out there are even better parts of Australia not just in Sydney.
BENEFITS OF THE GAMES
The direct economic benefits of the Games are considerable - estimated at $8.1 billion for the Queensland economy and 91,600 jobs.
The infrastructure we will build is not FOR the games but IN TIME for them.
The Olympics have always been about peace and unity and that has certainly been our experience.
I've never seen so much peace and unity between all levels of government and all sides of politics - at least when it comes to the Olympics.
2032 is our light on the hill, focusing governments on projects our cities need for the 21st century and beyond.
THE GABBA
One of the greatest examples of vision, innovation and Queensland talents can be seen in our idea to use the Gabba as the 'home' of our games.
Brisbane firm Populous – builders of stadiums around the world – identified a way athletes can prepare for their events in a park near the Pineapple Hotel with a link to the stadium.
To labour a well-worn phrase, this was a game changer.
The Gabba has more than a century of history.
It's a workhorse, already in use 40 weeks of the year.
A raised pedestrian plaza - itself an Olympic venue - would connect the Gabba to the Cross River Rail station already under construction nearby.
Right now, beneath our city, huge machines are tunnelling through the rock creating our first underground rail network.
It's a huge project supporting 7,700 jobs.
Cross River Rail adds 10 kilometres to our rail network and six new stations further connecting our Olympic venues.
It means the Gabba will be a two minute train ride from a new Albert Street station in the CBD, something few Olympic cities can boast.
It also connects to the rest of our rail network providing access for people of all levels of mobility from right across the region forevermore.
Together with the Brisbane Live venue at the upper end of Roma Street, we will have 8 Olympic competition venues hosting 14 sports, all within walking distance of each other, connected by hundreds of bars, cafes, restaurants and world class hotels.
The 300-hectare Northshore Hamilton Priority Development Area - the proposed site for the Brisbane Olympic Village - will be transformed along with the Gold Coast Olympic Village at Robina and provide for further housing into the future.
In total there will be 21 venues in Brisbane, seven on the Gold Coast and four on the Sunshine Coast.
There will be opportunities for events at the North Queensland stadium in Townsville, for athlete training in Cairns and Mackay, and events across other regional centres including Logan, Toowoomba, Redlands and Ipswich to name a few.
The 2032 Brisbane Olympics puts Queensland on the map for business investment globally.
Just as the 2000 Olympic Games did for Sydney and New South Wales.
In 2024 there will be the Paris Olympics and in 2028 the LA Olympics followed by the 2032 Brisbane Olympics.
We have the most to gain in global business of any Games host over the past 30 years.
Not since Barcelona in 1992 has an Olympic host been better able to capitalise on hosting a games.
That's what we get by showcasing Queensland on the world stage.
Queensland becomes the Olympic State and Brisbane becomes the Olympic City.
ATHLETE LEGACY
Perhaps the greatest legacy of these games will not be measured by money.
But it could be measured in Gold.
Every four years the Olympic flame summons new generations of athletes.
The next Cedric Dubler.
Emma McKeon, Peter Bol, Ashleigh Moloney and Ariarne Titmus are out there right now – children and teenagers who will be in their prime in 11 years' time.
They're already running extra laps of the oval.
Swimming extra laps of the pool.
Bringing these games to Queensland just brings their dreams closer.
In Tokyo Queenslanders won three quarters of Australia's gold medals - 13 of the 17 golds.
If Queensland was a nation, we would have ranked seventh in the world ahead of the Netherlands, Germany, France and Italy.
I hope many of you will be able to join me and the Lord Mayor next Friday to officially welcome home our Olympic and Paralympic athletes in King George Square.
As I said in Tokyo, the Olympic Story is Queensland's story.
It's about optimism, hard work and determination.
Like Logan Martin who built his own BMX course in his backyard before winning gold in Tokyo.
We're investing more than $29 million over the next two years to kickstart a transformational 2032 High Performance Sport Strategy delivered by the Queensland Academy of Sport.
The Academy is on a mission to find more talented athletes, wherever they live in Queensland, and support them on their journey.
OLYMPIC PATHWAY FOR NEXT TWO DECADES
Three years ago at CEDA I talked about a golden age for Queensland.
That's exactly what lies ahead - not just on the sporting field but for our economy.
At the next sitting of parliament, I will introduce legislation that will establish the organising committee for the 2032 Olympic and Paralympic Games.
This is a key step forward – and the first of many.
CONCLUSION
Ten years ago, we were getting our first iPads.
Harry Potter was still in school.
10 years is both a long time and the blink of an eye.
We have 10 years – or 3,950 days to be exact – before the Olympic and Paralympic Games to get ready.
To harness and direct all the energy of everyone who wants to share the dream.
I believe we can do it.
As the Olympic motto says: faster, higher, stronger.
And, most importantly: let's do it together.
ENDS