New Government Architect going for Olympic gold
Published Thursday, 16 September, 2021 at 10:49 AM
Minister for Energy, Renewables and Hydrogen and Minister for Public Works and Procurement
The Honourable Mick de Brenni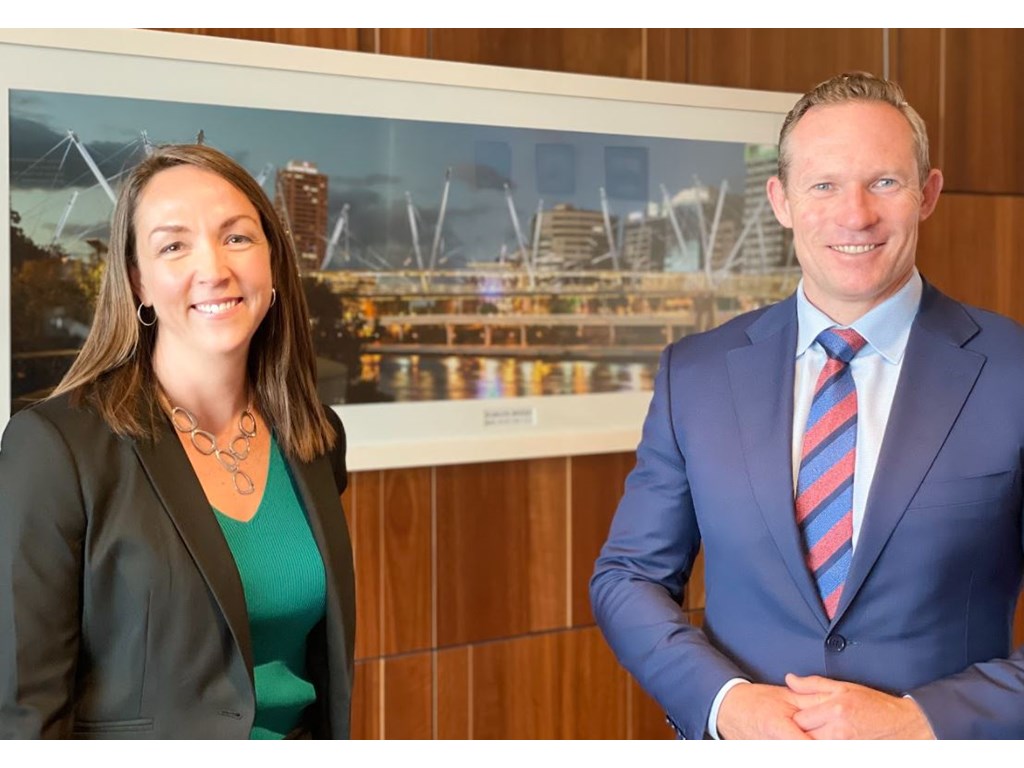 New Queensland Government Architect Leah Lang with Public Works Minister Mick de Brenni
A leading architect who helped guide the development of public infrastructure for the 2018 Queensland Commonwealth Games has been appointed as the Queensland Government Architect.
Ms Leah Lang is a Strategic Design Advisor and award-winning architect who previously held the role of Gold Coast City Architect and takes up her new role this month.
She replaces Malcolm Middleton, who finished up in the role in July after a decade of leading Queensland's public and urban building design and providing advice to governments, industry and the community.
Public Works Minister Mick de Brenni, whose Department of Energy and Public Works is responsible for the Office of the Queensland Government Architect, said it was tremendous to be appointing Ms Lang as the state's leading design advocate.
"Ms Lang brings a wealth of experience and knowledge to the role and I know she will continue to champion design excellence and influence the next generation of projects across Queensland's cities and towns," Mr de Brenni said.
"She has had extensive experience, particularly through her role with the Gold Coast Council, on major projects including the 2018 Commonwealth Games.
"As Queensland heads towards the 2032 Olympic Games, her insights and learnings will prove invaluable, ensuring the legacy of the Games is one that benefits all of Queensland.
"Ms Lang is also the first woman to take on this pivotal role which includes promoting well-designed, healthy and sustainable environments to shape the urban realm of Queensland."
Ms Lang served four years as Gold Coast City Architect, during which she oversaw city-wide urban design policy and implementation.
She worked on the Gold Coast's light rail network design and the city's $60.5 million arts centre at Bundall.
Ms Lang is a member of the Bond University and University of Queensland professional advisory boards and Gold Coast Open House Committee, as well as the Queensland Government Urban Design and Places Panel.
She is also a member of the Design Excellence Panel: Queensland Social and Affordable Housing, together with the Infrastructure NSW expert reviewer panel.
Ms Lang said she hoped to be able to further elevate the status and quality of design for buildings and spaces in Queensland following on from Malcolm Middleton's work with QDesign.
"I believe good design can greatly contribute towards solving complex problems surrounding climate change and population growth," Ms Lang said.
"These are challenges in which well-considered, sustainable architecture and urban design can make a tremendous difference."
The new Government Architect said Queensland needed to make the most of the opportunities offered by the 2032 Olympic Games.
"I think the Games will bring a unity of purpose and will drive us to realise the future vision for our State," she said.
Mr de Brenni said the Office of the Queensland Government Architect had heavily promoted urban design excellence so projects across Queensland can be the best possible.
"There is abundant academic and scientific research outlining the importance of well-designed places and that good design has far-reaching benefits," Mr de Brenni said.
"The Office of the Government Architect championed the production and publication of QDesign - the first time the Government has published a common set of design principles and values for the state."
ENDS
Media contact: Dan Knowles 0432 681 664