Palaszczuk Government invests in innovative construction safety
Published Thursday, 09 September, 2021 at 02:45 PM
Treasurer and Minister for Investment
The Honourable Cameron Dick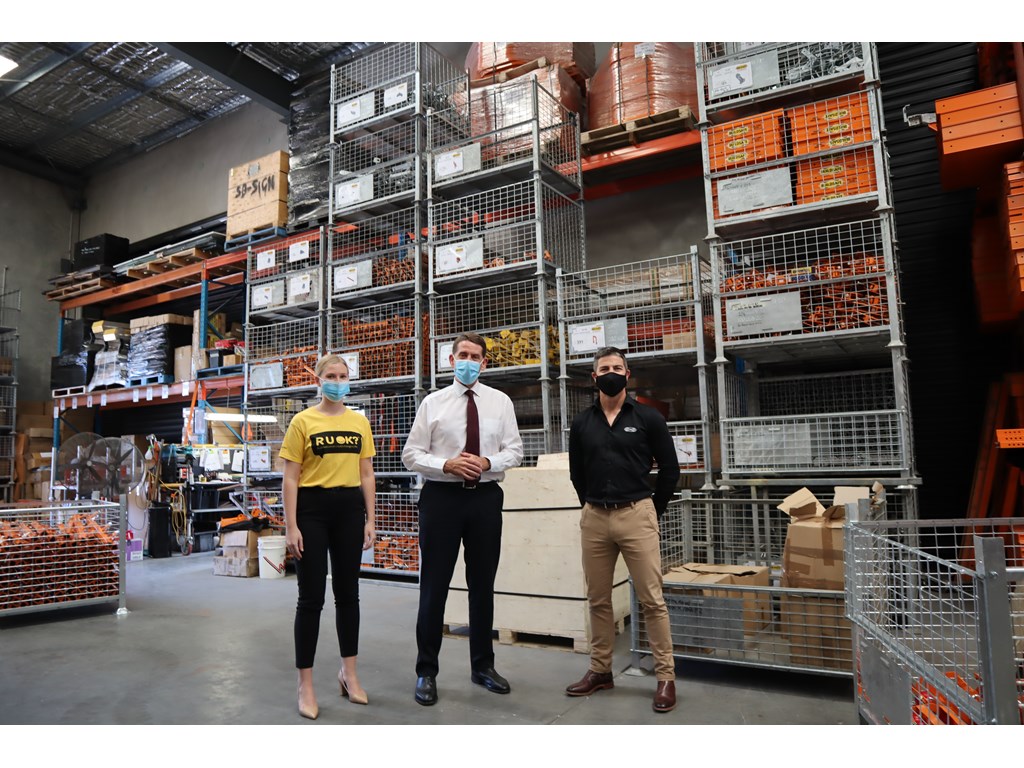 Queensland Treasurer Cameron Dick with Buildsafe CEO Milton Young and Buildsafe People & Culture Business Partner for Queensland Alannah Kubacki
With housing construction skyrocketing in the Sunshine State, the Palaszczuk Government is backing the rise of a Gold Coast business making the industry safer.
Treasurer and Minister for Investment Cameron Dick said the government is investing in Gold Coast company Buildsafe through the $100 million QIC-managed Business Investment Fund (BIF), in partnership with Colinton Capital and Minderoo.
"Supporting high-growth businesses is central to Queensland's COVID-19 Economic Recovery Plan, and we're pleased to be working with Buildsafe to create more local jobs," Mr Dick.
"Queensland dwelling approvals are up more than 37 per cent since May 2020, generating significant demand for the building height safety solutions provided by Buildsafe.
"With Buildsafe's 20-year track record of innovation and development, the company are in a strong position to capitalise on Queensland's construction boom, and our investment will ensure they do.
"It will allow Buildsafe to hire more than 40 new staff and increase production of their industry-trusted products."
Buildsafe provide end-to-end height safety solutions, including fall-guards, scaffolding, walkway systems, void platforms and temporary fencing, to the likes of Metricon, Mirvac, Coral Homes and Brighton Homes.
In just 20 years the company has gone from a truck, a ute and a few staff to almost 500 employees and 150 trucks.
Touring Buildsafe's Arundel headquarters with company co-founder and CEO Milton Young, Mr Dick said the government's stake in Buildsafe was the second strategic investment made through the BIF.
"The Business Investment Fund is increasing access to growth capital for Queensland businesses, with two investments now complete in Buildsafe and Gilmour Space Technologies," he said.
"Backing Queensland businesses to innovate and grow, strengthening supply chains across the state and creating new jobs for Queenslanders is what our economic recovery plan is all about."
Buildsafe CEO Milton Young said the support of the Queensland Government will ensure the company can secure more jobs, continue research and development, and contribute to the state's economic recovery.
"Buildsafe is an Australian-owned, national business, spread across three states, however, we can see the growth potential that Queensland offers, which is why we have chosen to drive our head office and business here," Mr Young said.
"We want to remain leaders of the industry, to continue providing state-of-the-art site safety and a dedicated customer service team to grow and strengthen the construction industry for years to come."
Colinton Capital Partner David Slocomb said Buildsafe have a consistent 20-year track record of growth.
"Co-investing alongside the founders, QIC and Minderoo, we are pleased to assist Buildsafe to accelerate their growth," Mr Slocomb said.
"They have an industry-leading focus on product innovation, safety and customer service excellence."
ENDS
Media contact: Geoff Breusch 0417 272 875