Not-for-profit groups get infrastructure boost to help with COVID-19 recovery
Published Friday, 10 September, 2021 at 11:00 AM
Deputy Premier and Minister for State Development, Infrastructure, Local Government and Planning
The Honourable Dr Steven Miles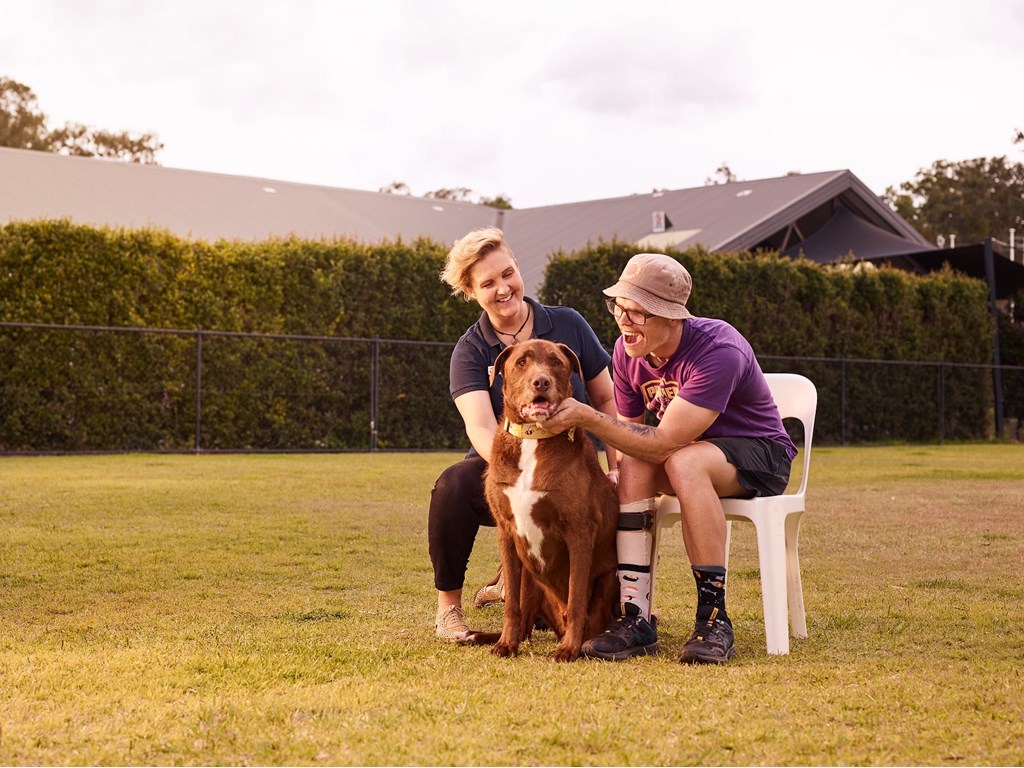 Happy Paws Happy Hearts at Wacol provide programs for people experiencing social isolation
Twelve hard-working not-for-profit groups across Queensland are receiving state funding to upgrade facilities that deliver community and job-readiness services.
Projects include building new emergency refuge accommodation, upgrading community halls and creating new community hubs to support people with a disability or struggling with mental health.
Deputy Premier and Infrastructure Minister Steven Miles said the $8 million Community Infrastructure Investment Partnership (CIIP) competitive grants program was accelerating Queensland's COVID-19 economic recovery.
"From Cairns to Brisbane, we're investing in social infrastructure to boost services for communities impacted by COVID-19 and to create local jobs," Mr Miles said.
"Infrastructure is about more than just large construction projects – it is also about small to medium projects that make a real impact at a local level and help boost the heart and soul of a community.
"These 12 projects will support at least 26 construction jobs and a range of social service delivery and administrative roles across the state.
"On top of this, they will pave the way for many new opportunities for local people who will benefit from the increased availability of services that support their health, well-being and the development of new skills.
"Each project will help to address an identified community service need that has been exacerbated by the impacts of COVID-19.
"The Palaszczuk Government is committed to working with local organisations to build resilient communities by supporting improved social infrastructure and services as part of our ongoing COVID-19 recovery effort, as well as create local jobs."
The eight new recipients are:
Selectability Ltd, Ayr: $808,500 to transform an unused historic Caledonian Hall into a hub of healing, hope and opportunity offering well-being, suicide prevention and training services.
Salvation Army, Mackay: $1.616 million in funding to establish Emergency refuge accommodation facilities
SBcare Incorporated, Kingaroy: $524,760 to renovate a community hall to enable additional services and use by community groups.
Sunshine Butterflies, Cooroibah, Sunshine Coast: $209,330 to expand and upgrade a community café for training and commercial use.
Better Together Association, Caboolture: $291,920 to convert an empty shed into a community hub shared by six organisations to support people with a disability.
Arafmi Ltd, Teneriffe: $400,000 for a one-stop-shop mental health residential and respite hub.
Happy Paws Happy Hearts Ltd, Wacol: $511,860 to upgrade training facilities providing expanded care and employment programs for people experiencing social isolation.
BUSHkids (Royal Queensland Bush Children's Health Scheme), Toowong: $481,090 for a dedicated centre for telehealth services, primarily for children in rural and regional locations.
The four recipients recently announced are:
Tully Support Centre Inc., Tully: $340,085 to expand a support centre offering community training and outreach services.
Gindaja Treatment and Healing Indigenous Corporation, Yarrabah: $1.474 million for a new learning and wellbeing centre.
ARC Disability Services, Cairns: $1 million to develop a purpose-built place-based community services hub.
Y-Care (South East Queensland) Inc., Ipswich: $235,240 to refurbish a former aged-care facility into a youth centre.
For more information about CIIP, visit Community Infrastructure Investment Partnership (CIIP) | State Development, Infrastructure, Local Government and Planning
ENDS
Media contact: Amy Hunter 0423 651 484