Mt Gravatt TAFE is dressed to impress
Published Wednesday, 08 September, 2021 at 02:50 PM
Minister for Employment and Small Business and Minister for Training and Skills Development
The Honourable Di Farmer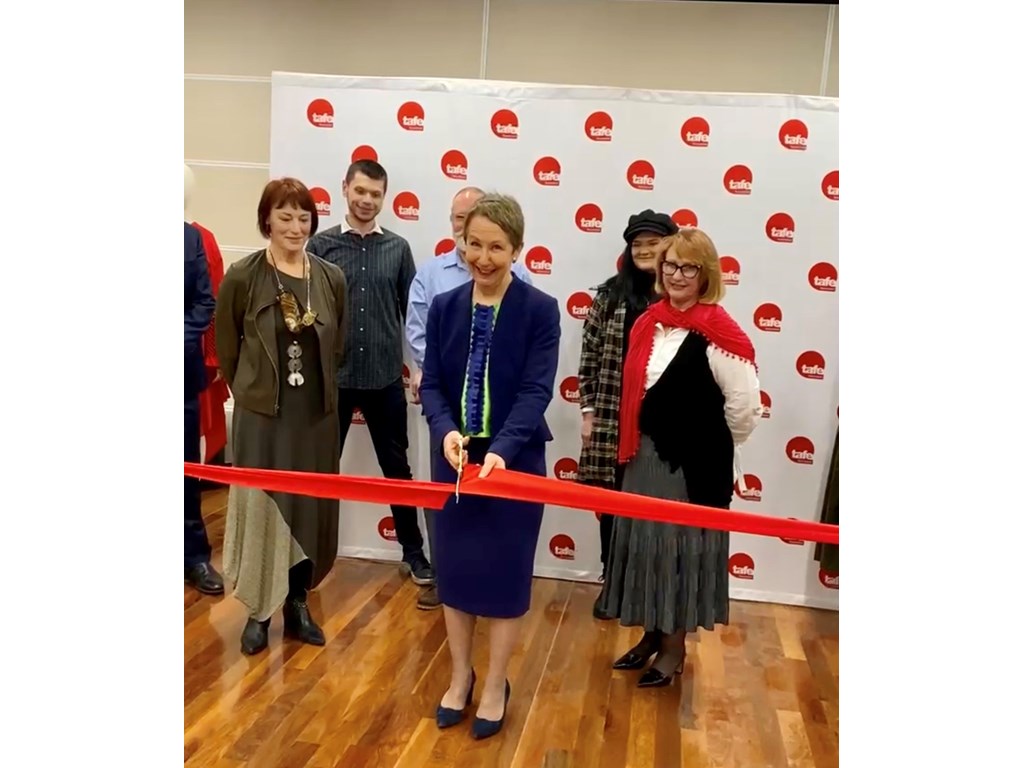 Minister Farmer officially opening the new Fashion Centre of Excellence at Mt Gravatt TAFE
Mount Gravatt TAFE campus has confirmed its place as Queensland's leading specialist training campus in fashion, fabric, and textile arts, thanks to a $6.5 million investment from the Palaszczuk Government.
Minister for Training and Skills Development Di Farmer officially opened the second and final stage of the Fashion Centre of Excellence today.
"We know that if you get the right training, you're more likely to get the right job. That's why the Palaszczuk Government put investing in skills at the heart of our $14.2 billion COVID-19 Economic Recovery Plan.
"Stage two of the Mount Gravatt TAFE Fashion Centre of Excellent is a $5 million investment to back the state's creative future.
"The $1.5 million stage one opened in 2019 and the completed centre will ensure our fashion and textile students are trained with current industry standard equipment in a modern, vibrant and inspiring learning space.
"The initiative positions Queensland as a leader in fashion design training and will inspire and produce future creative businesses and create jobs."
Member for Mansfield, Corrine McMillian, said fashion and textiles produce significant economic benefit to Queensland.
"In 2018-19 there were more than 6,000 fashion, industrial and jewellery designers in the state and Queenslanders spend more than $6 billion a year on clothing and footwear," Ms McMillian said.
Member for Greenslopes, Joe Kelly, said that the Australian fashion and textiles industry is worth $27 billion dollars and creates almost half a million jobs.
"Investing in skills and training for young people to enter the workforce and strengthen industries is a key part of the COVID recovery," Mr Kelly said.
"We are taking the future of fashion and textile creatives seriously and supporting young Queenslanders to get a start in the industry."
Jay Harris is in his third year of training at the Fashion Centre of Excellence after enrolling to study the Diploma of Applied Fashion Design and Merchandising in 2019.
In 2020 he went on to win the Country Women's Association Bursary Award for a range of swimwear he created during his diploma studies at TAFE Queensland.
"I had never stitched a stitch and couldn't thread a sewing machine, and now I'm tailoring suits, luggage, shirts and swimwear – all thanks to my teachers, their training and the facilities," Jay said.
"After graduating from the diploma, I enrolled in the Bachelor of Creative Industries (Applied Fashion) at TAFE Queensland's Mount Gravatt campus, in partnership with the University of Canberra.
"I thrive when designing and creating fashion, and I'm developing a strong sense of identity through my training delivered in these amazing facilities."
Enrolments in fashion related training at Mount Gravatt TAFE doubled in 2020/2021 on the previous year, with 294 students enrolled from Certificate II through to Advanced Diploma and Bachelor level.
227 of those students are in enrolled in the Diploma of Applied Fashion Design and Merchandising, which is the third most popular course at Mount Gravatt TAFE.
The Bachelor of Applied Fashion course is a TAFE Queensland partnership with the University of Canberra.
This work is part of a $15 million upgrade to the campus which includes:
The Fashion Centre of Excellence
Improved horticulture, revitalised filmmaking and improved concourse amphitheatre spaces
Campus improvement projects including cafeteria, security, and footpath upgrades; new signage, façade, walkway and lighting projects
For information about TAFE Queensland courses visit: www.tafeqld.edu.au
Media contact: Kate Talbot, 0439 803 211