Dam rescue mission preserves FNQ history
Published Monday, 30 August, 2021 at 11:56 AM
Minister for Resources
The Honourable Scott Stewart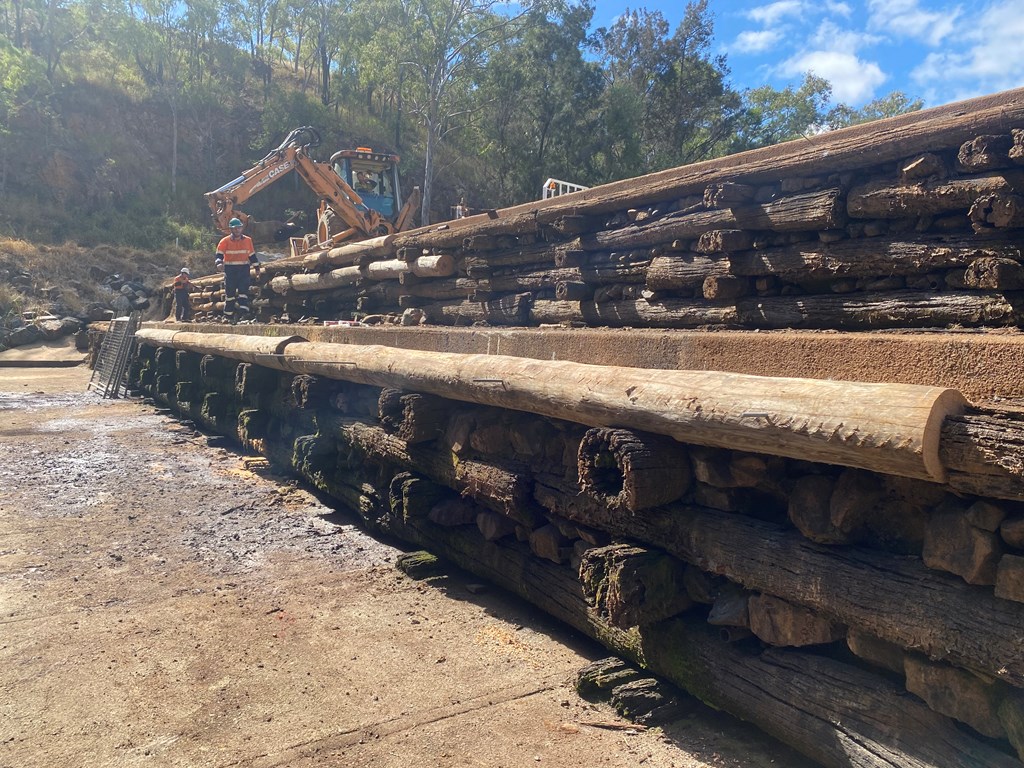 Work being done to repair the 135-year-old Loudoun Weir at Irvinebank.
A $95,000 Palaszczuk Government project has preserved a delicate heritage-listed piece of Far North Queensland's colourful tin mining history.
Since late last year, local contractors have been carefully repairing the 135-year-old Loudoun Weir at Irvinebank on the Atherton Tablelands in the Far North, supporting seven direct jobs in the process.
The operation involved a painstaking mix of a CCTV camera, 20 wheely bins worth of concrete and a hunt for just the right type of tree, with the guidance of locals.
Resources Minister Scott Stewart said the finished product was a great example of his Department of Resources' often-unseen work protecting the state's heritage.
"The first European tin, copper and gold discoveries in the 19th century have left Queensland towns like Irvinebank, Gympie and Charters Towers with a lasting historical tourism legacy," he said.
"Thanks to decades of advances in environmental and engineering science, we can now maintain that legacy and keep the surrounding communities and natural environment safe."
"I'm proud to say that all Palaszczuk Government projects in Queensland, whether they be big or small, are supporting our plan for economic recovery from COVID-19."
The original timber Loudoun Weir was built in 1885 as part of the Vulcan tin mine complex, with the mill and treatment works on its foreshore.
The Palaszczuk Government upgraded the weir to concrete in 2006, but retained the original timber in the weir's façade.
The first leak was spotted in a 2017 routine inspection and an incoming water entry point was sealed off as a temporary measure.
The permanent seal job started in December 2020 with a significant void found in the weir wall. With the help of a CCTV cable, departmental staff established that five cubic metres – or 20 wheely bins – worth of concrete would fill the void and stop the leak.
Once the dam stopped overflowing mid-year, six logs in the heritage-listed weir façade also had to be replaced, requiring input from locals on like-for-like timber – not to mention the challenge of swapping in 40 metres of logs with heavy machinery on a tight worksite.
Irvinebank Progress Association president Robyne Perkes said the department's work was "a godsend".
"It has saved our dam, which is a significant part of the history of our town and plays a big role in tourism for us," she said.
"John Moffat built that dam to start the Loudoun Mill and Irvinebank itself.
"The town is very appreciative of the work that was done to seal the dam again and also retain the heritage value of the timber logs in the dam wall."
"We are really happy with the work of the department, and the whole town thanks them for maintaining such an important part of our community."
Loudoun Weir is one of 21 non-commercial dams and weirs maintained by the Department of Resources.
ENDS
Media contact:
Chris Lees 0434 859 940