National Skills Week highlights Queensland's training talent
Published Monday, 23 August, 2021 at 12:22 PM
Minister for Employment and Small Business and Minister for Training and Skills Development
The Honourable Di Farmer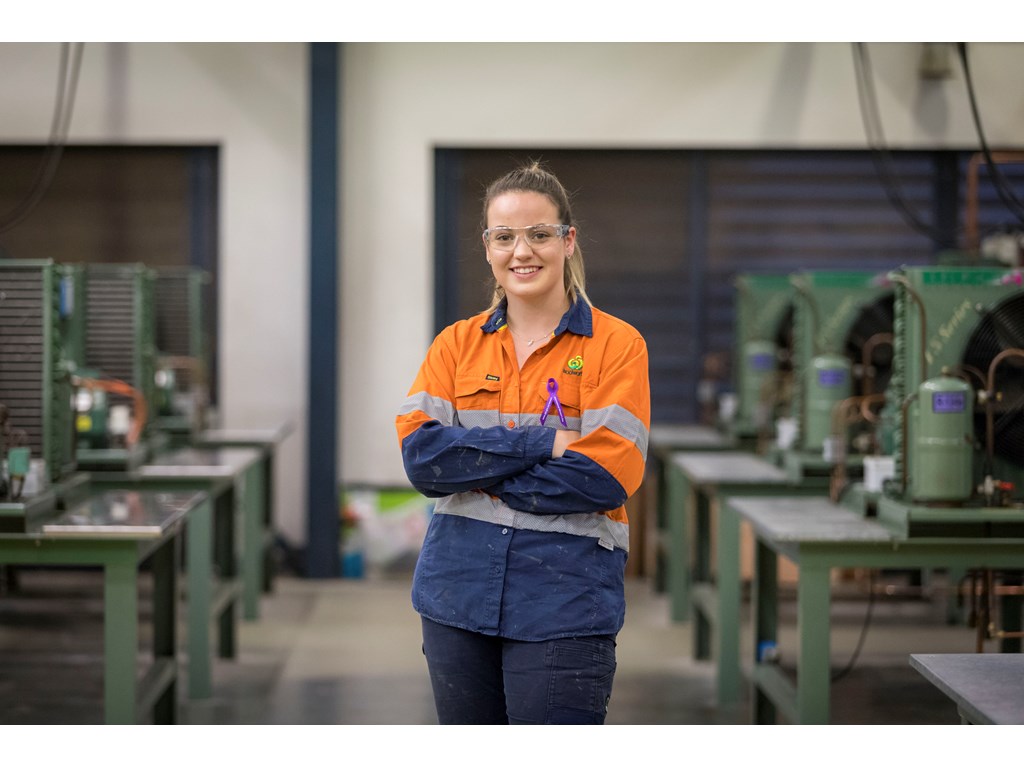 Katie Hammill-Lovett, Woolworths apprentice and TAFE Queensland student
The rise in trainee and apprenticeship numbers is showing the Palaszczuk Government's record investment of more than $1 billion in training and skills is paying off, with Queenslanders getting the qualifications they need for the jobs of the future.
Minister for Training and Skills Development Di Farmer said 'RE-THINK', the theme of this year's National Skills Week, encouraged Queenslanders to take a good look at the many and varied careers available through vocational training.
"Wherever you are in Queensland, you deserve the opportunity to get world class training to help you get the right job," Minister Farmer said.
"There has never been a more important time to do this, and that's why the Palaszczuk Government put investing in training and skills at the heart of our $14.2 billion COVID-19 Economic Recovery Plan.
"This includes free apprenticeships and free TAFE for under 25s across 165 priority skills areas including construction, health, and disability support services.
"And the figures show that it's paying off: 45,700 apprentices and trainees started in the last financial year, which is a huge 56.6% rise on the year before.
"We are also the national leader in school-based apprenticeships and traineeships with 57% of the national total.
"To ensure Queenslanders continue to get world-class training, we are continuing to build cutting-edge facilities.
"That's why we have invested over $220 million into renewing and revitalising TAFEs across Queensland since 2017.
"And from this year, we are investing another $100 million. This will ensure our thousands of apprentices and trainees have world class facilities to train in and get the skills they need to change their lives."
One of those people is Katie Hammill-Lovett, 19, who has secured an apprenticeship with Woolworths Group. There were nearly 500 applications for 15 spots.
"In a traditionally male-dominated industry where women make up just 1% of the workforce, I am proud to be breaking the mould as I start off my trade career in refrigeration and air conditioning," Katie said.
"I wasn't sure what career path to follow after finishing high school, but my mum encouraged me to look into a trade career after seeing I had similar skills to my older brother who's a qualified tradie.
"I decided to do a Certificate II in Electrotechnology at TAFE Queensland. This gave me great insight into the industry but importantly gave me the foundation skills I needed to start applying for apprenticeships."
After six short months Katie is now thriving in her new trade career and said that her experience so far at Woolworths has been amazing.
Minister Farmer said vocational education and training was vital to Queensland's economy.
"We know that if you get the right training, you're more likely to get the right job," Minister Farmer said.
"I'd encourage every single person reading this to go and look up all the rewarding, lucrative and prestigious career opportunities available through vocational education and training."
National Skills Week, which runs from August 23 to August 29, is an opportunity to raise awareness of the power of vocational education and training and the wide range of qualifications that lead to rewarding careers now and into the near future.
For more information about National Skills Week visit nationalskillsweek.com.au, or to learn more about subsidised training opportunities available to eligible Queenslanders visit desbt.qld.gov.au.
Media contact: Kate Talbot, 0439 803 211