Wonder Reef to make an economic splash
Published Wednesday, 11 August, 2021 at 02:33 PM
Minister for Tourism Industry Development and Innovation and Minister for Sport
The Honourable Stirling Hinchliffe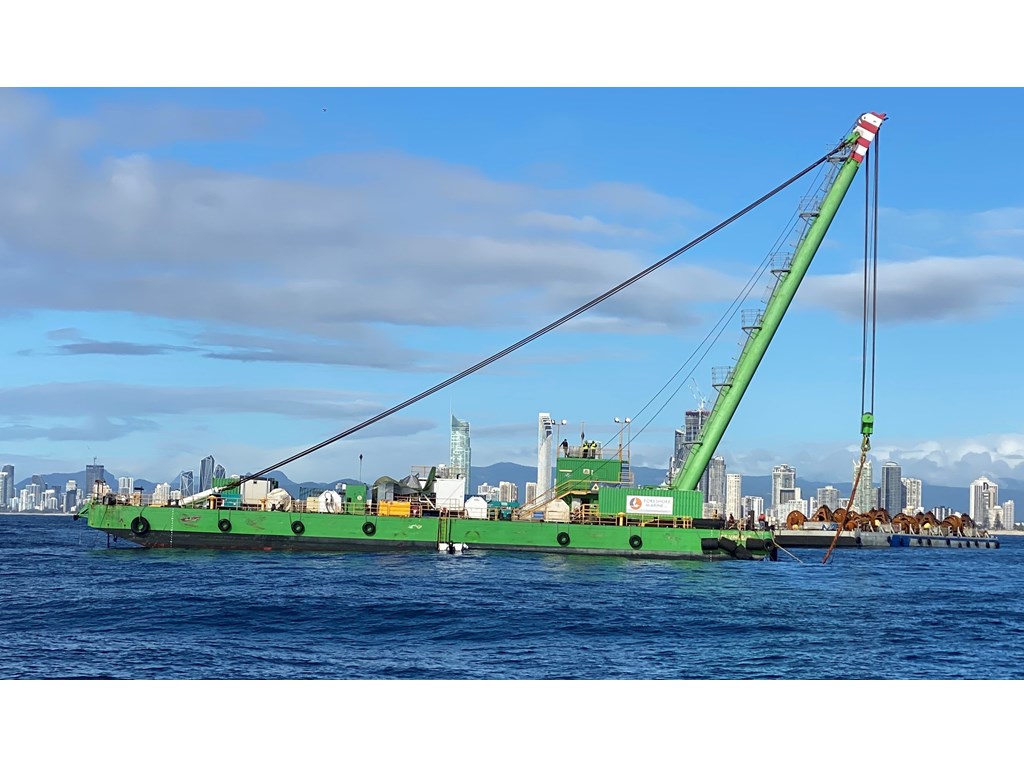 The installation of the Gold Coast's newest, $5 million underwater attraction is underway to make a splash for the Palaszczuk Government's Covid-19 Economic Recovery Plan.
Tourism Minister Stirling Hinchliffe said the Government had invested $2.5 million in the City of Gold Coast's purpose-built, eco-engineered diving reef.
"The Palaszczuk Government has also delivered a 50-year seabed lease for Wonder Reef, 2.5 kilometres off the Gold Coast's Main Beach," Mr Hinchliffe said.
"Built in Maryborough and supporting 18 local jobs during construction, Wonder Reef is as Queensland as our world-famous beaches.
"Wonder Reef is part of our commitment to helping Gold Coast tourism rebuild better and is set to top the bucket lists of scuba divers from across Australia."
Installation of steel and concrete-based reef began today (Wednesday, 11 August) using the country's largest floating crane to sink nine buoyant sculptural reef flutes, anchored to a depth of 30 metres.
Member for Gaven and Environment Minister Meaghan Scanlon said Wonder Reef was expected to attract 160,000 new visitors and deliver $32 million within a decade for the city's economic recovery.
"Wonder Reef will be another great addition to the unique visitor experiences that make the Gold Coast Australia's favourite destination," Ms Scanlon said.
"Once operational, Council expects Wonder Reef should eventually support up to 80 operational jobs for our Covid-19 Economic Recovery Plan.
"After installation, marine experts will start work on planting local species of coral to help accelerate marine and entice a rich diversity of sea life.
"Diving experts predict Wonder Reef will create a unique diving experience for visitors within a 10 to 15-minute boat trip from the Gold Coast Seaway.
"With more than 2,300 kilometres of the largest coral reef system on the planet and soon Wonder Reef, Queensland and the Gold Coast are the place to be for divers and snorkelers of all ages and abilities."
Mayor Tom Tate said Wonder Reef was many years in the making.
"It's exciting we are close to seeing Wonder Reef become a reality and providing yet another reason for tourists to visit our great city," The Mayor said.
"It's not just about the many tourism benefits – this will also be an environmental wonder with more than 30,000m3 of new reef habitat for the Gold Coast's unique marine life to call home.
"Wonder Reef will be an incredible addition to the Gold Coast's dive scene.
"If you aren't already a diver, I encourage you to sign up for a course with a local dive operator ready for Wonder Reef's opening in early 2022."
The reef structures weigh more than 846 tonnes and will undergo six to eight months of rigorous monitoring and testing to meet approvals and diver safety.
Between eight and 10 aluminium anodes are attached to each of the nine reef flutes to protect the steel structures against corrosion.
Mr Hinchliffe said Wonder Reef would join a collection of artificial reef dive sites in Queensland include Townsville's Museum of Underwater Art, ex-HMAS Tobruk in the Great Sandy Marine Park, and ex-HMAS Brisbane off Mooloolaba.
"For world-class diving experiences, Queensland is Good to Go," Mr Hinchliffe said.
"And there's no better time to support our tourism industry."
Pics: https://www.dropbox.com/sh/mfw9x0ozenwqz5p/AACyaazU_6xcJBCSnA3d2MPva?dl=0
Raw video: https://clicktime.symantec.com/34uMnPjy3MxqWkaHNm7ZNFm7Vc?u=https%3A%2F%2Fvimeo.com%2F585617299%2Fcf1a2ecab5
Media contacts: 0427 475 089 (Minister Hinchliffe's Office)
0420 592 078 (Minister Scanlon's Office)