Darling Downs South West's best training talent announced
Published Friday, 30 July, 2021 at 03:00 PM
Minister for Employment and Small Business and Minister for Training and Skills Development
The Honourable Di Farmer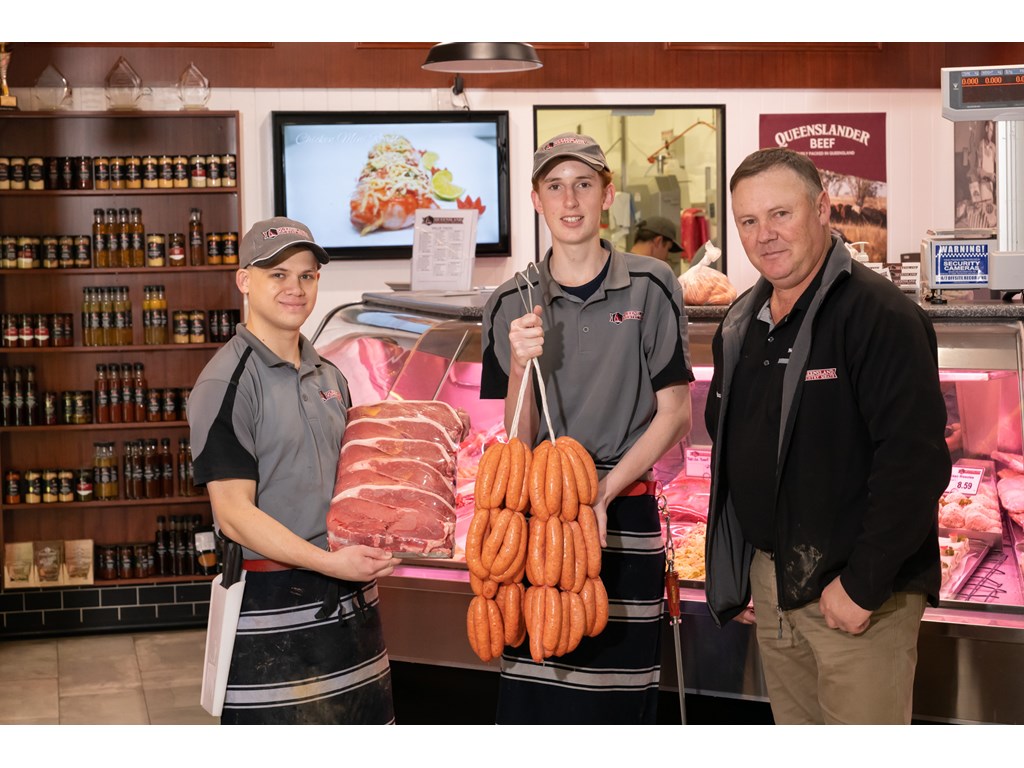 QLD Country Meats l-r apprentices Jayden Ruru and Brett Ellis with owner Paul Lavelle
A family business from Roma that supports its staff through mentoring and accredited training has been selected as a Darling Downs South West regional winner in the 60th annual Queensland Training Awards.
Minister for Training and Skills Development Di Farmer named Queensland Country Meats and 10 other Darling Downs and South West regional winners, recognising their significant contribution to training Queenslanders especially at such a challenging time.
"The Palaszczuk Government put investing in skills at the centre of our COVID-19 Economic Recovery Plan, and with over $1 billion in the recent state budget dedicated to training and skills, we are delivering on that commitment," Minister Farmer said.
"The Queensland Training Awards provide a perfect opportunity for us to shine a spotlight on our top achievers in training and highlight the power of skills.
"I am delighted to announce that Queensland Country Meats is the regional winner of the Small Employer of the Year category.
"The business is committed to identifying the key motivators, both personal and professional, of each staff member to ensure that the right training is provided.
"Understanding and integrating each of their employee's personal goals into their work life is critical to Queensland Country Meats' staff retention, workforce development and success in business."
Minister Farmer said Harry Hauenschild Apprentice of the Year, Lane Hewett, discovered his passion for heavy machinery repair while helping out on a friend's farm.
"For Lane, the idea of maintaining these vehicles and supporting farmers had him hooked from the start, which led him to undertake a Certificate III in Engineering – Mechanical Trade," Minister Farmer said.
"Remaining dedicated to his apprenticeship while juggling family and financial responsibilities was a challenge but, with the support of Hastings Deering, he was able to successfully complete his qualification in early 2021."
Hastings Deering – who sell, service, rent and support Caterpillar equipment across Darling Downs and South West Queensland – have also been recognised for their commitment to workforce development, winning the Medium Employer of the Year category.
"Hastings Deering believes in its commitment to the local community and is dedicated to providing employment and developing skills that last a lifetime," said Minister Farmer.
"The business has been supporting the local community through unique training opportunities, including work experience, school-based and full-time apprenticeships, and traineeships and graduate programs for over 50 years."
Jasmin Maroni is also well on her way to a future career in agriculture after winning the regional Vocational Student of the Year category.
"Jasmin is passionate about agriculture and found that her Diploma of Agribusiness Management gave her the knowledge she was seeking to manage a sustainable and efficient farm enterprise," said Minister Farmer.
"The business modules have allowed her to gain numerous transferable management skills, and while the course has been a stepping stone into veterinary studies for Jasmin, she also considers it a launchpad for her future agricultural career.
"In the Equity VET Student of the Year category the winner is Tatum Kite, whose traineeship at Chinchilla Community Centre has transformed her life, providing her with the skills, support and independence to improve her living situation, mental health and family life.
"Having now completed her Certificate I in Hospitality, Tatum is thrilled to be a part of an industry she loves. She feels rewarded each day at work by the positive experience she delivers to customers and loves that her qualification has also given her life skills that she can continue to use in the future."
Minister Farmer said it was extremely important that the hard work of the state's outstanding apprentices, trainees, students, employers, teachers and training projects was recognised.
"I want to congratulate Kasey Hardy, who was named the Aboriginal and Torres Strait Islander Student of the Year for her commitment to a Certificate III in Work Health and Safety with Harness Energy Services and host employer Shell QGC," said Minister Farmer.
"Kasey believes that her traineeship offered her the perfect opportunity to get a taste of the industry, rather than signing up for an apprenticeship before she knew what to expect.
"Kasey chose the resources sector to learn more about natural gas extraction, particularly about its impact on the environment – having now completed her traineeship, Kasey is continuing her work health and safety studies through another traineeship.
"Congratulations to the regional winners who are the skilled Queenslanders we need for our economy to continue to bounce back."
The regional winners will now vie for the state titles, which will be announced at the State Final Event in September.
Photographs of winners available here: https://bit.ly/3zMUTbV
Full list of Darling Downs and South West winners:
Small Employer of the Year – Queensland Country Meats
Medium Employer of the Year – Hastings Deering (Australia) Limited
Large Employer of the Year – Western Downs Regional Council
Community Training Initiative of the Year – Golden West Apprenticeships for the Bunya Learnscape Skilling Queenslanders for Work project
VET Teacher or Trainer of the Year – Dr Shweta Singh
Equity VET Student of the Year – Tatum Kite
School-based Apprentice or Trainee of the Year – Sydney Bodkin
Aboriginal and Torres Strait Islander Student of the Year – Kasey Hardy
Vocational Student of the Year – Jasmin Maroni
Bob Marshman Trainee of the Year – Mitchell Pogan
Harry Hauenschild Apprentice of the Year – Lane Hewett
To learn more about the Queensland Training Awards visit https://desbt.qld.gov.au/training/qta
Media contact: Kate Talbot, 0439 803 211