Queensland dinosaur recognised by scientists as largest in Australia
Published Tuesday, 08 June, 2021 at 09:15 AM
JOINT STATEMENT
Premier and Minister for Trade
The Honourable Annastacia Palaszczuk
Minister for Tourism Industry Development and Innovation and Minister for Sport
The Honourable Stirling Hinchliffe
Minister for Communities and Housing, Minister for Digital Economy and Minister for the Arts
The Honourable Leeanne Enoch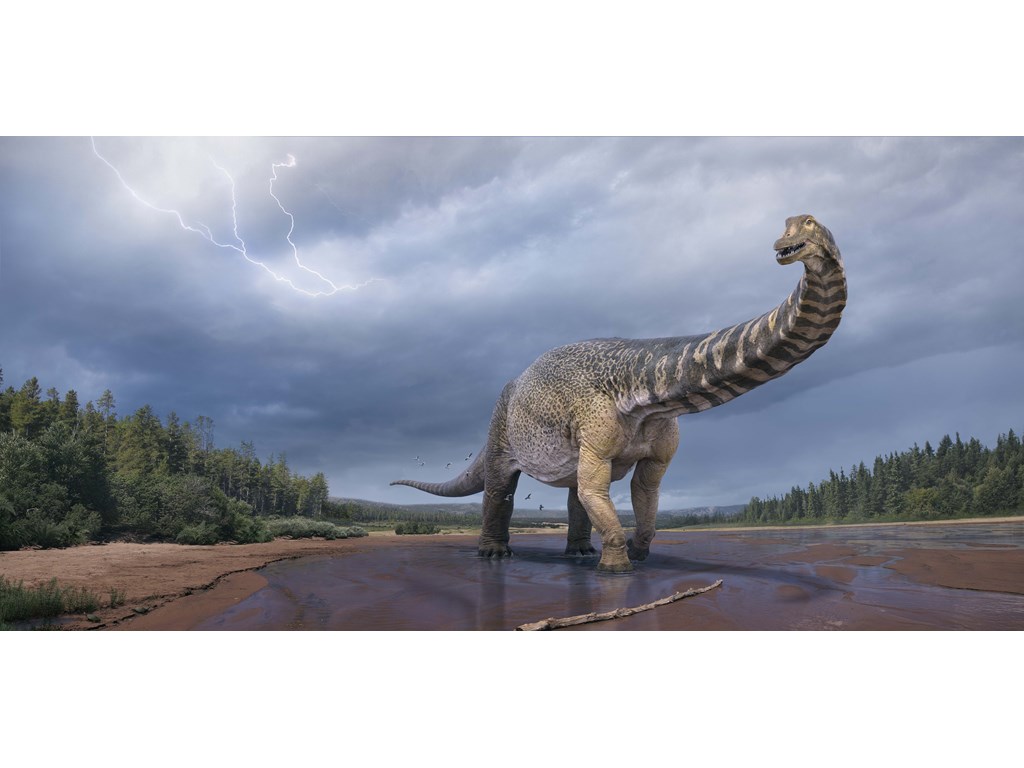 It's official – a new species of giant sauropod dinosaur discovered in Eromanga in southwest Queensland has been named Australia's largest dinosaur by Queensland scientists.
Premier Annastacia Palaszczuk said the dinosaur, named Australotitan cooperensis, or "the southern titan", has now been scientifically described and named by Queensland Museum and Eromanga Natural History Museum palaeontologists.
"The dinosaur is as long as a basketball court and taller than a B-double and has now been officially recorded as Australia's largest dinosaur," she said.
"It sits within the top 10-15 largest dinosaurs found across the world and it was found right here in Queensland.
"The fossilised skeleton was originally nicknamed 'Cooper' after Cooper Creek, when it was first discovered in 2007 at Eromanga.
"Now, scientists have been able to publish their findings after a 17-year long joint effort between Queensland Museum and Eromanga Natural History Museum palaeontologists, fossil preparators, geologists, and countless volunteers."
The Premier – who visited Eromanga in 2016 – said her government had invested millions of dollars to partner with outback tourism operators to promote dinosaur tourism and create jobs as part of Queensland's plan for economic recovery.
"This is the kind of exposure that money can't buy for outback tourism," the Premier said.
"Dinosaur tourism has great potential to create jobs and generate millions of dollars for businesses in west Queensland.
"This discovery and scientific finding will put outback Queensland on the map as one of the world's leading destinations for dinosaur tourism."
The study compared the three species found to the north, near Winton, and it was found that Australotitan was closely related to three other Australian sauropods that lived during the Cretaceous Period (92-96 million years ago).
Minister for Arts Leeanne Enoch said the exciting new discovery helps to cement Queensland as Australia's dinosaur capital.
"Discoveries like Australotitan tell the story of a time when dinosaurs roamed Queensland," Minister Enoch said.
"Queensland Museum experts have been on the ground, sharing their knowledge with regional museums and helping to preserve and better understand the diverse paleontological history of our state.
"These unique outback discoveries are supporting Queensland as we deliver our economic recovery plan creating local jobs in regional and cultural tourism."
Tourism Minister Stirling Hinchliffe said Outback Queensland had multiple dinosaur attractions spread across the region.
"This discovery is one more reason to visit the Outback," Mr Hinchliffe said.
"The Palaszczuk Government has committed close to half a million dollars over three years to deliver a roadmap to grow dinosaur tourism across outback Queensland.
"Eventually, we want to see dinosaur tourism put Queensland on the international paleology visitor map."
Australotitan is estimated to have reached a height of 5-6.5 metres at the hip and 25- 30 metres in length, and sits within the top 10-15 largest dinosaurs world-wide.
In this recent study, for the first time scientists used new digital technology to 3-D scan each bone of Australotitan and compare them to the bones of its closest relatives. These scans will form part of Queensland Museum's digital collection.
Queensland Museum Network CEO Dr Jim Thompson said this represented the first dinosaur discovery in this corner of south-west Queensland.
"In the early 2000s Australia was at the beginning of a dinosaur-rush, with a number of significant new species of dinosaurs and megafauna being discovered in the past 20 years. Australia is one of the last frontiers for dinosaur discovery and Queensland is quickly cementing itself as the palaeo-capital of the nation – there is still plenty more to discover," Dr Thompson said.
"I am proud that Queensland Museum palaeontologists have been part of many of these amazing discoveries and are leaders in their fields."
ENDS
Media contact: Pam Frost 0437 859 987