Beef 2021 to hit right note for Queensland jobs
Published Wednesday, 24 March, 2021 at 02:00 PM
JOINT STATEMENT
Premier and Minister for Trade
The Honourable Annastacia Palaszczuk
Minister for Agricultural Industry Development and Fisheries and Minister for Rural Communities
The Honourable Mark Furner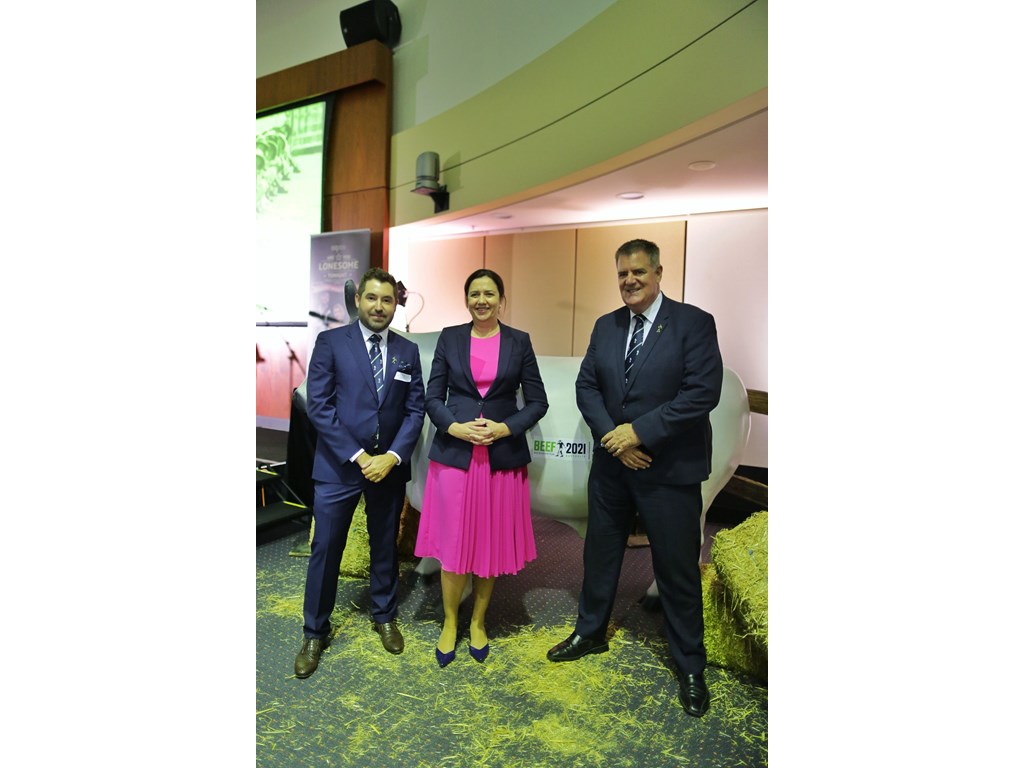 Premier Annastacia Palaszczuk and Agricultural Industry Development Minister Mark Furner with Beef Australia chair Bryce Camm at a Beef 2021 preview event at Parliament House
Queensland's multi-billion-dollar beef industry will be the centre of attention from around the world when the Beef 2021 event is held in Rockhampton from the 2nd to the 8th of May.
Premier Annastacia Palaszczuk said Queensland's beef industry was a world leader and a major jobs generator for the state.
"When it comes to growing Queensland exports and growing Queensland jobs, there is no industry bigger than beef," Ms Palaszczuk said.
"To have Beef Australia's Beef 2021 event in Rockhampton shows that Queensland is rightly centre stage, with a million dollars in Government support helping to make this year's event even bigger and better than previous years.
"An artistic partnership with Opera Queensland adds another wonderful element to a great event.
"We produce the best beef in the world, and when you support Queensland beef you support Queensland jobs and Queensland's ongoing economic recovery."
Minister for Agricultural Industry Development and Fisheries and Minister for Rural Communities Mark Furner said the beef industry supported thousands of jobs across every region of Queensland and would continue to grow.
"With our ongoing program of virtual trade missions and continued support for the industry, beef is going to play a big part as agriculture contributes strongly to Queensland's plan for economic recovery from COVID-19," Mr Furner said.
"That means more jobs in regional Queensland and stronger regional economies, which is good news for every Queenslanders."
Beef Australia Chair Bryce Camm said the event will again showcase the Australian beef industry to the nation and the world.
"As regional Queensland's largest event, Beef Australia makes a significant contribution to agriculture and the wider community. The previous event in 2018 injected $85 million into the local economy and we expect to achieve this again," Mr Camm said.
"Visitors to Rockhampton will see the nation's best beef cattle, with stud entries even making the journey from South Australia and Victoria.
"The beef industry is big business generating over $19 billion for the Australian economy. Queensland remains the beef capital of Australia, boasting 48% of the national herd"
"Beef Australia provides education to students and beef industry participants - In 2021 we are proud to unveil the Ken Coombe Tech Yards, showcasing new and innovative technology.
"We are also thrilled to welcome evoke AG as the presenting partner for Pitch in the Paddock. This powerful union is the first of its kind for the Australian beef industry and the nine finalists presenting their pitch live on stage are guaranteed a global stage.
"Recent Queensland Government initiatives supporting innovation and technology in agricultural sectors have no doubt contributed to the 34% increase in entries from throughout Australia, also attracting an entry from Europe."
Tourism Minister Stirling Hinchliffe said Beef 2021 would be a bonus for Central Queensland's economic recovery which is already underway.
"Central Queensland is the place to be for significant national events like Beef 2021," Mr Hinchliffe said.
"Beef 2021 is supported by Tourism and Events Queensland because it attracts visitors to Rockhampton, backs jobs and the invests in the Central Queensland economy.
"Big events like Beef 2021 help to put regional Queensland ahead of the herd for lasting tourism, economic and community benefits."
Beef Australia CEO Ian Mill said there is an exceptional line-up of entertainment and food this year. The celebrity chef restaurant will operate for lunch and dinner throughout the week of Beef 2021, boasting some of the nation's best chefs.
"Doing business at beef is so important for both our local industry and global trading partners," Mr Mill said.
"In 2021 the handshakes program, connecting Australian business with global partners has gone online, ensuring the event continues to create and nurture these relationships.
"While many social events sold out in record time, there are still many events on sale and importantly, a huge program of free entertainment for those who join us in Rocky."
As well as generating millions of dollars for regional Queensland and even more in beef exports to our trading partners, Beef 2021 will also offer a unique cultural offering showcasing some of Queensland's amazing operatic talent across the state.
Minister for the Arts Leeanne Enoch said Opera Queensland had formed a partnership with Beef Australia to host the world premiere of a cross-genre performance of opera and country music for the Beef 2021 event.
"The premiere performance of Are You Lonesome Tonight, which will take place during Beef 2021 in Rockhampton, will kick-off a two-month tour of multiple locations right across Queensland," Ms Enoch said.
"This will be the most significant regional tour in Opera Queensland's history, and will be a unique production marrying opera and country music."
Opera Queensland artistic director Patrick Nolan said the state-wide tour in partnership with Beef Australia is a great way to celebrate Opera Queensland's deep commitment to regional audiences and the many artists from across the state that have been part of the company's music making over the past 40 years.
"The company is celebrating its 40th birthday by engaging with audiences across Queensland, providing arts, culture and education opportunities to more people than ever before."
"Opera Queensland's partnership with Beef Australia sprang from our shared belief in the importance of delivering culture, entertainment and joy across regional Queensland, particularly following such a profound period of drought."
Member for Rockhampton Barry O'Rourke said: "I am so proud of our city for hosting Beef 2021. This is great for business in our community, great for jobs and great for Rocky's reputation."
Member for Keppel Brittany Lauga said, "Hosting this event in Central Queensland will be a boost for jobs in the whole region and a real shot in the arm for beef and a whole range of industries."
ENDS
Media contacts:
Minister Furner Ron Goodman 0427 781 920
Minister Hinchliffe Darren Roberts 0427 475 089
Minister Enoch Pamela Frost 0437 859 987
Beef Australia Joanne Fricker 0429 882 238
Opera Queensland Beth Uttley 0430 726 564
Are You Lonesome Tonight Tour Dates
Rockhampton Tuesday 4 May
Bowen Friday 7 May
Charters Towers Saturday 8 May
Cairns Tuesday 11 May
Innisfail Wednesday 12 May
Ingham Thursday 13 May
Townsville Friday 14 May
Mount Isa Tuesday 18 May
Winton Thursday 20 May
Longreach Sunday 23 May
Barcaldine Monday 24 May
Blackall Tuesday 25 May
Windorah Thursday 27 May
Quilpie Saturday 29 May
Charleville Sunday 30 May
Cunnamulla Monday 31 May
St George Tuesday 1 June
Warwick Friday 4 June
Stanthorpe Saturday 5 June
Redlands Sunday 6 June
Toowoomba Wednesday 9 June
Beaudesert Thursday 10 June
Caloundra Saturday 12 June
Maryborough Wednesday 16 June
Bundaberg Thursday 17 June
Gold Coast Saturday 19 June
Redcliffe Wednesday 23 June
Roma Friday 25 June