Local business doubles workforce for Convention Centre build
Published Wednesday, 17 February, 2021 at 06:00 PM
Minister for Energy, Renewables and Hydrogen and Minister for Public Works and Procurement
The Honourable Mick de Brenni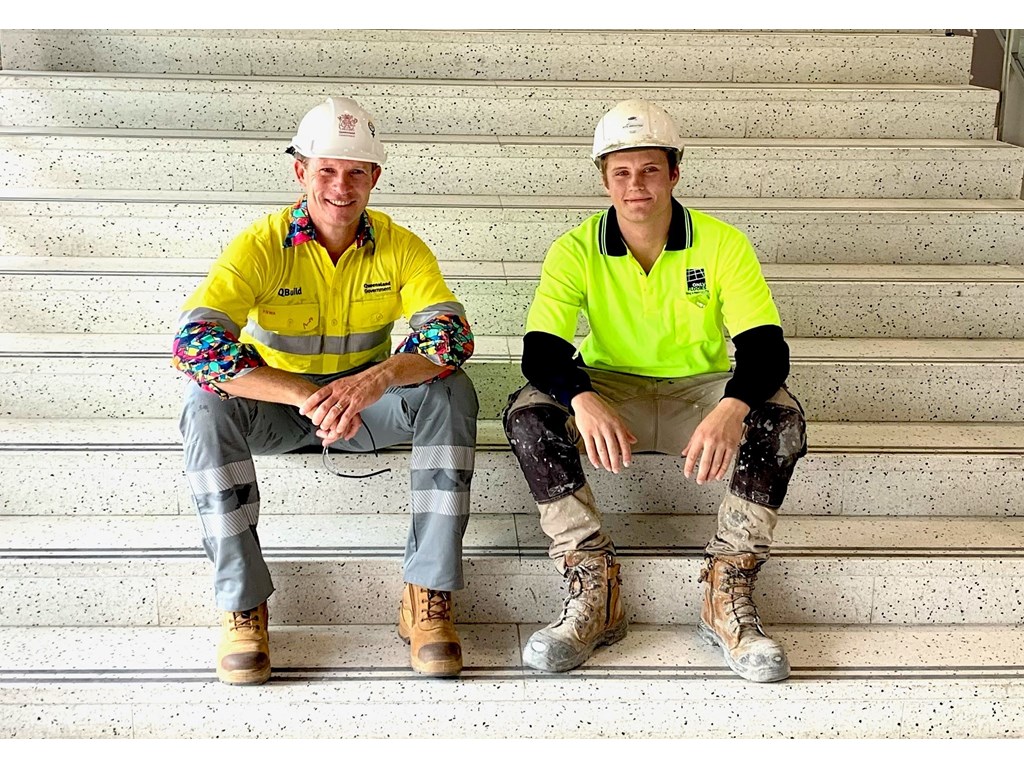 Minister de Brenni with first-year apprentice tiler Blake Vanderwerff at the Cairns Convention Centre
A local tiling company has doubled its workforce to lay 4,000 square metres of tile around the Cairns Convention Centre as refurbishment works enter the home stretch.
Minister for Public Works and Procurement Mick de Brenni said Only Floors owners Anthony and Leanne Dunlea have grown their local team to 20, including two first-year apprentices.
"Only Floors' success confirms that the $176 million Cairns Convention Centre project has done exactly what our Buy Queensland policy intended, and that's to create and support local jobs in the Far North," Mr de Brenni said.
"Anthony and Leanne have been operating their family-owned business out of Edge Hill for over 20 years and have previously helped the Palaszczuk Government deliver upgrades to Cairns Hospital.
"Floor to ceiling tiles in the Convention Centre kitchen and bathrooms required around 20,000 kilograms of adhesives and each one is being laid by a local.
"With practical completion of refurbishment works on track for 31 March, local jobs will continue to be a major focus as expansion works continue until mid-2022."
Mr de Brenni said 604 workers have been inducted to work on-site since construction began in May 2020, with the procurement policy ensuring 515 hail from the Far North.
"That's right on the 85 per cent local workforce target we set at the very beginning of project," he said.
"We've also awarded 78 trade packages and our support extends to 68 businesses supported through the supply chain."
Only Floors' Leanne Dunlea said the project's benefits are being felt throughout the community.
"We employ Cairns locals ourselves, and we always try to work with other local businesses through our supply network," she said.
"Anthony is a graduate of Trinity Bay High School so the local jobs focus that's been applied to this project really resonates with him."
Smithfield State High School graduate and first-year apprentice tiler Blake Vanderwerff said he was getting the very best support from the Only Floors team.
"I love the tropics and this apprenticeship means I can continue to live locally here in Cairns with my family and friends and be trained by some of the best tilers in the business," he said.
Assistant Minister for Tourism Industry Development and Member for Cairns Michael Healy said stage two works had already kicked off.
"When we talk about a bigger and better Convention Centre, we're actually talking about a 10,500 square metre expansion," Mr Healy said.
"Piling works to support the foundations of the new expansion are well underway with some 320 piles being placed around the site as we speak, mapping out just how impressive the final product will be.
"In the next 12 months, we'll start to see the large undercover forecourt, larger main entry and a 410-seat plenary lecture space take shape, which will help Cairns attract new conferences and events of greater size and complexity.
"The Palaszczuk Government is delivering a truly world-class venue which will draw an extra 20,000 visitors to the region annually, injecting an additional $50 million into the local economy each year."
ENDS
Media contact: Ben Brew 0468 839 551