Nominate a Queensland Great – before it's too late!
Published Thursday, 14 January, 2021 at 01:37 PM
Premier and Minister for Trade
The Honourable Annastacia Palaszczuk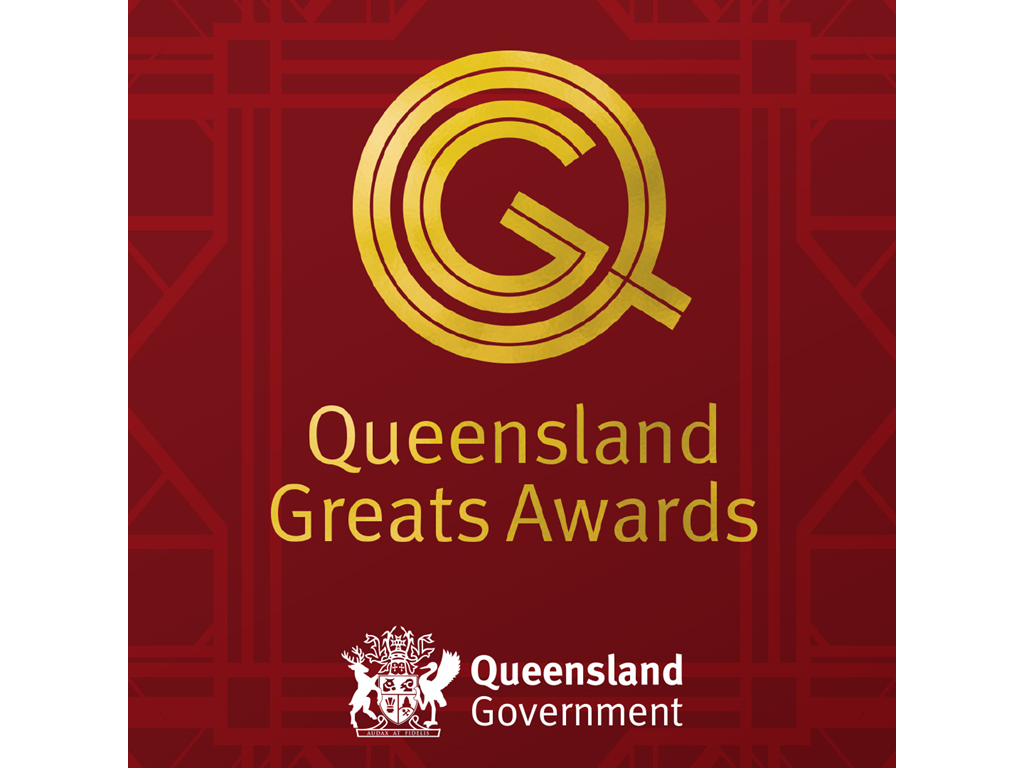 Queenslanders are encouraged to recognise outstanding Queenslanders who have educated, captivated and enriched the State with nominations for the 2021 Queensland Greats Awards closing on 29 January.
Premier Annastacia Palaszczuk said the Awards were a unique opportunity to celebrate exceptional Queensland individuals and institutions.
"Our Queensland Greats have shaped our State, exemplifying the resilient Queensland spirit and carving out impressive and lasting legacies," the Premier said.
"Since 2001, we have awarded a diverse cohort of Queenslanders, who have served their respective communities and industries while demonstrating perseverance, innovation and excellence.
"It is now up to the Queensland public to recognise the people and institutions who have had a positive impact on the State and to submit nominations for the 2021 Queensland Greats Awards."
This year is the first opportunity for the Queensland Greats Awards to recognise those people who have supported communities during the COVID-19 pandemic.
"Thousands of Queenslanders have made an extraordinary contribution to our State during our battle with the coronavirus, including scientists, health workers, volunteers in our Care Army and manufacturers," Premier Palaszczuk said.
"Queensland continues to stand firm, stay safe and grow its economy in the face of the pandemic because so many community members have gone above and beyond their regular work and duties in order to make a difference."
The Queensland Greats Awards has recognised 102 individuals, 16 institutions, six posthumous recipients and one honorary recipient.
Last year's recipients included child safety champions Bruce Morcombe OAM and Denise Morcombe OAM, doctor and autism advocate Associate Professor James Morton AM, and domestic and family violence prevention advocate Betty Taylor.
Bruce Morcombe OAM encouraged Queenslanders to value the people who have helped make Queensland a brighter place to live.
"Denise and I were honoured and delighted to receive a Queensland Greats Award because contributing to our community and supporting other people is incredibly important to us," Mr Morcombe said.
"Now is the time to nominate an individual or institution in your community that has had a longstanding and positive impact on our great State."
Queensland Greats institutions include Queensland Country Women's Association (QCWA), St Vincent de Paul Society Queensland and Endeavour Foundation.
QCWA State President Christine King said it was a significant award for the organisation.
"QCWA members work hard to be part of, and reflect, Queensland community life, and our 2019 Queensland Greats Award was a humbling reflection of the part we play in the fabric of this wonderful state," Ms King said.
"It was an honour to be recognised alongside so many other amazing Queensland institutions, and I hope many more are nominated for a 2021 Queensland Greats Award."
Nominations for the 2021 Queensland Greats Awards close at 5pm, Friday 29 January 2021.
Recipients will be announced to coincide with Queensland Day on 6 June 2021 and honoured with commemorative plaques displayed at Roma Street Parkland, Brisbane.
To find out more about the Queensland Greats Awards and to submit a nomination for the 2021 Awards visit:
ENDS
Media contact:
Zoe Russell (Premier's office) – 0439 982 347
Department of the Premier and Cabinet, 07 3003 9147 (to arrange any of the below interviews)
Queensland Greats available for interview
Nancy Bates OAM - Services to the community
Best known as the former editor of the Fraser Coast Chronicle, Nancy retired from journalism on 2 July 2009 after 40 years. Working for the Fraser Coast Chronicle for 21 years as editor, makes Nancy Australia's longest serving regional editor. One of her career highlights was being awarded a United Nations Media Peace Award for a project incorporating the language and history of the traditional owners of the Fraser Coast, the Butchulla people, into the Chronicle.
Using her skills as an author to promote Maryborough, Nancy published a book about Maryborough's Mary Anne, the first steam train to be built in Queensland. Nancy is patron of the Proud Marys, a group which promotes Maryborough as the birthplace of Mary Poppins author P.L. Travers.
Nancy has also been recognised for her efforts in having a memorial of Maryborough war hero Duncan Chapman, built in time for the Anzac Centenary celebrations.
Graham Jackson OAM – Business and community
Graham Jackson OAM is a successful Queensland businessman and known for having one of the best business brains in the country as founder of Loloma Jewellers and former Townsville Enterprise Limited chairman. He was appointed director of the Queensland Small Business Development Corporation in 1979 and deputy chairman from 1988 to 1993. During his more than 50 years in Townsville, Graham has been involved in a range of community development work and gives generously to community causes.
Dr Mark Loane AM – Ophthalmologist and sporting legend
Born and bred in Queensland, Dr Mark Loane AM has excelled in the fields of medicine and sport. As Captain of the Wallabies from 1979 to 1982, Mark was inducted into the Australian Rugby Union Hall of Fame and named one of the Queensland's top 50 sportspeople of all time in 2007. Mark later retired from his stellar rugby career to pursue studies in ophthalmology, receiving the Cedric Cohen Medal for Excellence. Mark established, and still runs, the Cape York Eye Health Project, which provides health services to many remote Indigenous communities in northern Queensland and has treated more than 20,000 patients. In 2011, Mark was named a Member of the Order of Australia for services to medicine in the field of ophthalmology, particularly to the Indigenous communities of northern Queensland, and as a contributor to the development of sustainable health services.
Kay McGrath OAM – Journalist and community advocate
Kay McGrath OAM is an award-winning Queensland journalist with more than 40 years' experience. Throughout her career, Kay has been an inspirational and exemplary public figure, coupling her journalism with volunteer support for some of Queensland's most deserving causes. In 1985, Kay co-founded the child protection organisation, Protect All Children Today (PACT). Since its establishment, PACT has worked on behalf of children, providing support for more than 20,000 child witnesses and their families through the Child Witness Support Program, establishing the now-national Child Protection Week, and advocating for child witnesses in a variety of forums. Kay is also an Ambassador for Act for Kids and Patron of the Daniel Morcombe Foundation. In 2017, Kay was appointed to serve as Chair of the Domestic and Family Violence Implementation Council, overseeing and championing implementation of Queensland's domestic and family violence reforms. In this role, Kay has led representatives from the community and key government agencies to review and promote action to address domestic and family violence in Queensland.
Bruce Morcombe OAM and Denise Morcombe OAM – Child safety champions
Following the abduction and murder of their son Daniel in 2003, Bruce and Denise Morcombe committed to making communities a safer place for children. The establishment of the Daniel Morcombe Foundation in 2005 highlighted their goal to educate young people about how to stay safe in physical and online environments and support young victims of crime in their often harrowing journey to recovery.
While some people would have been destroyed by losing a child, Bruce and Denise have embraced the desire to ensure other children don't suffer Daniel's fate, that parents and carers are informed and that young people themselves know the signs and what do to do if they find themselves in potentially dangerous situations.
Bruce and Denise's personal commitment to the safety of children was recognised when they were named joint Queensland Australian of the Year recipients in 2012 and by the Medal of the Order of Australia awarded to them in 2013. They are also Child Safety Ambassadors, and through the foundation have delivered important safety education to Queensland and the nation.
Queensland Country Women's Association – Empowering and inspiring women
Since 1922, the Queensland Country Women's Association (QCWA) has connected, supported, advocated and cooked its way to improving the lives of women and their families in rural, regional and remote communities across Queensland. With 240 branches and more than 3700 members spread throughout the length and breadth of Queensland, the QCWA has set the benchmark as Queensland's oldest, largest and one of the most influential women's organisations. QCWA's vision is for the women of Queensland to come together to support communities, celebrate their interests and forge friendships in a respectful and caring environment. This is achieved by advocating and providing opportunities for women centred around education, health and community, throughout every phase of a woman's life.
St Vincent de Paul Society Queensland – Helping people in need
The St Vincent de Paul Society Queensland is a non-profit organisation serving and supporting the most disadvantaged and underprivileged within our community. The Society provides a wide range of support in 209 locations across the state including food and emergency assistance relief, housing and homelessness support, child and family support, aged, mental health and disability services, and the widely-known Vinnies shops. With their good works supported by the 9900 members and volunteers located in all of Queensland including regional and remote areas, the Society enables communities to be supported, and their people to develop new skills and give back. Every day, including some of the darkest times in Queensland's history such as recent natural disasters, the Society provides life-changing support to local communities. By giving a hand up, and not just a hand out, the Society provides hope to those who need it most.
ENDS