Festive catch of the day as seafood retailer named #eatqld Champion
Published Wednesday, 23 December, 2020 at 11:00 AM
Minister for Agricultural Industry Development and Fisheries and Minister for Rural Communities
The Honourable Mark Furner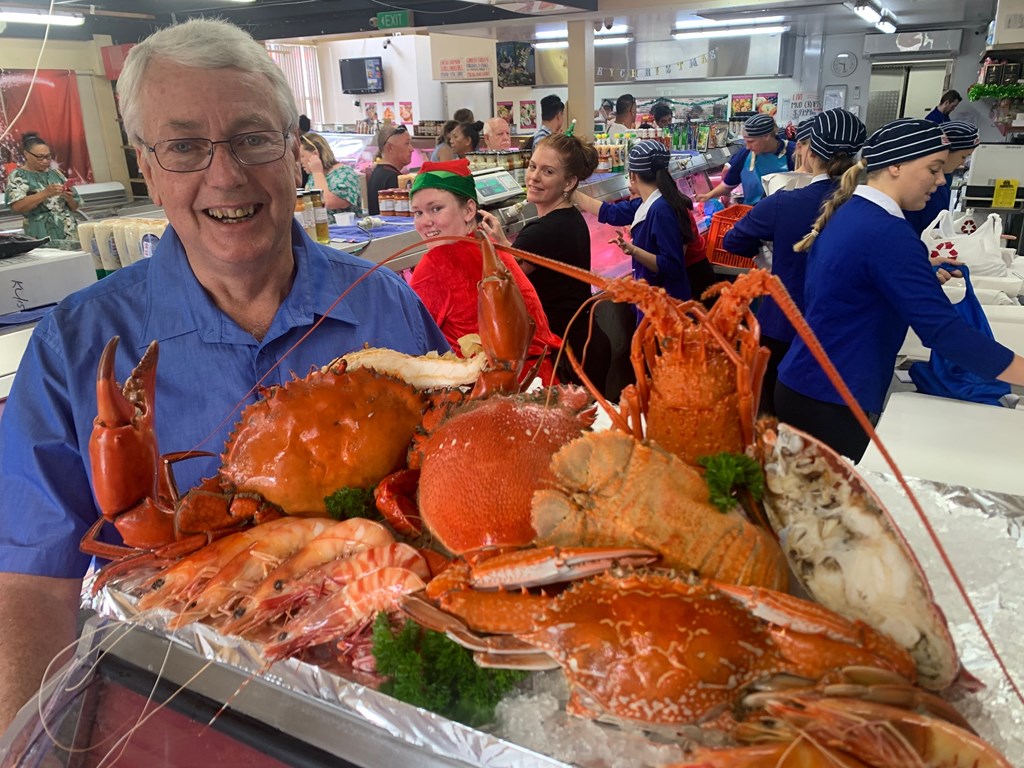 Ian Hamilton. Image courtesy of Aussie Seafood House.
With Christmas just two days away, the Queensland Government has named Aussie Seafood House owner Ian Hamilton the state's eighteenth #eatqld Champion.
Minister for Agricultural Industry Development and Fisheries and Minister for Rural Communities Mark Furner said Mr Hamilton had scaled new heights during his 40-year career selling fresh Queensland seafood.
"Ian's proud support of Queensland seafood over more than four decades has netted him a loyal customer base that means more than 30,000 people each week hook into top quality Queensland seafood sold through Aussie Seafood House's three outlets," Mr Furner said.
"His stores at Strathpine, Durack and Capalaba West are bream full of the state's finest wild caught prawns, crabs, and fish favourites like Snapper, barramundi, coral trout, mackerel, whiting, flathead, and sweetlip.
"As Queensland seafood and Christmas go fin-in-fin, there is no better time than now to acknowledge Ian's contribution to the Queensland seafood industry which includes creating over 180 jobs in his own business and supporting jobs in the commercial fishing sector.
"Ian's hard work and passionate support of Queensland seafood is truly inspirational as we unite and recover from the economic disruption caused by the COVID-19 pandemic and he will be a fine ambassador promoting Queensland's world of flavour from the state of delicious."
Aussie Seafood House owner Ian Hamilton said Queensland Seafood was all about families.
"Aussie Seafood House prides itself on providing the best seafood on any given day from our family of three generations of seafood retailers to yours," Mr Hamilton said.
"We also proudly support the wild caught fishing families, aquaculture, processing, wholesaling and retail families that network throughout the towns and cities along our magnificent coastline to make the seafood at your table the flavour of Queensland.
"Queensland Seafood is one of the healthiest sources of protein that is exactly as nature intended.
"We have incredible traceability for all of our products, from the family that caught it to the fantastic customers, which gives peace of mind knowing who and where our seafood comes from."
Mr Furner said the Queensland Government's #eatqld campaign encouraged the community to eat local, stay healthy and support jobs in the state's agricultural sector.
"Our produce is second to none. We are urging everybody to explore Queensland-grown food and when you do, we ask that you take a photograph and share it online using the hashtag #eatqld," Mr Furner said.
"By eating Queensland-produced meat, seafood, fruit, nuts and veggies you support everybody that brings that food to your table."
Previous #eatqld Champions include Creek to Coast host Scott Hillier, Walkamin entrepreneur Krista Watkins, Bowen horticulturalist Carl Walker, and the Brisbane Convention & Exhibition Centre's Executive Chef David Pugh.
To nominate someone as an #eatqld Champion, email agriculture@ministerial.qld.gov.au
ENDS
Media contact: Ron Goodman 0427 781 920
Image – please credit Aussie Seafood House
#eatqld Champion Ian Hamilton and staff at Aussie Seafood House's Strathpine store.