COVID-19 travel trends drive more morning services into 2021
Published Monday, 30 November, 2020 at 03:35 PM
Minister for Transport and Main Roads
The Honourable Mark Bailey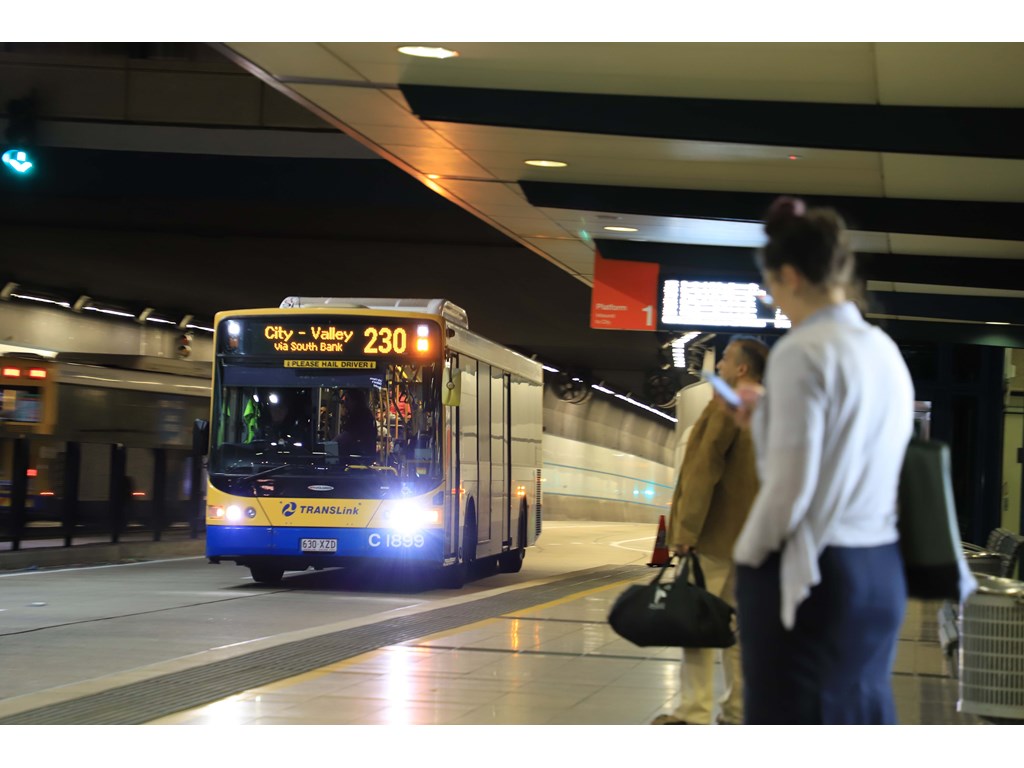 Analysis of post-COVID travel habits show some public transport users travel to work later in the morning to avoid crowded services.
But despite more services running after 6pm to help spread passenger loads during the evening peak, most CBD workers are still knocking off at the same time.
The analysis also showed weekday public transport use remained lowest on Mondays and Fridays.
Transport and Main Roads Minister Mark Bailey said TransLink had been monitoring patronage across all modes, including the extra public transport services added to the south east Queensland network in August to support social distancing.
"We're now more than six months on from the severe travel restrictions that saw patronage on trains, buses, trams and ferries plummet by 80 per cent," the Minister said.
"October was the first month where we had 10 million trips taken on the SEQ network since COVID-19 hit Queensland.
"Even with that, we're still operating at about 63 per cent patronage compared to pre-pandemic levels, with about 90 per cent of services less than half full.
"Before COVID, we had two years in a row of record public transport use in Queensland.
"This year, our family, work and social lives have changed dramatically and so have our transport habits to some extent."
Mr Bailey said the TransLink data was being used to guide changes to the temporary services that were added to the network in August.
"The TransLink data from the past few months tells us that the extra morning bus services added in August are popular and people like using them," Mr Bailey said.
"Meanwhile, patronage on many of the extra bus services running after 6pm is generally very low and people are not choosing to work later to take advantage of them.
"Based on those numbers, TransLink will keep running 175 additional weekly buses, most of them after the AM peak, until mid-2021.
"The extra buses will continue to run in and out of the Brisbane CBD through key corridors across the city, including Logan, Indooroopilly, Redlands and Chermside.
"The extra 105 weekly train services added in August will become a permanent feature of the train timetable too."
Mr Bailey said TransLink will also start offering a new online tool that will help customers socially distance on board.
The new Service Capacity Tracker will let customers see a forecast of available capacity on all bus, train, tram and ferry services across the south east Queensland network.
"People are slowly returning to public transport but there remains plenty of space to socially distance on our services," Mr Bailey said.
"We're ready to welcome back customers and the tracker is one way to give them confidence that their next trip will be safe.
"We're still cleaning all public transport thoroughly, including the sanitisation of touch points such as buttons and handrails.
"This is in addition to hand sanitiser at major busway stations and all SEQ train stations, continuing rear-door boarding on buses where practical, roping off the seats immediately behind drivers and cashless ticketing on SEQ services."
For more information about the Service Capacity Tracker and the TransLink service changes starting from Monday December 14, visit https://translink.com.au/covid19
Fast Facts from TransLink figures:
Peak public transport patronage has declined more than off-peak travel
Buses carrying more passengers than other modes such as trains, trams and ferries
Plenty of space on services with 90 per cent of services less than half full
Commuters support increased cleaning but want more cooperation from other travellers on social distancing
Some commuters are more worried about travelling, especially if they are elderly or live with someone in a high-risk COVID group.
ENDS
Media contact: Toby Walker - 0439 347 875