Construction of new facilities at The Spit set to start soon
Published Thursday, 26 November, 2020 at 01:15 PM
Deputy Premier and Minister for State Development, Infrastructure, Local Government and Planning
The Honourable Dr Steven Miles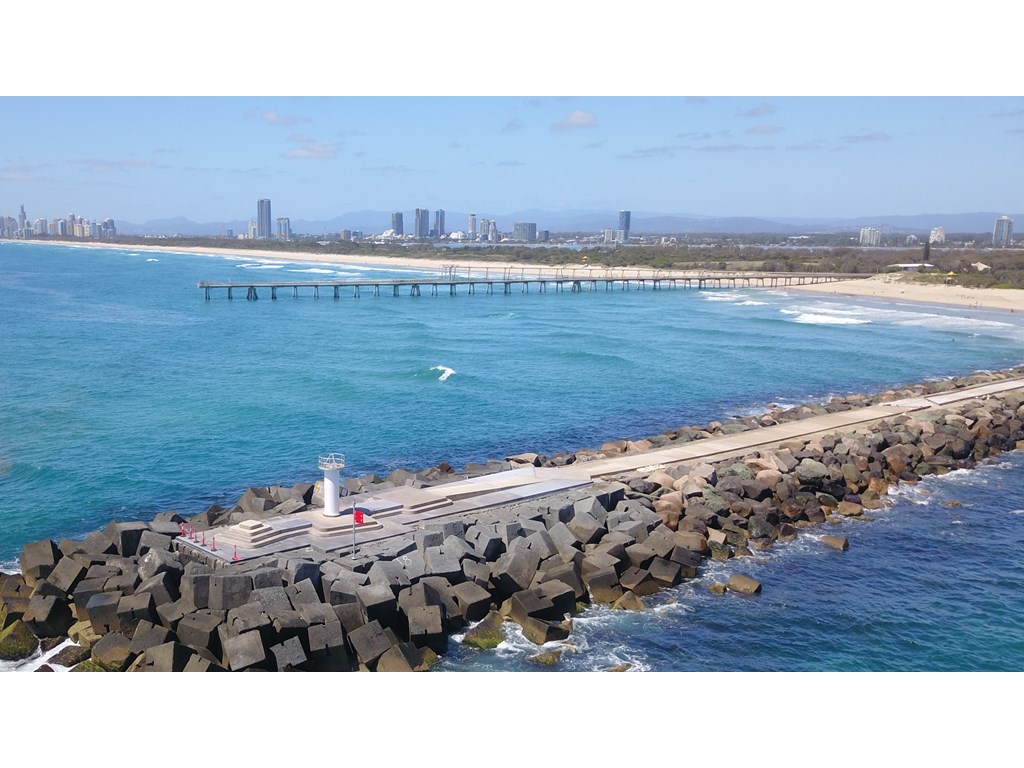 Seaway Promenade aerial November 2020
Planning and design works are underway for a new pontoon and jetty at The Spit as part of the Palaszczuk Government's multi-million-dollar strategy to improve the promote the Gold Coast icon in the future.
During the election, the government announced a $22 million capital works program to deliver new infrastructure at The Spit.
Deputy Premier and Minister for State Development Steven Miles said designers were already hard at work developing concepts for a new pontoon and jetty as part of the mass program of public improvements.
"The Spit is a Gold Coast icon. This project will ensure it remains a drawcard for decades to come," Mr Miles said.
"Whether you come to the Spit to go for surf, go fishing, take the dog for a walk or a picnic with the family, The Spit is a great place for tourists and locals - and we're making it even better.
"New infrastructure creates jobs. Projects like this are an important part of our economic recovery plan for the Gold Coast.
"Already we're seeing boots on the ground, building new public facilities at The Spit that are creating local jobs.
"With design work under way for the next stage of construction, we're ensuring that we continue to deliver projects that support jobs on the Gold Coast."
Mr Miles said the $4.04 million project to deliver a new jetty and pontoon would be delivered through a partnership with the Gold Coast Waterways Authority (GCWA).
"We've almost completed the shared pathway along Seaworld Drive connecting Muriel Henchman to Doug Jennings Park.
"The new Seaway Promenade and improvements to the Moondarewa Spit foreshore are progressing well and on track to be finished in time for the Christmas holidays.
"The Marine Stadium project will further open up the Spit by providing a pontoon accessible to recreational and commercial vessels, including ferries and emergency services vessels.
"We expect the jetty to become a new Gold Coast attraction as a great spot to fish or enjoy beautiful Broadwater views looking south to Surfers Paradise."
GCWA CEO Hal Morris said these new projects would bring the community's vision for The Spit to life.
"We're excited about delivering more facilities for the community enjoy on top of the projects we're working on at Moondarewa Spit and the Seaway Promenade.
"All of these attractions will really put The Spit on the map as one of the Gold Coast's must-see destinations," Mr Morris said.
As part of project planning, a geotechnical investigation is being undertaken in Marine Stadium which began on Monday, 23 November.
The work involves taking samples from the seabed and two land-based sites using a small drilling rig and barge.
The investigation is expected to be completed in early December.
Design works are underway, and the design concepts will be released early in the new year.
For more information on the Spit Master Plan implementation go to https://gcwa.qld.gov.au/spit-master-plan/
ENDS
Media contact:
Amy Hunter 0423 651 484 (Deputy Premier's Office)
Anne Syvret 0428 923 308 (GCWA)