Large Air Tanker arrives in Queensland ahead of bushfire season
Published Wednesday, 16 September, 2020 at 02:11 PM
JOINT STATEMENT
Premier and Minister for Trade
The Honourable Annastacia Palaszczuk
Treasurer, Minister for Infrastructure and Planning
The Honourable Cameron Dick
Minister for Fire and Emergency Services and Minister for Aboriginal and Torres Strait Islander Partnerships
The Honourable Craig Crawford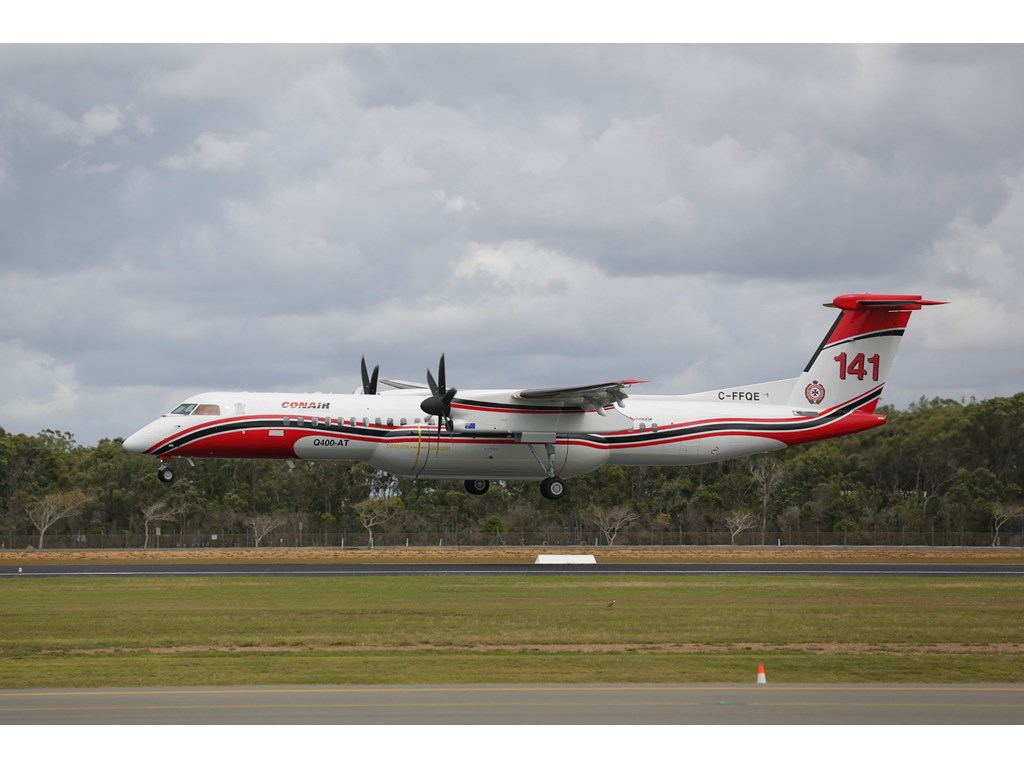 Queensland has welcomed the arrival of a long-term Large Air Tanker (LAT) Bomber 141 ahead of the 2020 bushfire season.
Premier Annastacia Palaszczuk said the $15 million aircraft will bolster the state's aerial firefighting capabilities over the next five years.
"Last year's bushfires were unprecedented with 7.7 million hectares scorched across the state, destroying homes and businesses," the Premier said.
"The road to recovery from disasters is often long, and the work to rebuild from those bushfires is continuing, but in the meantime, we must also be prepared for this year's bushfire season.
"We saw how valuable waterbombing efforts were at Peregian, Sarabah, Stanthorpe and Pechey last year and that's why we started planning for the acquisition of our very own LAT early on in last year's season.
"Earlier this year I announced $15 million for the tanker to enhance the state's bushfire response over the next five years.
"This 10,000 litre aircraft will ensure our communities are protected – from this bushfire season and well into the future.
"I want to welcome the aircraft and crew to its new Bundaberg base and for joining our emergency response team to protect Queenslanders."
Treasurer and Minister responsible for the Queensland Reconstruction Authority said $40,000 would also be spent installing critical water and electrical infrastructure for the LAT at its new Bundy base.
"The water supply will fill foam/retardant mixing tanks from which the Large Air Tanker is filled and the electrical supply will service a demountable base office," he said.
"Together, these measures will provide seamless firefighting resupply services that will see improvements to bushfire safety of the entire Bundaberg community.
Minister for Fire and Emergency Services Craig Crawford said the state has previously relied on the option to source call-when-needed LATs from interstate.
"It's wonderful to now welcome our very own bomber – to be deployed to fight fires and look after Queenslanders," Minister Crawford said.
"The 2019 bushfire crisis was something none of us will easily forget. That's why the Palaszczuk Government will continue to invest in our fire service to ensure it has the best equipment and resources to protect everyone right across Queensland."
QFES Commissioner Greg Leach said the LAT would support crews on the ground by providing fast and effective firefighting options throughout bushfire season.
"The LAT enhances Queensland's already effective response and firefighting efforts," Mr Leach said.
"The LAT travels at about 670km/hr and can reach many parts of Queensland in quick time as well as operating at many regional airports throughout the state.
"Within one hour of receiving a call out, the aircraft can travel from Bundaberg, north to Proserpine, south to the Queensland-New South Wales border or west to Tambo."
Facts about the LAT:
• Two pilot crew
• 10,000 litre retardant capacity
• Gross weight: 31,000 kg
• Cruise speed (loaded) up to 670km/h
• Typical runway required 1,500m
• Can land with 80% of its load on board
ENDS
Media contact: Gemma Buxton 0477 445 331