CEDA 'STATE OF THE STATE' SPEECH
Published Thursday, 20 August, 2020 at 02:23 PM
Premier and Minister for Trade
The Honourable Annastacia Palaszczuk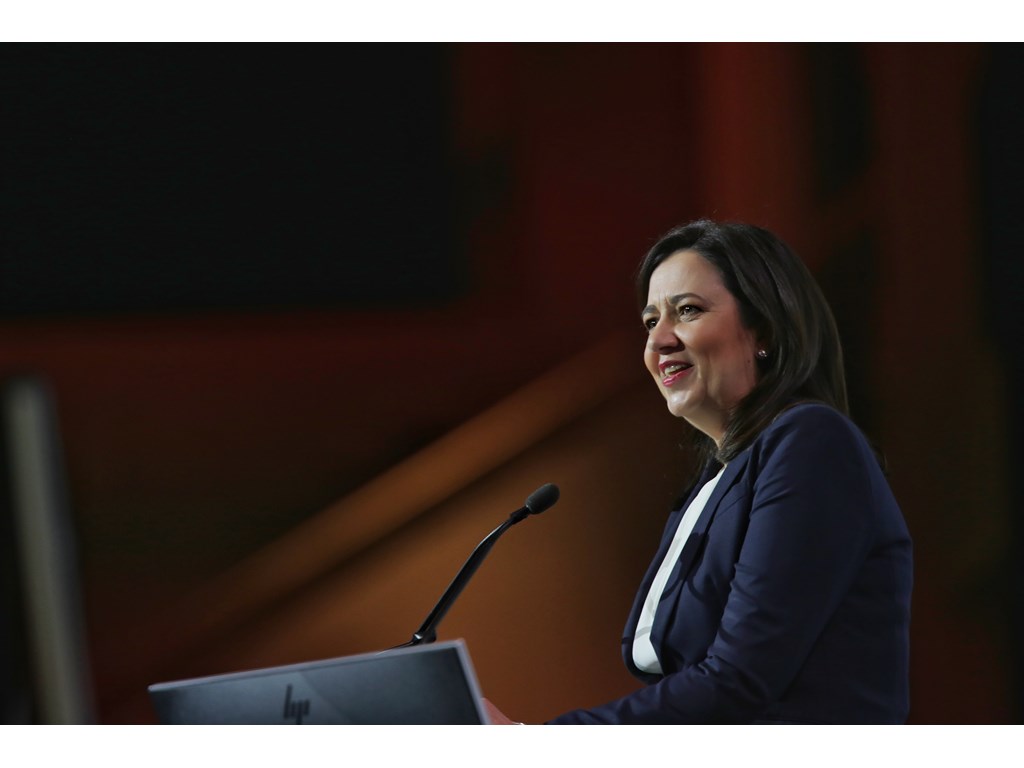 INTRODUCTION
Next Wednesday, my friend Jeff Horn fights Tim Tszyu for the Australian and global super welterweight title in Townsville.
I know. Not exactly the beginning you were expecting.
My great grandfather used to sit on his front steps and listen to the boxing on his radio. I don't have that level of dedication to the sport - but I am a big fan of Jeff Horn.
I admire his courage.
And if Jeff was here now I am sure he would tell you it's not the ability to fight that matters but the belief in yourself.
Muhammed Ali said it's that ability to reach down and find something within yourself to keep going.
Put it another way: it's not how many times you get knocked down that matters: it's how many times you get back up again.
And that's where we are all at the moment. Dealing with the confronting twin crises – the health crisis and the resulting economic crisis.
As a state. As a nation. As a planet.
We've been felled by an opponent which is microscopic and not just in Queensland but in every state of the nation and every country across the globe.
The question all of us are asking is: how do we get back up again?
Just as we need a roadmap for our health recovery, we need a strong plan for our economic recovery.
Today I am presenting our economic recovery plan to bring Queensland's economy back better than it was before the COVID-19 pandemic.
I want to see us come out the other side with an economy growing faster than the rest of the nation.
COVID has taught us that our economic recovery must be driven by Queensland for Queenslanders.
Businesses are changing the way they operate because they have to - because all of our lives have been impacted and changed.
That's why we can't just build the economy back to the way it was before.
We have to build it back better.
Sure it's very challenging – but it also brings incredible opportunity.
Queensland's economic recovery plan has been developed to respond to a set of conditions never before seen in our lifetime.
And it is a strong plan that depends on Queenslanders working together and looking out for each other – just as Queenslanders have done responding to cyclones, to floods, to bushfires and – indeed perhaps more so than ever – during this pandemic.
Working together is what has made us resilient.
It's what has made our disaster management systems world class.
The COVID-19 pandemic has taught us never to let down our guard – and we see that again just today.
Overnight we have been rapidly dealing with two new cases of Coronavirus affecting south-east Queensland – you can never be sure where this disease will rear its head AND this shows we are not out of the woods yet.
QUEENSLAND'S RESPONSE
Queensland's response to the COVID-19 pandemic started when our Chief Health Officer spotted the risk of coronavirus while it was still 7,000 kilometres away.
The State Health Emergency Centre was activated weeks before our first case.
Fever clinics attached to major hospitals were established before they were needed.
Plans were made to free up hospital space before it was needed.
Plans were made to create even more hospital space at the show grounds for the first time since the Spanish Flu pandemic of 1919.
On January 29, less than a month after the first cases emerged in Wuhan, Queensland declared a Public Health Emergency.
Our Disaster Management Committee met and I called for the need for national action.
We undertook – and continue to undertake – detailed scenario testing and continual testing of our systems to ensure we have the rapid contact tracing capability.
We summoned industry leaders in tourism, in logistics, freight, in higher education, manufacturing, agriculture and fishing and on February 18 announced our initial $27 million assistance package.
That has since grown to $6 billion.
But more about that in a moment.
We've made difficult decisions. Hard decisions. Often contentious decisions.
Our borders closed for the same reason our international borders closed: so that we could stop importing the disease.
There are now more active cases in aged care in Victoria than Queensland has had during the entire pandemic.
Every Queenslander – all five million of them – have played a crucial role in that and each of them deserve our praise and our heartfelt thanks for helping us to stop COVID.
And yet, it's Queensland that is attacked.
I'll cop whatever gets thrown at me. That's politics.
But I won't stand by while the work and the sacrifices Queenslanders are still making are attacked.
I will continue to do everything I can to protect Queenslanders against this disease and against criticism and we will continue to be guided by the best health advice.
It's only very recently that three young women broke the rules and brought this disease back into Queensland. That was extremely disappointing.
But what followed has been truly inspiring.
Thousands of Queenslanders fronted up for testing.
That's how Queenslanders feel about COVID.
No-one is hiding under the doona.
Queenslanders got out to protect their schools, their small businesses and their communities by being tested.
So we know we can count on Queenslanders to do the right thing.
And it's clear to me the Queensland economy can only open because our borders are closed.
That's evidenced by the thousands who have embraced the Good to Go campaign encouraging Queenslanders to get out and support Queensland hospitality and tourism.
Treasury estimates lifting stage three restrictions is supporting $520 million worth of economic output each month and an additional 50,000 jobs.
Since the easing of restrictions there are 66,800 more jobs in Queensland from May to July.
This has led to the participation rate recovering which means more Queenslanders are trying to get back into the workforce.
And the latest Seek job ads data for August shows Queensland job ads ahead of New South Wales.
But we still have a long way to go.
ECONOMIC FALLOUT
Prior to COVID, Queensland's economy was growing faster than the national average and my government had delivered five consecutive budget surpluses.
That strong economic position prior to COVID-19 positioned Queensland with the fiscal capacity to act quickly.
The global shutdown of the tourism and international study industries have hit us really hard.
We still have 138,000 fewer jobs than prior to the pandemic.
But we have planned a way forward.
Our $51.8 billion infrastructure plan - including $13.9 billion over the next year - has been developed in consultation with business and industry and supports 44,000 jobs.
Today the Treasurer is releasing a capital program 2020 update so that industry can plan for our infrastructure pipeline.
By comparison, the Federal Government's National Infrastructure plan is $100 billion over 10 years for the entire nation.
ECONOMIC RECOVERY PLAN
The six key priorities of my government's economic recovery plan are clear and concise.
One. We must safeguard Queenslanders' health – so that we remain pandemic-ready and build community resilience but, crucially, by doing what we can keep the economy open.
Two. We must back small business by buying local, by increasing skills and capability and by making it easier to do business here in Queensland.
Three. We are committed to Making it for Queensland – attracting manufacturers to our state and powering regional development.
Four. My government is committed to building Queensland's infrastructure as I have already outlined.
Five. We are committed to growing our regions with regional partnerships, and by delivering critical new energy and water projects and businesses will create exports.
And, six, we are investing in skills by encouraging apprenticeships and creating pathways for young Queenslanders.
It is a plan that will support 55,000 jobs over the next year through direct infrastructure investment and by unlocking private investment.
And it builds on our immediate response that has supported businesses to keep 334,000 Queenslanders in jobs.
SUPPORT FOR BUSINESS
Friends, as we focus on our economic recovery and navigate the pathway out of this pandemic, my government has provided unprecedented support for business including $1.3 billion in payroll tax relief, $1 billion in concessional loans, $200 million in grants and $100 million in electricity rebates.
This has helped business not only survive this unprecedented set of circumstances – it has helped them change the way they do business.
Take Steve and Debbie Burns who run Queensland's oldest pub near St George, to father and son watchmakers Bob and Grant in Brisbane who have been running their business for 50 years, to Nic and Ivy Dos Santos supplying coral for aquariums out of Mackay - our concessional loans have helped 7,000 Queensland businesses.
In Cairns our COVID loans have supported Lyle Squire Jnr, the director of Cairns Marine, to keep operating as one of the largest suppliers of marine life for aquariums.
On the Gold Coast, our COVID loans have supported Coffee Club owners Karyn and Jason to get their businesses through COVID and brew coffees as restrictions have eased from their Stockland Burleigh store.
Shannon Hawkes at Artisan Florals had to close her doors because of COVID but was able to reopen with support from our $500 electricity rebate.
Restaurants and cafes and pubs like Santini's at Hervey Bay were able to welcome back customers and keep their businesses running after receiving one of our small business COVID-19 grants.
It was the Maryborough RSL's commitment to 80 staff and the local community that was at the front of president Paul Coleman's mind during the pandemic and meant the club was able to reopen after COVID-19 restrictions lifted with the help of one of our COVID-19 Jobs Support Loan.
RECOVERY
Building and construction will also be a pillar of our recovery - our tradies want to work and we intend to give them plenty of work to do.
Our construction sector employs nearly one in 10 Queenslanders.
We have extended our $15,000 First Home Owners Grant for new builds and we've added $5,000 for new homes in regional Queensland.
We've provided $10 million for seniors and people with disabilities to get up to $5,000 worth of vital maintenance done around their homes.
That provides real, tangible outcomes for builders like Wade and Natasha who I met last month on site at Spring Mountain where they are building new homes and now see more work coming which will allow them to put on a second apprentice.
There's $200 million for a Works for Queensland program so that local councils across the state can deliver 520 local projects providing 4,600 jobs.
And our economic response includes more than $800 million for new road projects in addition to more than $760 million for new schools, expansions and vital school maintenance.
SKILLS
In that regard – and critical to our recovery - is the provision of a skilled workforce.
Many younger Queenslanders have lost their jobs during this pandemic – we must take care of them and we must help guide their future.
That's why we've extended Skilling Queenslanders for Work, delivering a new $10 million Reef Assist program and a $20,000 boost for employers taking on a trainee or apprentice.
My government is matching the Federal Government's $100 million skills package to support Queenslanders into training places.
AGRICULTURE
Friends, our agricultural and resources industries here in Queensland are acting as economic stabilisers.
Queensland's exports of goods - at $77.4 billion - remain higher than New South Wales and Victoria combined.
To support our agricultural sector our economy plan includes:
$1.2 billion in water infrastructure projects supporting 2,300 jobs,
$5 million for wild dog fencing out west, and pest management to support our sheep industry to come back even stronger.
RESOURCES
The resources sector is one of Queensland's greatest strengths.
Queensland remains the largest seaborne exporter of metallurgical coal in the world - used in steel furnaces throughout North East Asia.
And we now have an LNG export industry rivalling Qatar.
I am proud of our record, facilitating $20 billion of investment decisions in resources meaning more than 7,000 jobs.
I want to recognise the constructive approach the resources sector has taken to quickly implement COVID Safe Industry plans to protect workers while keeping our critical supply chains open.
To further support resources companies we have provided an additional $10 million for exploration for the new economy minerals such as cobalt and vanadium.
RENEWABLE ENERGY ZONES
I also want a clear focus to see manufacturing expanding in Queensland. To do this we need cheaper and cleaner energy.
My government's 50 per cent renewable energy target has been critical to delivering the lowest wholesale energy prices on the east coast.
It has supported $6.6 billion of investment in solar and wind farms and 5,700 construction jobs over the past five years - taking Queensland's renewable energy generation to 20 per cent by the end of the year, compared to just 7 per cent when we first came to government.
At this point I do have to remind everyone here that the LNP went to the last election committing to scrap the 50 per cent renewable energy target claiming it would drive up prices and that it would 'kill' jobs.
What we have seen has been the exact opposite.
We have around 600,000 homes with rooftop solar producing more power than Queensland's largest coal fired power station.
And we are rolling out 180,000 solar panels on our schools.
And today I can confirm the next steps my government will be taking under our economic recovery plan to continue to drive new investment in renewable energy and manufacturing.
An investment that will take our commitments for the economic recovery to more than $7 billion.
Today I'm announcing my government will deliver another $145 million to unlock three Queensland renewable energy corridors across Queensland - North Queensland, Central Queensland and South West Queensland.
We will map out areas within Queensland for investment in renewables - solar and wind - by supporting the delivery of transmission infrastructure.
In North Queensland – there's potential for up to five renewable energy zones from Cairns down to Townsville and out west to Barcaldine.
The North Queensland corridor has significant potential for demand from new economy minerals including CopperString 2.0, minerals processing, manufacturing and hydrogen.
Achieving internationally competitive energy prices in the North West Minerals Province would mean 3,500 more jobs in North Queensland - delivering the minerals needed globally for batteries, renewables and electronics.
In Central Queensland - there's potential for projects in the Fitzroy and Wide Bay renewable energy zones. These would make our aluminium and smelting industries more competitive with strong potential as well for hydrogen development.
In the South West the Darling Downs renewable energy zone will meet demand from agricultural production and has the potential to help supply New South Wales.
These renewable energy zones will support Powerlink to invest further funding and CleanCo to increase their publicly owned renewable generation capacity to deliver energy security.
I don't want to just deliver renewable energy zones - I want to deliver industrial zones and hydrogen hubs - because that means more secure full-time manufacturing jobs.
RESHORING MANUFACTURING
In an increasingly uncertain global environment where supply chains are being broken, we must ensure that as a nation we have the capacity to make products locally.
That means rethinking what businesses and governments go overseas to manufacture and what we make here.
Local companies have taken incredible initiative in the midst of the pandemic making hand sanitiser, face masks and shields - for export around the state, the country and the world.
And under my government we have grown manufacturing including:
- Rheinmetall's Military Vehicle Centre of Excellence that will support 450 direct jobs – helping make Queensland the largest vehicle manufacturer in the nation
- Export Distribution Centres in Toowoomba and Cairns to boost agricultural exports; and
- the $60 million munitions manufacturing plant in Maryborough supporting 100 manufacturing jobs.
Keeping our population safe and our economy open is critical to attracting even more investment and manufacturing to Queensland, as is providing the gas needed as a feedstock for manufacturing.
Queensland has unlocked 20,000 square kilometres of land for domestic gas supply.
Today I can confirm that my government will commit $5 million to support a feasibility study into a gas pipeline from the Bowen Basin.
This will support further gas supply for manufacturing while lowering carbon emissions from existing mines.
And I would welcome a matching commitment from the Federal Government.
MENTAL HEALTH
Friends, while my government is mapping the way out there remains very tough times ahead for many Queenslanders.
This global pandemic isn't just claiming lives directly from the virus - it is taking a massive toll on Queenslanders' mental health.
It is placing an enormous strain on many families.
We are seeing more of our elderly become more and more isolated and more and more vulnerable.
My government will provide an additional $46.5 million for localised mental health community treatment and support services.
We want to provide the support so Queenslanders can make it through this.
The endless coverage of what is happening in other parts of Australia and around the world is taking a toll on all of us.
It is simply heartbreaking to watch.
And we need to all be looking out for each other.
CONCLUSION
Friends,
While a tough journey remains ahead of us there is no better place to navigate it from than right here inQueensland.
Despite the pandemic that has gripped our state for the past eight months, I remain optimistic that Queensland's best days are ahead of us.
And our greatest resource of all is our people - Queenslanders and our ability to work together.
All of this is at risk however if we change course.
The LNP have said they wouldn't listen to the expert health advice and would have opened Queensland's borders.
That would have meant forcing the closure of our economy - or letting the virus through our population - either way that would have stopped our economic recovery in its tracks.
I don't want to see Queenslanders lives being put at risk and I don't want our economic recovery put at risk.
I want to be able to deliver on our strong plan to invest in the future of our great state.
As Queenslanders know if your home is hit by a disaster you don't rebuild back exactly the way it was.
You build back stronger, more resilient. You build back better than it was before.
And that's what we all must do.
So that we can come out of this with an economy that is growing faster than it has since before the GFC.
So we can come out even stronger than we were before.
We're in the fight of our lives, but I know that together we can get through this if we work together.
If we put Queenslanders first.
If we work to get people back into work.
And if we listen to the health and the expert advice, Queensland will get through this.
Thank you.
ENDS
******************